Single and Ready to Mingle: MORP Edition
As couples prepare for MORP, there are many more options for single students
Hang on for a minute...we're trying to find some more stories you might like.
It's 2019, and for some us, that means we've entered our last semester at NASH, and North Allegheny as a whole. One of the earliest events to celebrate this final run is our winter semi-formal dance, MORP (aka "backwards Prom," where the girls generally ask the guys instead of vice-versa). While it is not as expensive as its spring formal counterpart, MORP is traditionally Valentine's Day weekend, making students want to up the romantic and couple-centric events of the evening.
The event's timing makes single students less likely to attend than the fall's Homecoming dance or the spring's Prom and Senior Banquet, where people are encouraged, if not required, to attend without a date when buying the tickets. If you haven't coupled off by the end of January, you have limited options on the night of MORP. You can choose to ask someone you barely know, wait until someone you barely know asks you, go with a group of friends, or skip out on the dance altogether and hopefully do something else fun instead.
If you ask someone you don't know well, you risk rejection for that exact reason, but you also are risking that they say yes, causing you to spend a whole evening trying to awkwardly navigate territory traditionally reserved for those on dates. Dinner for two is a nice idea until realize that you'll have to keep up polite conversation with that guy you just met in chemistry two weeks ago or that girl in your history class whose name you learned the night before you made her that nice poster — you'll also have to cope with all of the unknowing stares from around the restaurant. Do you think that nice family of four over there really cares if you are "just friends?" No. The parents are already halfway through telling their kids how one day they will get to go to a dance with their boyfriend or girlfriend, just like you.
"
In my opinion, going with a group of friends is the most ideal way to attend any dance, and MORP is no exception."
By waiting for someone to ask you, you put the choice into someone else's hands and ensure that you won't have to face the reality that your laziness is the reason you are missing out on a fun night. Unless you know with one hundred percent certainty that your girlfriend, boyfriend, significant other, etc is going to ask you to the dance, there is no reason you can't go out of your way to make some fun plans for the evening, whether it is attending the dance or not. By waiting, you are creating the possibility that you won't have any plans on that evening, even though you have plenty of time in advance to plan a night for the ages.
In my opinion, going with a group of friends is the most ideal way to attend any dance, and MORP is no exception. I have gone to school dances with both dates and friends, depending on the year, and I've found the better you know someone, the more fun the night is. Of course, there is going to be awkward dancing and drama. After all, what is else high school about? But you can at least cut down on some of the awkwardness by knowing what you're entering the dance floor with. When your best friend jumps into the Cupid Shuffle, there's no reason to hold yourself back. Are you really trying to impress them? Probably not, since they've probably seen you at way worse than a cheesy line dance.
This option is underrated because there is no big, fancy, public asking with flowers and posters that can be posted on Instagram later. If you're worried about your pre-dance meal, you shouldn't be. You can do the same things that couples are doing, only without the worry that it will be construed as a date when you're not quite ready for that. If you want to go to the Cheesecake Factory, by all means do so. That new restaurant you've been wanting to eat at for weeks? Go ahead. By choosing to go out all glammed up with your best friends, you are ensuring a night that you will remember for years to come.
The last option you have on the night of MORP is to skip out on the dance altogether. This seems like it could only be a good option under three circumstances: a literal emergency (death, fire, hospital stay, family emergency), a family obligation that you can't find a way out of no matter how hard you try (remember your cousin's Bar Mitzvah you forgot about? Yeah, it's that weekend, and you're parents said the whole family must be there, no exceptions), or something you've already planned that you will find even more fun. Since the first two scenarios are out of your control, let's focus on the third: another, more exciting event at the same time as the dance.
If dressing up for an evening out isn't quite your idea of fun, then maybe you and your friends are going to see that movie you've all been dying to see or that new escape room that finally has an open session, or you really want to play laser tag, or go a new restaurant, or even just have a fun night in filled with people you want to be around. That's the key right there: surrounding yourself with the people you want to be with. Otherwise, there is no point.
If you're not having fun with whatever you are doing that night, you are just setting yourself up for even more disappointment when you check your social media and walk into school the next week. Everyone will be talking about their weekend plans, leaving you without any response other than generic small talk and pleasantries. If you can walk in knowing that you had a great time going to that college basketball game over the weekend, then you're all set for when the inevitable question comes. You can tell those dancers about the great seats you had and the friends you went with and how you'd never want to exchange that for three hours of dancing in a school cafeteria.
As the MORP proposals start to clutter your Instagram feeds, remember that there is so much more that night than awkward couples trying out grinding for the first time. You can choose to make it whatever you want it to be, and hopefully, it will be a night you'll enjoy and look back on in the future.
About the Writer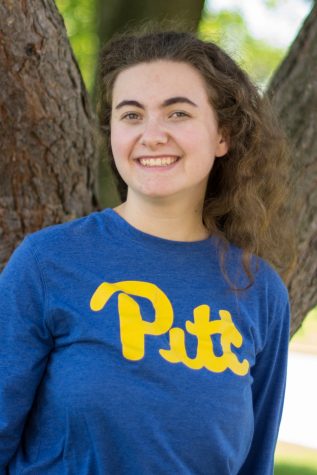 Samantha Solenday, Assignments Editor
Samantha Solenday is a senior at NASH this year. Among other things, she is a member of the NASH choirs and speech and debate team. Next year, Samantha...