VARIATIONS Shoots for the Stars
NASH's student arts magazine has arrived
Hang on for a minute...we're trying to find some more stories you might like.
Poetry, photography, hand-drawn and digital art — it's all in there. 
Earlier this morning, the VARIATIONS staff released their annual literary and creative arts magazine. The publication has been running for 45 years and has won numerous awards from the National Council of Teachers of English, the American Scholastic Press Association, and the Pennsylvania School Press Association, which gave the magazine the Keystone Award, PSPA's highest honor, last year.
"VARIATIONS allows students to work together, taking each piece and creating a magazine with all NASH-submitted work," said adviser Ms. Yakich. "It is a unique way NASH allows student work to be published and appreciated by many."
The magazine's student staff appreciates the unique opportunity.
"The magazine is another way that North Allegheny allows students to express their feelings through art," said senior staff member Emily Betler. "Being able to see all the work that students put into their writing, paintings, pictures, and sculptures makes picking those that go into the magazine incredibly difficult."
"
The staff members also have the opportunity to see what their peers are capable of, and they gain an appreciation for the work submitted."
— Ms. Yakich, adviser
The magazine's theme this year is "Solar, Lunar, and Celestial." Staff members have categorized the pieces into each category of the theme.
"We tried to keep certain features the same [as previous years], such as sticking with a nature aspect, but we moved away from trees," Yakich said. "Students came up with the motif 'solar, lunar, and celestial.'"
Jessica Smith is a senior who submitted visual art to the magazine.
"I think VARIATIONS is a great way to showcase the artists here at NASH and to show the student body's wonderful and varied art," Smith said. "I decided to show my artwork simply because, often at school, there is not a lot of time to show artwork or display it."
Yakich is relieved to see a year's worth of hard work finally come to fruition.
"The other two advisers, Mr. and Mrs. Rhinehart, and I have enjoyed the process," Yakich said. "We get to see a multitude of items submitted by NASH students. The staff members also have the opportunity to see what their peers are capable of, and they gain an appreciation for the work submitted."
For staff member Betul Tuncer, after months of reviewing, evaluating, and editing, the arrival of the 2019 VARIATIONS is an exciting highlight at the end of the year.
"Throughout the year, I had a lot of fun evaluating various student work," Tuncer said. "There are some very interesting and creative pieces and I'm excited to see the final product."
Many people believe that with the amount of talent and tireless dedication put in by the students, staff members, and advisers, the magazine is sure to be another award-winner.
This week, copies of the magazine are being distributed to all VARIATIONS staff members, featured artists, and any interested students, al of whom can pick up a copy in Room 234. Additional copies will also be distributed to the English teachers. 
About the Writer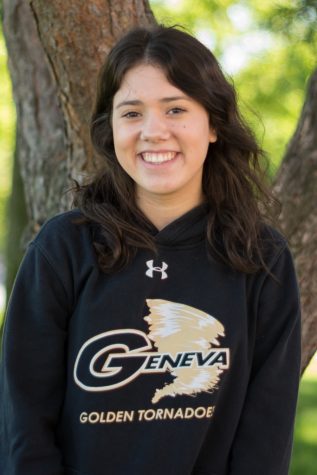 Rachel Schaelchlin, Reporter
Rachel Schaelchlin is a senior at NASH. This is her first year on The Uproar staff. She is a member of the National English Honors Society, and she plans...