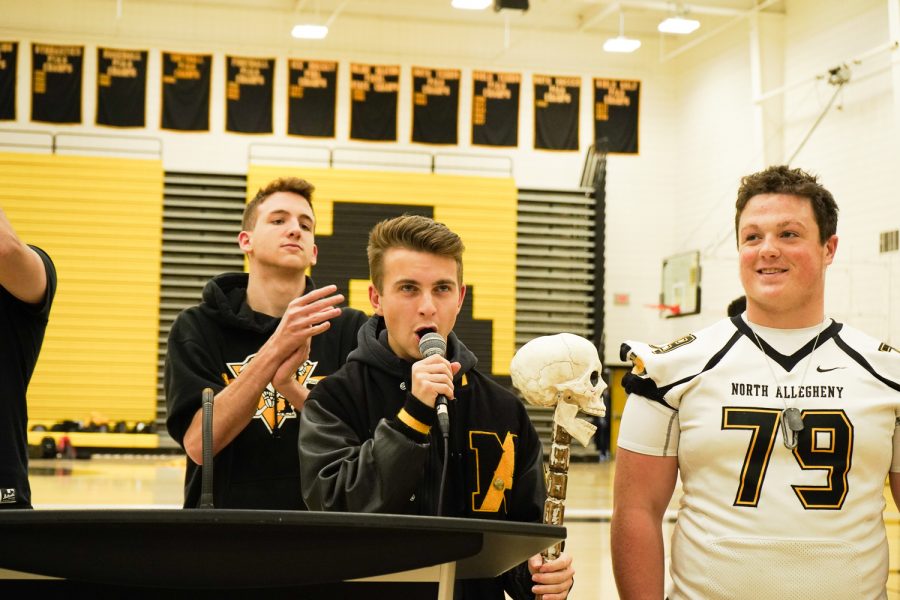 photo by Meg Rees
High schools around the country hold weekly pep rallies, but until today no student at NASH had yet to experience one of their own.  Even NASH Principal Dr. Kreider had not enjoyed such an event since his arrival in 2015.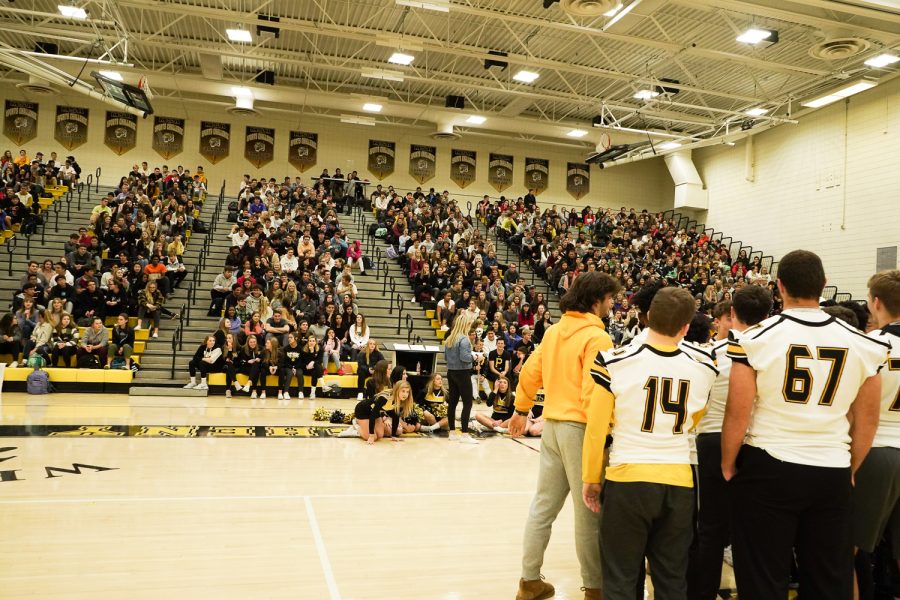 On most Fridays as the day winds down, students anticipate the 2:15 dismissal bell, but today during 11th period the gym was packed with a host of fall athletes, a pep band, and a roaring crowd of juniors and seniors. For the first time in years, NASH held a pep rally to support the fall sports teams as they embark on their pursuit of WPIAL and PIAA titles.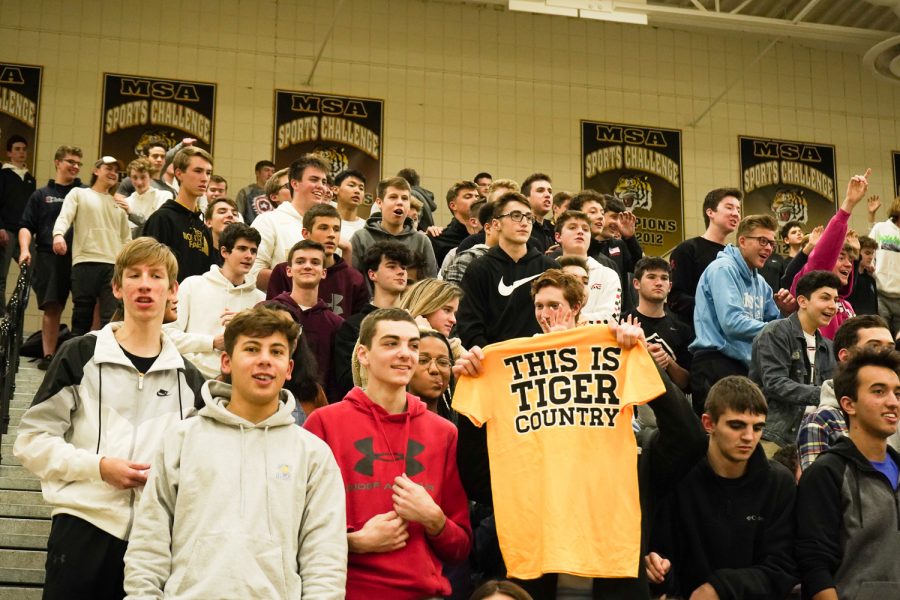 "We had a small group of students approach us and ask for a pep rally last week," Kreider said. "We wanted to wait as the fall season progressed so we could celebrate all teams at once."
Under the guidance of Director of Bands Todd Stefan, a pep band was quickly assembled to enliven the event.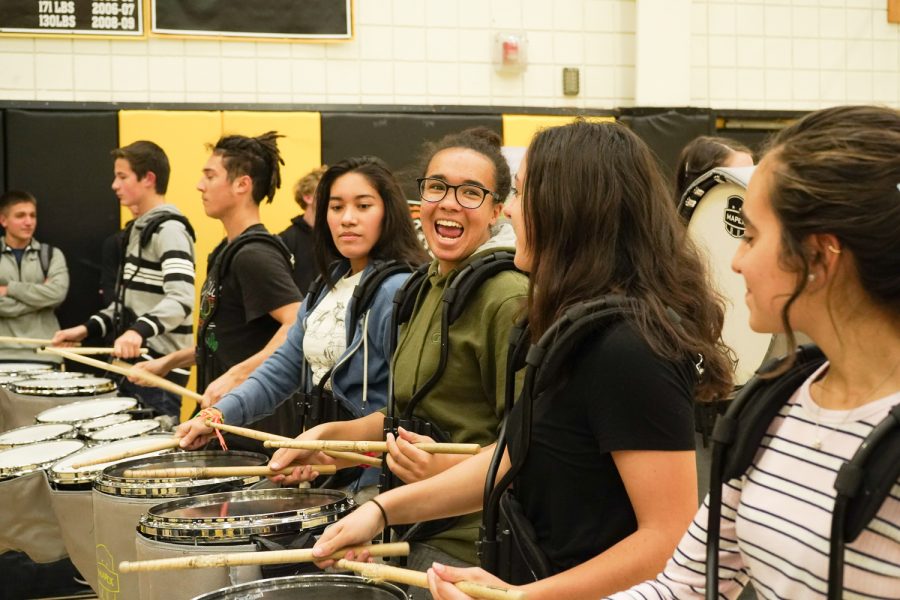 The rally was optional, meaning that students and teachers were able to choose to stay in class if tests or other important activities were scheduled.  But from the looks of it, most took part and they were glad they did.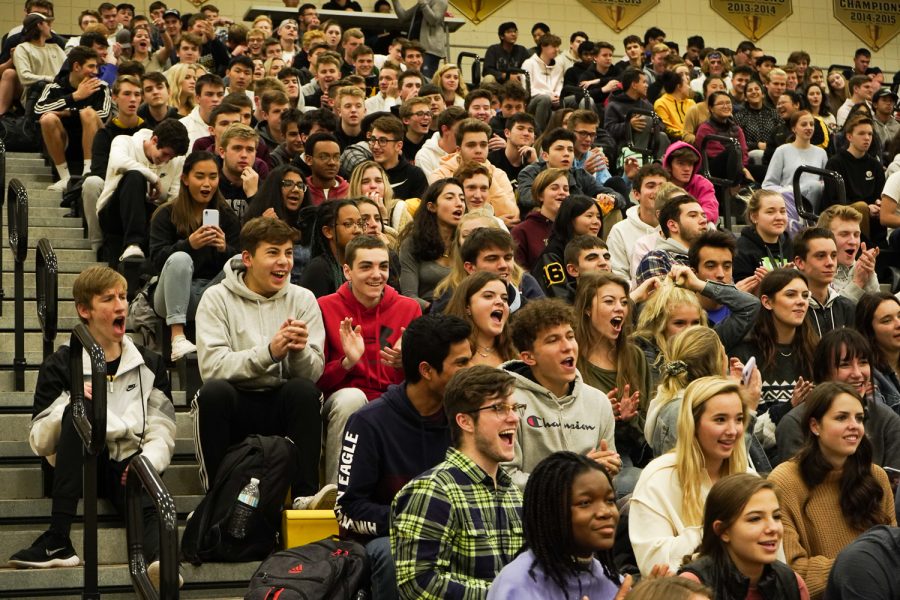 "It was exciting to finally get the school together so we can all get ready for the big game against Pine-Richland," said senior cheerleader Gabbie Klinkner, who helped to initiate the rally. "It was hilarious to see the football players dance to "Hey Baby.'"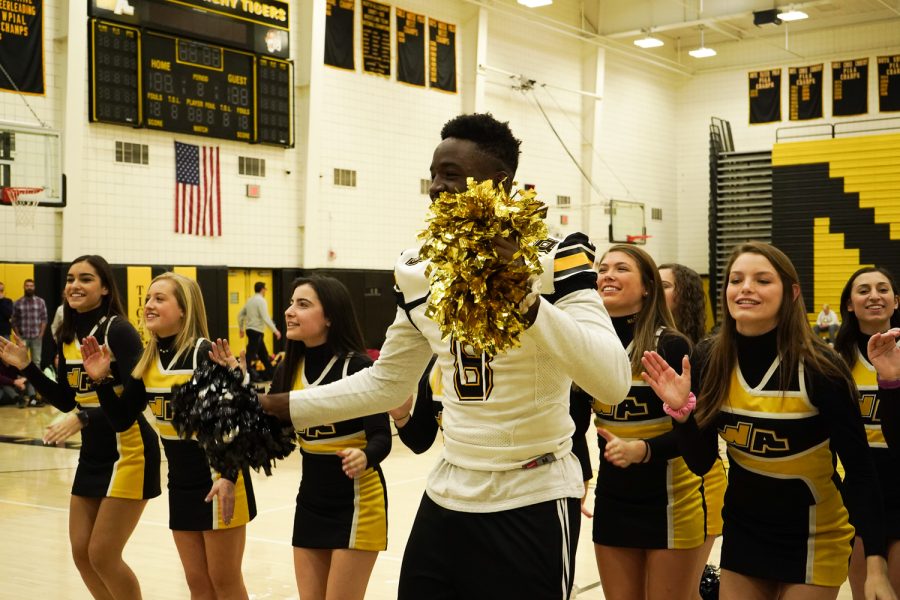 But the focus of the event was on more than the WPIAL playoff football game tonight.  The Girls' Soccer Team had an outstanding regular season record this fall, winning their first-ever WPIAL championship, and the season continues, with the team's eyes set on a state title.
"This season has been amazing," senior defender Natalie Mudd said. "We've achieved all our goals and more thanks to the teamwork and determination of the whole team. It's amazing to be a part of something this incredible with such a great group of people."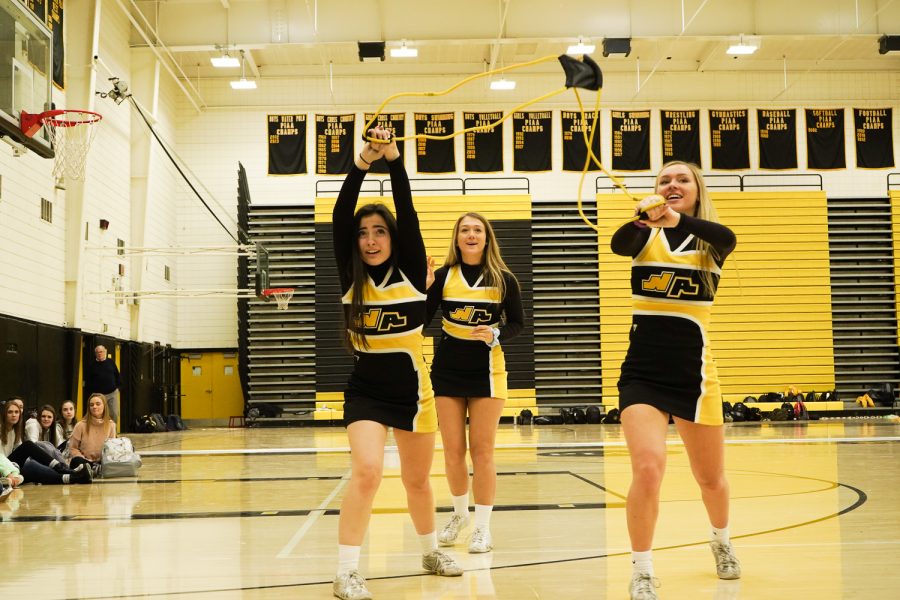 The Girls' Soccer Team unfortunately missed the pep rally, as they departed NASH earlier in the day to prepare for tomorrow's PIAA semifinal match.
"It's ironic that we missed something we're supposed to be featured at, but we appreciate the sentiment," Mudd added. "It's nice that NASH is trying to promote these teams and gain fans".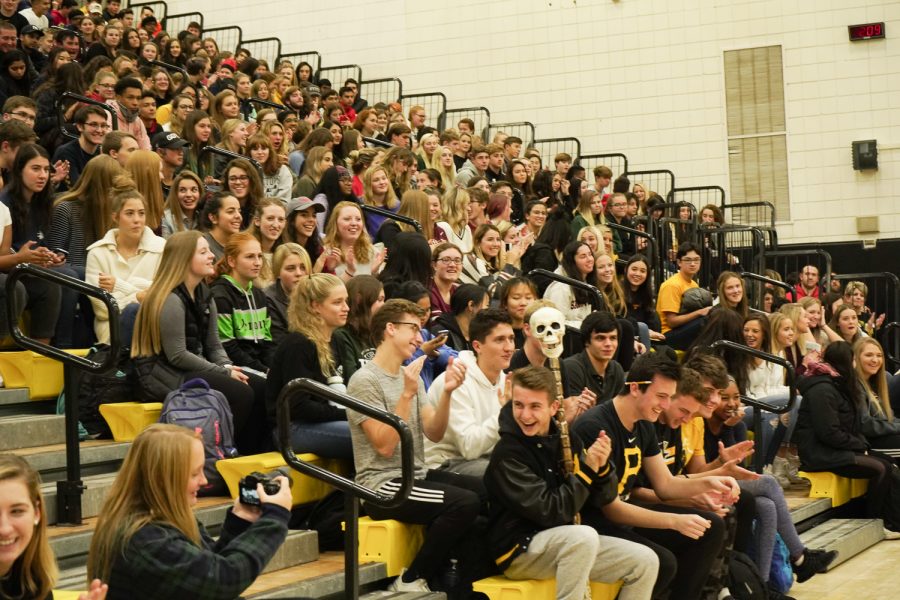 The Girls' Volleyball team, another NA squad currently in pursuit of a state title, was present at the rally. Coming off an extraordinary 65-game win streak that ended in the final set of the WPIAL championship match, the team was thunderously cheered on by the pep rally audience.
"Our team is so thankful to have such a large group of students who have been insanely supportive during our toughest matches," senior Maddi Curran expressed. "This season has been a crazy ride due to a handful of injuries but we're lucky to have a team full of versatility".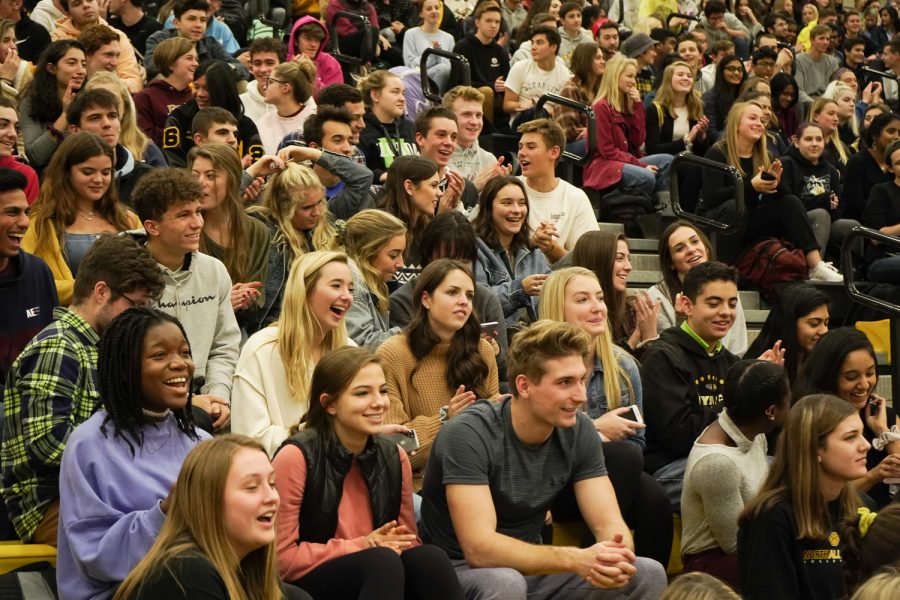 But tonight belongs to the Football Team, who remains number one in the section with only one loss. The team advances to the WPIAL quarterfinals this evening at 7pm against Pine-Richland.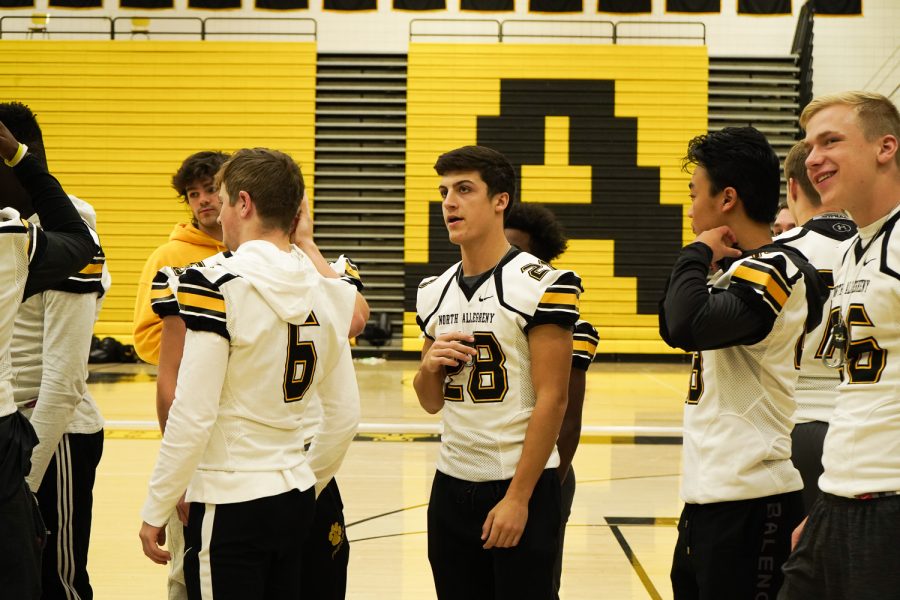 "I was really excited for the pep rally, and it meant a lot to the Football Team to see everyone's support and energy," senior quarterback Ben Petschke said.
For Kreider, who took a pie in the face to celebrate the season, the unique end to the week was satisfying.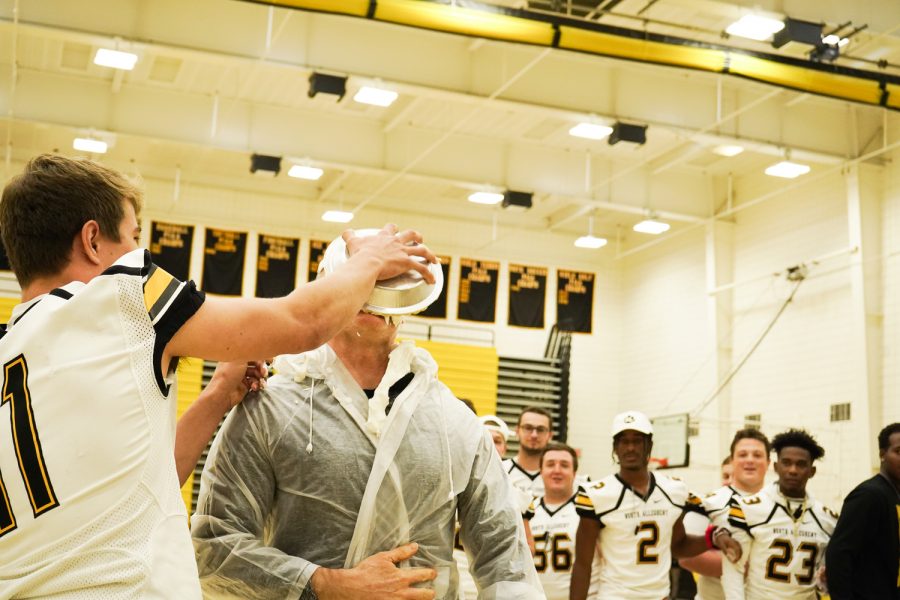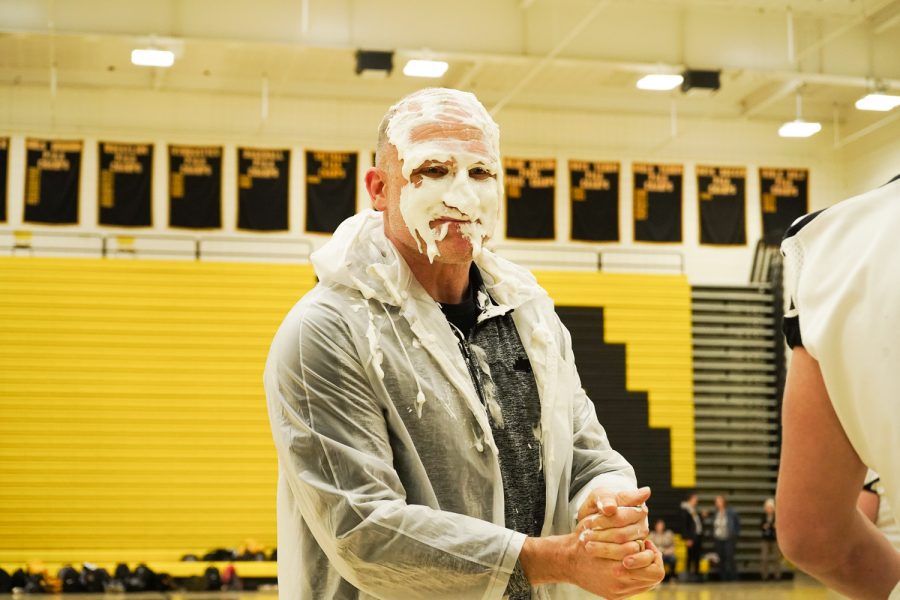 "We haven't done pep rallies in the past mainly because there hasn't been interest, but it is a great way to address school spirit," Kreider said. "We have a unique thing here with great scholar-athletes and great coaches. For many teams and students, success doesn't come across as something to celebrate because it's almost the norm, but I think it is important to recognize the athletes because of their great accomplishments."