Buzzer Beaters
Having defeated Mars Area's and Frazier's high school teams last month, NA's Hometown High Q lineup advances to the playoffs on KDKA TV.
Deep in the final round, with mere seconds on the clock and the playoffs on the line, the announcer delivered the question: "Ulysses was warned not to heed the songs of what rock group of alluring women who share–"
"Sirens," senior Ethan Eichelberger assuredly stated, after a rushed consultation with his teammates Daphne Nie and Divya Ramkumar.
"Correct," the announcer responded, "And that's the end of of our game."
NA's Hometown High Q team had advanced.
Airing on KDKA on Saturdays throughout the school year, the Hometown High Q competition pits Pittsburgh-area high school teams against each other in rounds of Jeopardy-style trivia. Questions can fall into any category, such as classical music, literature, history, science, or art. 
The competition is broken into several rounds. Competitive rounds feature three teams competing over who can buzz in to answer first.  Individual rounds present a series of questions to one team at a time. 
On November 16th, the NA team handled the rounds adeptly, beating the Mars Area and Frazier team to move on to the postseason.
"We're confident we have what it takes to make a deep run in the tournament," senior team member Jiangfeng Chu commented. "Our team is stronger than ever this year, and I think we have a good shot at going undefeated this season and winning the tournament."
"
It's a bit nerve-wracking knowing that I'm being filmed and that what I say and do is recorded."
— Daphne Nie, senior
Sponsor Mrs. Ruffolo is accustomed to success in the annual local competition.
"[In past years] NA has done very well," Ruffolo said. "We have kids who are bright, fast, and confident, and that allows us to succeed at the highest level of the competition."
Additionally, the team has a disciplined practice regimen.
"We practice on a weekly or biweekly basis before we are scheduled to film," Eichelberger said. "This constitutes 'playing' the teams from other episodes of the show. The way we do this is by watching the show, and trying to buzz in with the right answer before the people on TV do. This might seem a bit silly, but it's genuinely helpful for working on our buzzer speed, as well as helping us gauge our competition." 
Senior Divya Ramkumar added, "Our strategy is to work together. We all have a variety of areas that we are good at and we like to try to buzz in first and then discuss among the team."
Participating in the competition and getting to appear on local TV is certainly a unique opportunity, but it has proved to be a powerful incentive for senior Daphne Nie when she was in 4th grade.
"I had just moved to Pittsburgh, and I was watching local television when I saw Hometown High Q for the first time," Nie said. "Watching Hometown High Q helped me cope with moving to Pittsburgh, and I thought it was really cool." 
Nie didn't waste a moment when middle school presented her with the chance to begin preparing.
"
We have kids who are bright, fast, and confident, and that allows us to succeed at the highest level of the competition."
— Mrs. Ruffolo, High Q Sponsor
"I got into quiz bowl and trivia starting in middle school," Nie said. "When I found out that NASH had a Hometown High Q team, I immediately found out how I could join."
Multiple students sign up to be on the team, but only three team members are allowed to compete in a particular broadcast.
"A lot depends on the taping time and who's available that day," Ruffolo explained.
Knowing that their audience covers the greater Pittsburgh area, the NA team has had to learn how to control their nerves once the cameras are turned on.
"It's a bit nerve-wracking knowing that I'm being filmed and that what I say and do is recorded," Nie said. "Whenever I watch the recordings, I always cringe a bit when I hear myself speak. However, once the game begins, I get more excited and anticipatory rather than nervous."
Despite the high-stakes competition and intense preparation, the team members certainly enjoy the experience.
"The fast pace and breadth of topics covered makes it fun," Ramkumar said, "and, as a result, you never really know how a game will play out until the end."
The playoffs are scheduled for January, when NA will take on two other local high schools soon to be announced. The show airs at 11:00 a.m. on Saturdays.
About the Writer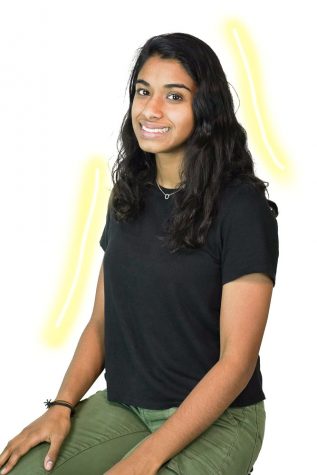 Anjana Suresh, Copy Editor
Anjana Suresh is a senior at NASH. She is a part of the rowing team and has been involved with Key Club. She enjoys eating pickles, playing solitaire,...