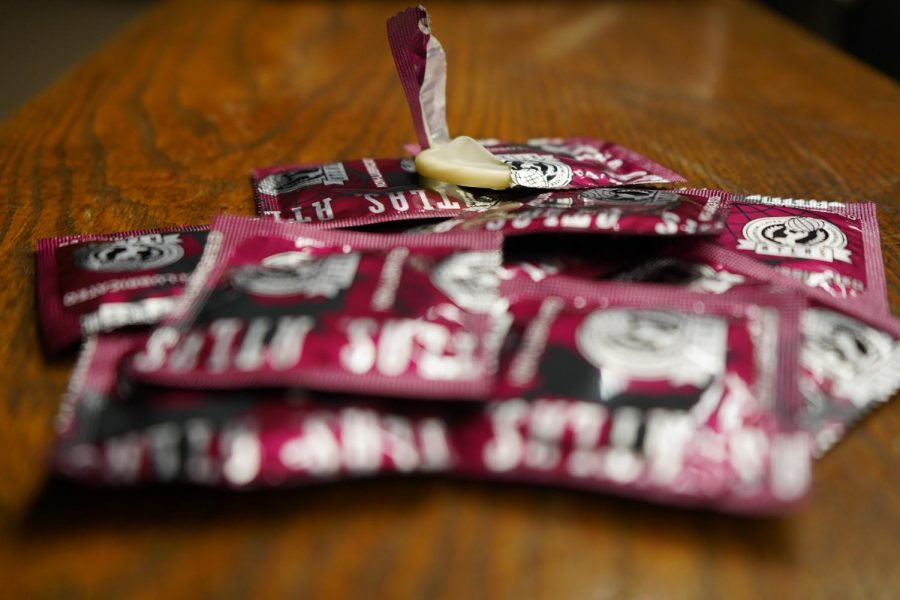 Photo by Jordan Atkins
In the spirit of February, a month of romance, it's worth asking a blunt and probably embarrassing question: How much do teens really know about sex?
High school sex education tends to be nightmarish for both teenagers and the adults tasked with doing the instructing, but practically no one doubts its importance. In the United States, however, the practice of educating students on the topic leaves a lot to be desired.
Here at North Allegheny, high school students receive one lone unit on sex education during a semester health class in 9th grade.
"I think that not only is sex ed barely taught, but it's also taught in a very narrow way– abstinence-only or abstinence-based," senior Ella Backauskas said.
Backauskas's view could be applied to the nation as a whole.
Thirty-seven states have legislation requiring that abstinence be taught in schools. Only eighteen states have legislation on the use of contraceptives. In a study done by the US National Library of Medicine, it was concluded that abstinence-only education was "correlated with both teen pregnancy and teen birth rates" and that "abstinence education in the U.S. does not cause abstinence behavior."
NASH Nurse Nicole Scrabis calls abstinence-only sexual education a "blind failure." She proposes that schools need "to educate more and be more open. It [sexual health] is nothing to be scared of — it's a part of life. We just need to be open and talk about it."
Only 29 states, along with the District of Columbia, have laws requiring sexual education, according to the Planned Parenthood Action Fund. Yet, the problem with D.C. and the states that have such legislation is that they do not specify any qualitative standards in regard to sex education in middle and high school. The Planned Parenthood article goes on to say that only 15 states require that the education be medically accurate.  
"I think there is just such a stigma (around sex ed), and it's ridiculous," Scrabis added. "I mean, it's 2020. It's about time that we start talking about it. I strongly believe we need to educate more."
Without knowledge of sex and intimate situations, authorities worry that teenagers will also lack knowledge of consent: how to give it, what it is, and what it is not. Abstinence-only education, they argue, does a disservice to teenagers by not protecting them from sexual assault. The National Sexual Violence Resource Center indicates that 51.1% of female victims have been raped by an intimate partner and 52.4% of male victims have been raped by an acquaintance. 
The inadequacy of sex ed in America is compounded for LGBTQ+ teens.  In 2017, the U.S. Census Bureau's Annual Estimates of the Resident Population estimated that the number of 15 to 19-year-olds in the U.S. who are not heterosexual is 21,131,660. Yet, according to the Planned Parent Action Fund, seven states have laws prohibiting education on LGBTQ+ relationships and sexual experiences. 
"One of my ground rules is 'Don't Assume Everyone is Heterosexual,'" Mrs. Melanie Lynch, a health teacher at North Allegheny Intermediate High School, said. "I use sensitive language and talk about disease protection and not just pregnancy. I would love to have an 11th-grade health class to teach more about these sensitive topics."
For NASH junior Mia Naccarato, the lack of LGBTQ+representation in NA's sex ed curriculum represents a serious problem.
"Though LGBTQ+ people make up 4.5% of the population, it is still imperative that sexual health programs and classes represent all types of sexual relationships, including those that are same-sex," Naccarato said, "In my required health class during freshman year, there was no mention of same-sex couples or sexual relationships. This needs to change, as LGBTQ+ people deserve to have representation in those programs."
In an interview with the Planned Parenthood organization, the Vice-President of Education at Planned Parenthood Federation of America, Dr. Leslie Kantor, said, "Sex education in middle schools and high schools and access to services for sexually active teens are critical to helping teens stay healthy and reach their life goals. By the time they are seniors in high school, most U.S. teens will be sexually active. All teens need to have the education, resources, and skills they need to make responsible, informed decisions." 
A lack of information and discussion about sexually transmitted diseases and infections can lead to many common misconceptions that can create lifelong problems. The Center for Disease Control and Prevention recognizes that adolescents and young adults ages 15 to 24 make up roughly half of the amount of new STD cases. For chlamydia only, the CDC cites a study done in 2017 that found that the female diagnosis rate increased by 4.9% from from 2016. For 15- to 24-year-old males, the percentage jumped to an 8.9%.
"Some students think that if they get treated for an STD or STI once, then it's not going to come back," Scrabis added. "'I don't have any symptoms' — I've heard that before. Well, guess what? You may not experience symptoms until years later when an issue arises."
When asked what they would change about sexual education at North Allegheny, both Backauskas and Lynch readily offered their answers.
"I would want sex ed to be taught holistically, not just saying that sex is bad and that abstinence is the only way, because that's unrealistic as well as impossible for everyone to do," Backauskas said. "Sex ed should explain ways to make sure you trust your partners and ways to prevent STDs and pregnancy.  I believe that, by doing this, the number of underage kids contracting STDs or having teenage pregnancies will greatly decrease." 
Lynch's suggestion was even more direct.
"To improve, I would create a sexual education and health course at NASH for the older students," she said.