Factual Fanatic
Shejuti Wahed's passion for the trivia show "Jeopardy!" has brought not only many laughs but also a determination to someday stand on the set herself.
The game is on the line. The category is Superlatives, and the question is worth $1600. Alex Trebek reads the clue.
"The biggest Jeopardy! fan at North Allegheny Senior High School"
A contestant buzzes in. "Who is Shejuti Wahed?"
The crowd erupts in applause. That's correct– Shejuti Wahed is the junior who considers herself to be NASH's biggest Jeopardy! fan and North Allegheny's own Alex Trebek.
Wahed has been watching the trivia game show for years, is an expert at all things Jeopardy!, and loves hosting her own games.
"I've watched Jeopardy with my family every single day since I was in sixth grade," Wahed said. "My parents are both biostatisticians, and my brother is a math prodigy, so we have a crazy, fun time yelling at the TV and fighting over who got the right answer first."
Jeopardy! isn't just about fun facts for Wahed — it's a much more emotional affair.
"I get excited, nervous, and sad when watching. I've cried over Jeopardy! twice." she admitted. "The first was when Alex Trebek, my role model, was diagnosed with pancreatic cancer. The second time was when James Holzhauer lost."
Holzhauer, a professional sports gambler, had a 32-game winning streak on Jeopardy! last spring and set the record for average money earned per game.
"His intelligence is absolutely mind-blowing," Wahed explained. "When a research librarian named Emma beat him, I cried many times that night. I've even found myself watching Youtube conspiracy videos about how the game was rigged for him to lose since he was winning too much money for the show to afford."
Wahed even has a favorite Jeopardy! question.
"The clue was 'Beyonce and Jay-Z released the album Everything is Love under this collective name,'" she recalled with a grin. "Rather than answering with the correct response, 'Who are the Carters?' someone said, 'Who is Bey-Z?'"
Recently, the show aired its College Tournament, where college students across the country compete to win the championship. To mark the occasion, Wahed hosted a Zoom party and invited her friends to watch it with her.
The beginning of the invitation read, Tonight starts the Jeopardy College Tournament, which is likely my favorite annual event in the universe, even more so than my birthday.
According to Wahed, the tournament is set at the perfect pace for viewers. 
"It's not too easy, like the Teen Tournament, but it's also not super competitive, like the Tournament of Champions," she said.
"
My dream is to participate in the College Tournament and possibly be a finalist, so I can come back for the Tournament of Champions."
— Shejuti Wahed, junior
Despite her extensive knowledge of Jeopardy!, perhaps the lengths Wahed is willing to go to watch the show prove her devotion the most.
"When I went to Saudi Arabia, they didn't have Jeopardy! on TV there. So, I had to tell my friends to watch and update me on the winners, Final Jeopardy clues, and answers," she said. "The days that they couldn't watch, I had to bury myself into the depths of Reddit and random blog websites to find recaps."
Though she enjoys all the fun facts and laughs associated with them, Wahed believes that most people underestimate the practicality of trivia.
"The best part about Jeopardy! is being able to use the facts in real life," she stressed. "You gain so much knowledge about everything, and it's good for any situation. It's useful on a daily basis."
In the future, Wahed aspires to actually go on the show one day. To participate on Teen Jeopardy, prospective contestants take a test, and if they get a perfect score, they move on to an interview.
"I've taken the qualifying test twice," she said. "But in the long run, my dream is to participate in the College Tournament and possibly be a finalist, so I can come back for the Tournament of Champions."
Until that opportunity arises, Wahed plans to keep watching and participating in her own games with her friends, but she calls dibs on hosting.
"I love being Alex Trebek and having the fate of the game in my hands," she said.
About the Writer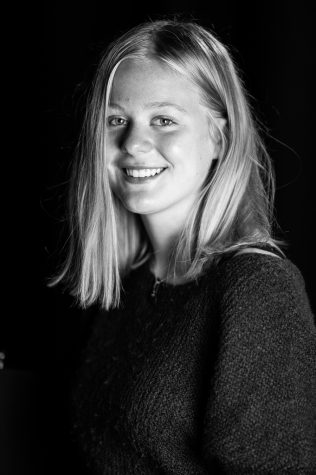 Kristen Kinzler, Co-Editor-in-Chief
Kristen Kinzler is a senior at NASH who loves expressing her opinions and drinking excessive amounts of coffee and tea. When she's not writing or rewatching...