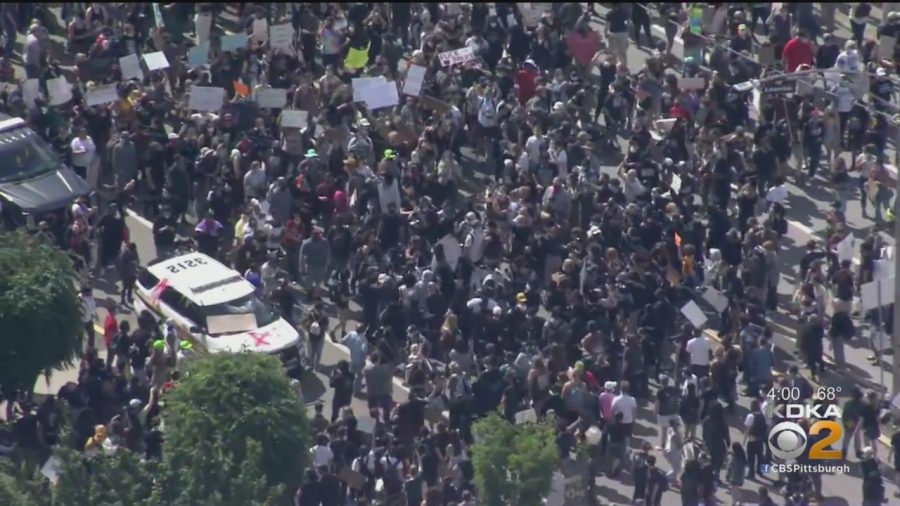 CBS Pittsburgh
On May 25th, in Minneapolis, Minnesota, another black man was lost to police brutality.
On the corner of Chicago Avenue and 38th Street, four officers from the Minneapolis Police Department responded to a report of a non-violent forgery in a nearby deli. The suspect, 46 year-old George Floyd, was asked to step away from his car, according to a statement released by the Minneapolis Police Department.
Floyd complied with the officers' demands, but was forced onto the ground in an aggressive manner. As seen in a video taken by a nearby observer, one of the officers held him down while forcing his knee into Floyd's neck. In the video, Floyd is seen begging officers to stop and repeating that he can not breathe, but the police officer did not heed his words. The officer did this for minutes on end, to the point where Floyd became unconscious. Floyd's final words before falling unconscious were "I can't breathe."
According to the Minneapolis Police Department, the officers then called an ambulance. Shortly after his arrival at Hennepin County Medical Center, Floyd died. 
Floyd's death has caused outrage, as he had completely complied with the officer's demands and was being calm in the situation. In addition, though it should not really make a difference, the crime he supposedly committed was neither violent nor confirmed: it was just an allegation of forgery. 
The four officers involved with the act were all fired. Derek Chauvin, the officer who held his knee on Floyd's neck, was additionally charged with third degree murder and manslaughter. 
Less than a day after his death, a protest occurred in Floyd's hometown of Minneapolis, Minnesota. The protest ultimately turned violent, and many businesses and stores were destroyed; a local Target was completely pillaged and lit on fire.
Peaceful protests and unruly riots soon spread across the entire country. Major cities like Los Angeles and New York City saw huge turnouts in their respective riots days after Floyd's passing, and several dozen US cities have witnessed gatherings to varying degrees.  Many city governments, in fact, have had to enforce curfews.
There have even been protests locally. The Pittsburgh protest took place on May 30, which started at 2:30 p.m. at the corner of Liberty Avenue and Sixth Street and went on for over two hours, eventually becoming violent. The Pittsburgh police used tear gas and horses to disperse crowds. Shortly after 7:30 p.m., public safety officials had declared a curfew to go into effect from 8:30 p.m. to 6 a.m. on Sunday, May 26th. Over 3000 people attended that day, including some North Allegheny students.
NASH student and junior Emilie Whitewolf shared her experience with the local protest.
"[The Pittsburgh protest] was the first protest I had ever been to," Whitewolf said. "You could tell that everyone there was very emotional and furious about what happened to George Floyd.  However, there were also people giving out water, there were lawyers giving out their numbers in case of arrest, and there were even medics available. Everyone was supporting everyone. It was a very empowering experience."
A second Pittsburgh protest occurred on Sunday and remained peaceful the entire time, though a smaller protest in East Liberty on Monday turned violent.
At this time, it's unclear whether the unrest will intensify or subside.