Parting Words 2020
The Uproar seniors offer their parting words as the school year ends.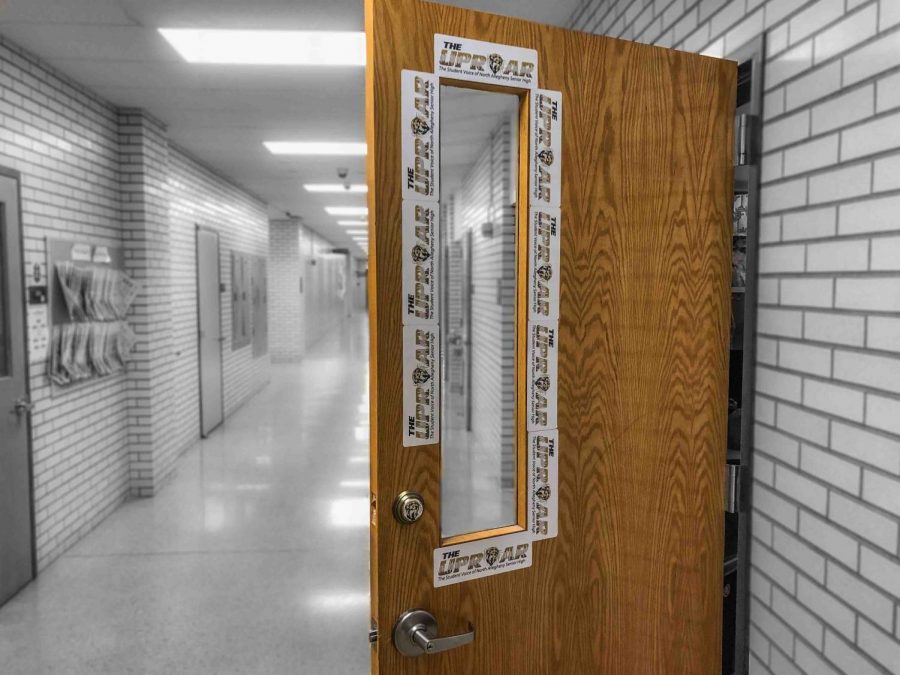 •KENDEL BARBER•
Senior year was super fun (even after missing the last part of it), but it was also more stressful than people say, mostly because of the college admissions process. College applications take lots of time and effort, and then the decisions can be super stressful. Getting accepted to college is one of the most exciting experiences you will have, but on the other hand, getting rejected from a college is devastating. It makes you question your own abilities and you'll reflect on high school and think you didn't do enough, try hard enough, or push yourself enough. Just keep in mind that admissions are super unpredictable, do not in any way determine your intelligence, hard work, or self-worth. You may get into a school you never dreamed you would, or get rejected by one you thought was a safety. So, take some chances because you never know what will happen, and remember that everything will work out in the long run. But also: enjoy every day of senior year in case some random Friday in March ends up being your last day:)
•KATIE GOLDEN•
I've been at North Allegheny my entire life. Although I'm ready to move on, it's still sad to say goodbye. I want to thank my teachers for believing in me and for their help in shaping me into the person that I am today. I have learned so much during my time here and hope to never stop growing and improving myself. This year didn't turn out the way we all expected, but it doesn't change what still got to experience. We made friends and memories that will last a lifetime. A missing semester could never change that. If this time has taught us anything, it's that we have to live in the moment and appreciate what we have. As a message to the underclassmen that I'm sure you're getting tired of hearing about — stop stressing. No matter what things will turn out okay, prioritize your mental state over your work, and don't forget that this will be your only high school experience. I know I didn't have the teen movie experience and I spent far too much time concerned with my grades, but, when I look back at my time at NA, I only remember the good times I had with my friends. And that's all that matters.
•JONATHAN ROSS•
I spent much of my time in high school as a chronic procrastinator, living by two phrases: "work smarter, not harder" and "why do today what you can do tomorrow." While I'll always stand behind working intelligently, the latter motto is less defensible. Procrastination interfered with my healthy schedule, it defeated my good work ethic, and it encouraged poor effort. Despite these obvious flaws, I like to think that I still turned out okay. And that is why my advice is not to entirely avoid procrastination–as a high schooler, it's honestly inevitable. My advice for everyone would instead be to recognize that, in the end, it will turn out alright. There is no need to be perfect, there is no need to be prompt in everything, and there is no need to worry over minutia. High school is a long time — there will be issues and inconsistencies, there will be moments of procrastination and bad grades, and there's no point in denying any of that. There is, however, a point in acknowledging that things will turn out for the better. In recognizing that, you'll be more willing to focus on your passions, more ready to take advantage of unique extracurriculars, and more available to make the memories that define your high school career.  It's these things that will make you a more well-rounded person–and yes, a more well-rounded college applicant, too.
•ANJANA SURESH•
I've always struggled a little when it comes to giving advice, but after looking back on my four years of high school at NA, I definitely feel like I've learned some important lessons worth sharing. I'm sure most of us have felt like high school was a never-ending rat race at some point. It was so easy to lose sight of yourself and what really mattered to you because of the added worry and pressure over what everyone else around you was doing. So as hard as it may be, don't compare yourself to your peers. Whether it's about grades, college acceptances or extracurriculars, no one's end goal looks exactly the same. Even if you don't have a clear picture of what you want to do after high school, that's okay, too. Taking time to find something you enjoy and to figure things out can never hurt you in the long run. No one can be completely sure where they're going to end up in ten years, so uncertainty is perfectly normal. And above all, as cliche as it sounds, make sure you're getting the most out of your high school experience. Surround yourself with people you trust, talk to your teachers, and do things that put you out of your comfort zone, so you'll be able to look back at your four years knowing something good came out of it.
•MEG REES•
It's hard to say goodbye to 13 years of your life so fast. I remember the first day of kindergarten, walking through Ingomar Elementary School and following the tiger prints on the floor to my first ever classroom. To me, it feels like yesterday. I will forever hold onto the memories I've made during my time at NA, from rocket math in elementary school, worrying about AR reading in middle school, to making photo essays for The Uproar in high school. I will always look back at these memories with a smile on my face. As Andy Bernard from the Office once said, " I wish there was a way to know you were in the good old days before you actually left them." Cherish every single memory you make in the building. Time flies fast, and sometimes, you don't know when it will all of a sudden end.
•MICHAEL TAFFE•
Senior year goes by really fast so make sure to enjoy it. My biggest piece of advice would be to make sure you get college applications done early. Don't worry about what other people are doing or where they are going to college. Visit as many schools as possible, and eventually you will find one that feels like home. Also, remember that senior year is your last year at NA. It can be so easy avoiding problems you've had with people through the years to try to keep friend groups together, but it isn't worth it. If you have a problem with someone, let them know; it will probably go much better than you think. Try as hard as you can in the first semester, so when you inevitably try less in the second semester, you have the grades to cushion your lack of motivation. Most importantly, do anything you wish you had done the last three years. If you want to join a club or try something, now is the time. When you get to college, you'll likely have to make a whole new group of friends and figure out a new city or living on your own. Senior year should be about having fun and trying new things, so you know who you are for the next chapter of your life.
•ALEXIS FRANCZYK•
I won't spout advice on note-taking or organization because, honestly, in the grand scheme of life those things are very minuscule compared to what matters. I will tell you to cherish all the moments, even the ones that seem unimportant, because very soon everything you have become accustomed to is going to change. So, enjoy those early mornings, debating on whether or not to show up to first period late (because you need those McDonald's hash browns or coffee from Dunkin), enjoy getting food on a whim after school with friends, enjoy late-night drives around familiar places, blasting familiar songs with familiar people — enjoy every single moment. A hug from your mom after a long day, laughing with your friends over stupid things, coming home to get tackled by your dog — these are the important things — the things you'll miss the most. Soon enough, you'll be walking onto a college campus full of new faces and new experiences waiting to happen, and you'll be wondering where the time went. So, my advice to you is to not take one second of your senior year for granted and to cherish all of the little moments. (And believe me, that early morning Dunkin' or McDonald's run is one hundred percent worth it. How else are you expected to get through a class at seven in the morning?)
•MELINA TRIPOLI•
Senior year will definitely be a year to remember. From all the last to it sadly getting cut short, it has been a crazy time. I'm not going to lie — this year was a tough one. Everyone says junior year is hard, but senior year is harder in a different way. You have to apply to colleges and figure out what you want to do. Then comes the waiting, and you still have all the schoolwork on top of it. It was fun at first, applying to places hoping to get in, but then once you started hearing back, the hard decision came. Throughout it though, I had so many great times from hanging out with my friends, performing some of my final half-time shows, and just enjoying my last few months here at NA. June has come faster than I ever thought possible, and I couldn't be happier, but at the same time, I'm sad to leave the place I've been for the past 13 years of my life! I wasn't expecting Friday, March 13 to be my final day at NASH, but here we are anyway. There are so many family, friends, and teachers who have helped me get to where I am today, and I'll forever be grateful! My last piece of advice is to just enjoy the ride. You never know what's going to happen. You might get injured, your year may get cut short by a pandemic, or nothing may happen, and it's just another year. All the same, just enjoy the big, small, and in-between moments because soon you'll be saying goodbye to the place you've spent the past years, and moving onto new and exciting adventures!
•MARIA CIMA•
Senior year at North Allegheny is something that I have looked forward to since I was a kindergartener at Bradford Woods Elementary School, and I must admit that the part I got to experience was legendary. I wouldn't trade the experiences I had or the friends I made this year for anything. If I have any advice, it would be to make every moment count and take part in as many school events as possible. My only regrets are not taking advantage of all of the opportunities that NA gave me. I would also say to meet as many people as you can. As I am currently attending new student orientation for college, I am realizing how lucky we are to be in a school setting with teachers and faculty who care so much about us and have prepared us so well. Looking back at my time at North Allegheny, I would say the thing I am going to miss most is seeing my friends or teachers in the halls and quickly saying "hi" to them or having a class with someone I knew a little, but quickly growing closer to them throughout the course of the year. My final piece of advice would be to take advantage of every day and not let anything pass you by. Thank you NA for everything you have given me and all the memories I have made over the course of 13 years. I am so sad that our time was cut short, but I wouldn't trade it for the world.
•JEANNIE SCHLEPPY•
I can't really think of all of the right things to express how I feel about my senior year, as well as my time at NASH. I'm deeply saddened about the abrupt end to it all, yet I think about all of the great memories and moments that were shared during my last year. To begin, I took a bunch of classes with awesome teachers that shaped me into the person I am today. I loved my English and journalism classes where I could express myself and be comfortable. I enjoyed all of the trips that I got to go on and loved attending school-sponsored events with my friends. It was such a great time, with all of the dances, sporting events, and activities that the seniors got to participate in throughout the year. It's funny now looking back on that year — I never realized how fortunate I was to have a school that gave me countless opportunities to thrive in every aspect. While my senior year was cut short, I still cherish the wonderful times that I got to experience at NA. I am so lucky to have something that makes saying goodbye so hard. I love my teachers, coaches, and friends with all of my heart. The advice that I would give to anyone going through high school is to stay true to yourself — you will be okay. You are going to get into college, I promise. Also, don't take anything for granted, because if this experience has taught us anything, it's that you never know when it will be your last time. Thank you, North Allegheny, for everything.
•CARLI LEONARD•
Looking back on my senior year, it is hard to explain exactly how I am feeling about it. I loved how involved I was with the various extracurriculars I was a part of, and I really did enjoy all of my senior year classes. I have met and gotten to know so many amazing teachers, students, and staff members at North Allegheny, and that is something I will always be thankful for. This would be my first piece of advice: do not miss out on getting to know the people that make up this school because they are truly special. There is no way of ignoring how sad the ending of our senior year was, and we missed out on so many "typical" experiences that most seniors get. While that part of it is upsetting, I could not be happier or have been luckier for what I did get out of my senior year. Another piece of advice to the underclassmen would be to not let your worry of applying and getting into colleges outweigh all of the things your senior year has to offer. Your application is good enough, your SAT and ACT scores are also good enough, and you will get into college. While those things are important, so is having a good senior year. Do not stress yourself out. North Allegheny is an incredible school, and while I know so many adults tell us what seems like all the time that we are "really blessed and should be extremely grateful" that we go to such a great school, those adults are right. Take in every moment, cherish it, and remember it forever… even the things that may not seem that important at the time.
•HANNAH LEDRICK•
There is a universal truth we all must face, whether or not we want to — everything eventually ends. As much as I've looked forward to this day, it's bittersweet as I say goodbye. I spent so much of these last four years under the impression that high school was this ceaseless adventure that I couldn't wait to finish. It feels like you have forever until you don't. It went by fast, just like our parents said it would, but if I could tell you one thing it would be this; it's okay to take a detour. All my life, I planned out what I wanted my future to look like, but in the end, it looks nothing like I imagined, and I couldn't be more grateful for that. Life never goes as we plan and if a college denies you, be thankful. If a door closes, know you've been blessed. Know that everything has a significant reason. Genuinely cherish these final chapters, friendships, and memories because one day, you'll break apart, embarking on a new path to another journey. Talk to people and don't be afraid to branch out. Do everything with effort and don't give up because it's easier. One day you will be graduating and wondering how this all happened so fast. It'll feel different because you are completely on your own, independent and free, but you'll secretly miss the times when you still had rules. Don't ever yearn to be older. Truly relish each and every moment in the present. Be okay with change and circumstances that don't make sense at the time. In the end, it will all work together, no matter how messed up it feels in the moment. But remember this, detours lead to a final destination — how you get there just looks a little different.
•RACHEL TIAN•
I'm not going to lie — out of all the ways I thought senior year would end, out of all the unexpected occurrences that I told myself I was going to be prepared for senior year, it did not even cross my mind that my final year at North Allegheny would be cut short in mid-March. At the beginning of remote learning, I definitely overlooked the whole situation, thinking, "It's temporary. We'll be back at NASH in no time. In the meantime, I'll enjoy an extra few hours of sleep." However, when our governor officially announced the end of in-person schooling, I felt the same emotions as what I believe my fellow Class of 2020 graduates felt: sadness, shock, regret, and anger. If only I could travel back in time and give a proper goodbye to all my classmates on March 13, 2020. Although it feels like an unprecedented end to a chapter of my life, quarantine has given me the time to do something a lot of high school graduates do not get the time for: reflection. Sitting at home every day, I now know to never take a friend's smile for granted, to appreciate all the teachers in my thirteen years of schooling that have seen me grow as a person, and to love my family for all they have sacrificed in my upbringing. I want everyone reading this to know that yes, the journey of high school is a bumpy ride, with many obstacles along the way that make you want to cry, or throw a tantrum, or just give up. But it truly is an unmatchable and unforgettable adventure. Every senior leaving the building will tell you that they grew from these mistakes and hardships; it is better to treat everything as a beneficial experience rather than a barrier to success. In terms of college admissions, which will most likely take up a good portion of your senior year, with applications and decisions and scholarships, just know that yes, it will be one of the most physically and emotionally overbearing processes you have ever handled. Getting that acceptance letter in the mail will genuinely wipe away all darkness in the world, and opening that unfortunate rejection email will also feel like a slap in the face. But seriously, if I learned anything from this process, it's that there are no guarantees in this college process. So instead of worrying about the different ways you will ensure admission somewhere, changing your application to match their standards, and turning yourself into someone you're not, just let the cards fall as they may and the right fit will match with you. I want to say goodbye and thank you to everyone who encouraged me to challenge myself throughout these years, and despite my appreciation for sleeping in, I miss seeing all your faces at 7AM every morning.
•TYLER BOYLES•
Over the past few months, my emotions about this year have been all over the place. I have come to learn some very valuable lessons. I learned the value of family and being able to come home to some of the most wonderful people on the planet. What they have done to try and help heal this feeling of just pure sadness about this year is something I will always cherish. I learned how important my friends were to me. Despite the fact that we were separated as a group, I have felt I have become closer with my friends. I think that the most important thing to hold on to for the remainder of high school or even the remainder of your lives is to always, no matter what, try to have fun at everything you do. Make the best out of every situation. Every day, make sure you wake up and realize that you have a chance to have fun and make someone smile. Love your family, love your friends, and love yourself. You never know when something so close to you can be taken away, so appreciate what you have every day.
•REESE MARSALIS•
As cliche as it may sound, time really does fly. As I reflect upon my last four years at North Allegheny, I can't help but to feel dozens of emotions. Though these emotions can be culminated into one feeling: bittersweet. Underclassmen, here are some points of advice that I am sure you have heard, but advice that you should heed, nonetheless. Do not take anything for granted. This hit me when the governor announced that schools were closing for the remainder of the year. It hit me when I realized that March 13 was the end of my North Allegheny experience. The early morning drives, cramming for your tests the period before, the cafeteria muffins during homeroom, friendly faces in the hallways, your teachers — they will soon all be a memory. I beg you to cherish the little things while you can. Secondly, work hard but do not let the stress of life consume you. Junior and senior year are extremely stressful in regards to college applications, tests, and the end of a chapter. But I urge you to take this stress and work with it. Turn the stress into motivation. Designate days to work on college essays and other days to study. Personally, making lists and crossing the tasks off helped me to stay on track. Work hard. And, I promise that a C on a test will not ruin your life. You will get into college. Take a personal day every once in a while. You will graduate. Finally, get involved. Whether this be in a sport, a club, or a specific class, life is more fun with people and passion for things you care about. Getting involved in the school opens up unimaginable doors. You form connections with people and gain life experience. Truly, it makes school more enjoyable. High school will be over before you know it, so try to make the most of it.
•MIA CAPRETTA•
Senior year was one of the best years of my life. This was the year that I really saw myself come into my own and decide what classes, friends, and activities were truly going to make me happy. I can't stress enough how important it is to get involved with NASH senior year. Being a part of organized groups and the student section is something that you may not get to participate in again depending on your post-high school plans, so it's crucial to get involved and make memories with your school. I was devastated to see the last half of the year disappear, but it made me realize how quickly things can be taken away and reminded me to appreciate every little moment. I still have not come to terms with the fact that so many of my friends will be packing their bags and flying to so many different parts of the country for college in just a few short months. It seems like yesterday we were finding our tables at lunch on the first day of senior year and comparing schedules. But I'm sure that no matter the distance between us, we will stay connected and always have the memories we made in high school to hold us together.
•PHOEBE LIU•
Senior year is the end of your high school career so make sure that you have tried everything you've always wanted to and that you have taken advantage of everything that NA offers. I definitely regret not doing or participating in lots of activities or events and now it is too late. Be sure to start your college applications early in the fall and you will be less stressed by the time that the winter comes and you'll have already heard back from some schools. Write your essays in the summer even and make sure to have others proofread and give advice! Do not compare yourself to others and their applications because in the end, it will do you no good, so just try to have a positive mindset about the application process and know that you will end up where you're supposed to! College applications can be a total shot in the dark, so make sure that you put your truest self on an application and do not try to conform to be something you're not. Ultimately, the only thing that matters is that you tried your best and hardest, and your senior year should be a great time filled with new memories, many lasts, and no regrets!
•NATALIE MUDD•
Senior year was probably my favorite year of school yet. It still is, which is why quarantine was so heartbreaking. I enjoyed all of my classes, loved all of my teachers, and got to experience a fantastic year with my friends whom I have known for so many years now. It is so unfortunate that the year had to end sooner than usual, but it was still a great experience. Honestly, this year was more stressful than I had anticipated. Everyone always talks about junior year being the tough time, but I found I faced a lot of college stress at the beginning of this year. However, once I finally made my decision, it was fun to just get to enjoy school with no ulterior motivations of striving to qualify for more education. Do not put too much pressure on yourself when applying, accepting, or committing to college — things will work out. Your decision isn't set in stone nor is it an iron cuff trapping you for the rest of your life. No matter what happens (crazy pandemic circumstances aside), enjoy your senior year! Cherish the time you have with the people around you and try to live in the moment!
•SOMYA THAKUR•
I never really thought that this was how my high school career would end. I had always imagined it like a coming of age movie. I would have my life figured out and be set to go to college, but if this pandemic has taught me anything is that we shouldn't romanticize our future. At some point in your senior year, you're gonna pull into NASH's parking lot for the last time and realize that this is it. This chapter of your life is ending and you may never see all your friends together again. When I first moved to Pittsburgh, I never really expected to fully enjoy my time here. I genuinely never thought I could make friends as close as I had before moving away from where I was born. But after my freshman year, I met amazing people who have stuck with me throughout high school. Yes, you may have some big fights, but if you're really friends you'll stick through it. I'm not gonna lie, sometimes it feels like you're all alone, but just know you're not. There are so many people in this community that will go out of their way to make sure you're comfortable and feel like you belong. High school should be a time to make memories, not study endlessly. If your friends ask if you want to go get food after school, skip the nap, trust me. Go with them and have fun, stop holding yourself back. I wish I had taken the time to slow down and enjoy my time with my friends and the people in my classes. I really wish I hadn't kept on telling myself, "Second semester senior year is when you can relax and hang out with your friends." So, to all the upcoming seniors next year, cherish your time with your friends, grades don't define you, and in the end, you're not gonna remember what you got on a test. You're going to remember the times when your friends made you happy and carefree. Cherish every moment with your peers because it will really fly by!
•MADDIE KANTZ•
Earlier today when I turned in my last assignment for North Allegheny, the phrase, "you don't know what you've got until it's gone," truly hit close to home with me. In the blink of an eye, everything I've known for the past 13 years of my life very quickly became just another memory. With that being said, I'm going to emphasize the importance of doing as much as you can as long as you can because it truly does fly by. Go to the football game, go to the school dance, go hang out with your friends because before you know it, you will no longer have the option to do so. If there's one thing I've taken away from this year, it's that tomorrow is not a guarantee. If you keep saying, lI'll do it next time," before you know it, there will be no next time. Additionally, another thing this year has taught me is that procrastination truly is not your friend. I'm telling you this as a fellow student who procrastinated literally every possible thing that could be procrastinated. If nothing else, the least you could do for yourself when it comes time for college applications and closing this chapter of your life is to not procrastinate. However, even if you don't procrastinate, at least a little bit of stress is inevitable; it's important to take a few days off for yourself and congratulate yourself for all you have accomplished up to this point because all you have done truly is worth celebrating. No matter how overwhelming it may seem, it will all work out in the end and you will realize this at one point or another. Until then, it's important to not quit until you have done everything you've needed to do. The feeling of reaching the end knowing you've done it all is something truly rewarding that is beyond anything you can imagine. Writing this paragraph has made me realize that graduating doesn't mean I'm supposed to say goodbye. Instead, I need to be saying thank you to North Allegheny because we are all truly blessed to attend a school that is able to provide us with the resources we need to do great things.
•RACHEL MORRELL•
It has taken me awhile to truly appreciate my senior year of high school. I had wanted school to be over and move on to college so badly since the beginning of the school year. My eyes were set on going to a university out of state and leaving Pennsylvania behind. The past few weeks, however, have really changed my mindset regarding this school year. Not being able to make the memories I had planned on making was heartbreaking. I wish I could go back in time and persuade myself to go to football games, ask people to dances, participate in more of my classes, and do more with the limited years of high school that I had. Take those steps, go out of your comfort zone, meet new people, and make the most of the situations you find yourself in. Don't worry about what colleges other people are applying to; do your research and apply to wherever you feel will benefit you the most. Make sure to really cherish the people you meet and the adventures that you have because one day you will look back at your high school years and want to feel joy instead of regret.
•NEETI CHERUKUPALLI•
High school taught me many lessons, one of which was to find that balance between focusing on academics and just having fun. It's no doubt that having clear goals in terms of grades and achievements is crucial, but the unconventional and abrupt ending to our senior year made me realize that turning high school into a meaningful, and more importantly, memorable experience is arguably equally as important. My biggest piece of advice would be to not to take anything for granted. You're certainly not going to love everything that comes your way, but at the very least, give it a chance. Admittedly, I took a journalism class in my senior year because some of my friends had told me about how easy and fun it was. In turn, I used it as a constructive space to express my strongly withheld beliefs and frustrations in the form of writing. Perhaps due to the amount of creative liberty I was given, journalism ended up being one of the most compelling and enjoyable classes I took and will unequivocally be one that I remember for a long time. This past year might not have had the carefree ending that every senior was looking forward to, but it ended up being one where I made some friends I know I'm going to keep in touch with forever, one where I had a lasting impact on some of my favorite teachers, and one where I made enough outstanding memories to feel content with my high school experience overall. So, I urge you to treat high school as a trial period for all things new–join clubs, make friends, try new classes, participate, and most of all, enjoy yourself and always keep your eyes open.
•HANNAH SHIFLETT•
Having attended twelve schools, I never thought that I would be graduating from NA. My senior year at NA may have been short-lived, but it was still one of the best years of high school. Going to Friday night football games, watching my friends walk across the field for the last time, seeing everyone perform and give their last hoorah — senior year has been one to remember. My advice is to make sure you do everything college related the summer before senior year, and remember to take everything in and cherish it all. The moments that make you cry, laugh, and shout will be the ones you remember. My teachers have left a long-lasting and inspirational impact on me. Thank you, NA, for giving me a senior year to remember.
•MEGAN WILSON•
Even though my senior year was very short-lived, I got to experience most of what a normal senior year is all about. I got to go to FNL one last time, have one more orchestra concert, go to my last Homecoming and Morp, and make countless of memories with my friends. Even though we did not get Prom, dodgeball, TigerThon or all of the end of year memories, we still have all of the other memories from all other years of high school to look back on and remember all of the good times. The teachers I have had throughout the years and the friends I have made and lost have made a huge impact on my life. The advice that I have is to cherish everything and enjoy everything you do, even the small things, because you never know when you won't be able to do them anymore.  Also, work hard your senior year, even if it is hard to stay focused. Thank you, NA, for everything that you have done for me and the countless memories I have made throughout the years.
•BETUL TUNCER•
Though senior year didn't quite end in the way that I expected, it will forever be memorable. I remember starting off the year with great expectations but also great stress. I wanted high school to come to a quick end so that I could get to the good part. Unfortunately, the good part didn't come in the way I wanted, but in the way I needed. The way in which our 2020 school year came to an end made me realize quite a few things. One of them being why I joined the journalism class in the first place. Though school wasn't physically in session, the fact that all of us on The Uproar were able to continue to write and keep a sense of normalcy within the chaos was astonishing. It felt as though during these past few months, The Uproar had helped me stay connected to the students and teachers at NASH because I was able to read and write about them. I joined journalism wanting to not only develop my writing ability but to also be a part of something bigger, and it gave me just that. What I love about journalism and the written word is that it has the power to keep people connected and informed; whether that be through news, heartfelt stories, controversial opinions or uplifting words. And thanks to The Uproar, I was able to experience that first hand and develop a further love for writing. Going off of that, my advice to those continuing on at NA, and frankly to the world, is to find and understand your voice. And when I mean voice, I mean they way you express yourself– figuratively, emotionally, physically and everything in-between. My experiences through high school have shown me that oftentimes, we are too caught up trying to "fit in" and make friends that we forget what it means to be ourselves. I know others have said it before, but I can't stress how important it is to be yourself. When you take time to understand who you are and what you stand for, life truly is better. And with that, I'll leave you all with a quote from one of my favorite musical artists, Kim Namjoon: "No matter who you are, where you're from, your skin color, your gender identity: just speak yourself. Find your name and find your voice by speaking yourself." Farewell NA, treat others well, and remember my writing because who knows, maybe one day you'll all read it once again.