A Review of The Politician: Season 2
Season two of the Netflix Original series is full of drama and politics.
After its success in season one last year, The Politician is back on Netflix for season two with many new changes. In fact, the show feels like an entirely new series this season—but a good one at that.
The first season of the show followed Payton Hobart, played by Broadway star Ben Platt, through a high school class council election. In season two, however, Hobart is a student at New York University, whose aspirations in government sends him on the political trail. Dede Standish, portrayed by Judith Light, is a several-time re-elected New York State Senator, who has always run unopposed—until now.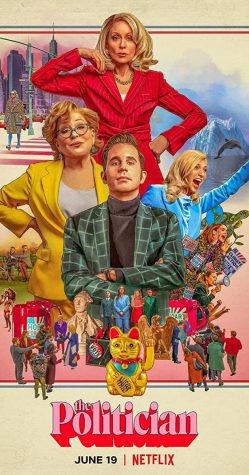 The season follows the ups and downs of both Hobart's and Platt's political campaigns, exposing the corruption in our nation's government system. Controversial topics such as sex and sexuality, climate change, racism, sexism, and abortions are all touched upon. Covering topics like these on an entertainment platform is no doubt risky, but it only heightens my respect for the season and the writers. 
Despite its name, the show isn't really about politics at all. It's about relationships—good and bad—backstabbing, and above all, finding yourself along the way. Ever since season one, Hobart proves himself to be determined, doing anything necessary to win. But in season two, audiences are given a glimpse into his heart. He's not a bad person and his motives are generally good, but he struggles with right and wrong. 
Hobart, however, has a support system—a group of ride-or-die friends from high school. McAfee Westbrook, Skye Leighton, and James Sullivan (played by Laura Dreyfuss, Rahne Jones, and Theo Germaine) are his right-hand campaign managers. The writers do an excellent job formulating characters that not only bond well but also represent true, raw friendship. 
The show itself is no doubt ridiculous, with so many aspects that are impossible to imagine in real-life—aspects that are likely not appropriate to write about in a school newspaper. Nevertheless, the show gives viewers a glimpse into our government — more specifically, how far candidates will go to win. 
Ryan Murphy is known for creating progressive shows, but he's quite outdone himself this time around. The show's liberal tendencies make sense, considering the plotline following a Democratic political candidate. However, at times, it feels like the underlying theme is thrown into the audience's faces rather than subtly hinted at through the plot. 
Topics such as climate change are debated so consistently throughout the show that I was rarely left surprised by the outcomes. It's as though the writers abided by "When in doubt, climate change" or any other controversial topic. And while it did feel repetitive and even bold at times, it was also a risk that I commend the cast and crew for taking. 
As always, Ben Platt's performance is exquisite. His portrayal of a young, zany politician is excellent. Judith Light and Bette Midler's dynamic duo is perfectly cast and executed, as their youthful spirits contrast well with Hobart's campaign. 
With all of these factors in mind, I'd give this season of The Politician a four-star rating, increased from season one. I thoroughly enjoyed each episode, despite the intricate and predictable plotline. Creator Ryan Murphy has already begun to envision a third season, so I look forward to whatever the cast and crew devise next.