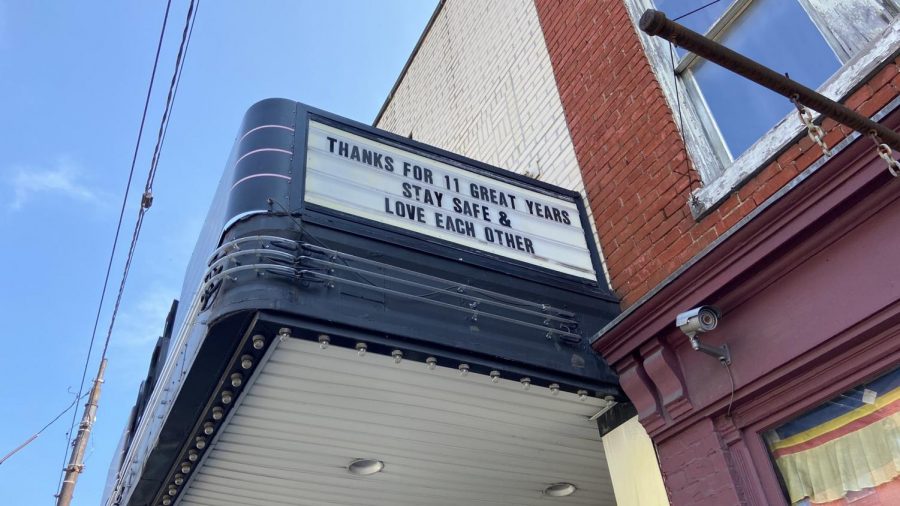 photo courtesy of @WPXITonyRuffolo on Twitter
Before he was hired as a North Allegheny custodian, Jay Koval worked on the production team at Pittsburgh's Club Cafe, a local music venue and longtime hot spot for emerging jazz and indie bands.
"We were doing a show every night," Koval said, "sometimes even two per night. It was robust."
Sadly, those days have ended.
In the wake of the COVID-19 pandemic, among the hardest hit have been the owners of small, local music venues and the professional musicians who once performed on their stages. Nationwide, nearly 90% of music venues have already closed or are at risk of closing this year.
The Rex Theater, a popular music venue located in Pittsburgh's South Side, released a Facebook statement on September 22nd announcing a permanent shutdown after over a decade of being open. The post read, "Due to the ongoing hardship and uncertain future caused by the [COVID-19] pandemic, The Rex Theater will be closing our doors after over a decade of live music and events."
With a seating capacity of over 500, the Rex was an exemplary performance space for local artists and bands. It originally existed as a vaudeville theatre since the early 1900s and served primarily as a concert venue over the past ten years, allowing hundreds of local or touring musicians annually to entertain residents living in or around the Pittsburgh area. 
In their statement on Facebook, the Rex owners went on to write, "We want to thank everyone who's come to a show, everyone who's played a show, everyone who has worked in ways big and small and helped us make this crazy dream a reality."
Hambone's, a bar located in Lawrenceville that often hosted aspiring musicians and comedians of all ages in the Pittsburgh area, also announced that it will be shutting down permanently due to the passing of its owner, Jeff Holt, as well as COVID-19 concerns. 
Because live performances with in-person audiences have remained practically impossible since the shutdown in March, venues that were already struggling have been forced to respond to worsening economic conditions. Even with live performances through virtual means, such as live streams on Facebook or Instagram, it has been difficult for these businesses to bring money in and stay open.
Hambone's released a statement on Facebook on October 10th to announce its closing: "We are very sad to have to tell you all. We tried, we really did… but with the death of Jeff, the bank has made the decision to not continue business with his estate.. and the debt is insurmountable…Therefore… it's over. After 35 years in this spot, with Bill Hammill, then Bill and Jeff, then just Jeff at the helm…We are now permanently closed." 
Despite the hardships, a few local musicians have managed to make the best of a bad situation. 
Gabriella Salvucci, a student at Lincoln Park Performing Arts Charter School, is grateful for all of the opportunities offered in the Pittsburgh music scene that have helped her and other young musicians in the area grow.
"Pittsburgh has always had a lot of really great opportunities for musicians," Salvucci said, "and it's really upsetting seeing venues being shut down or opportunities being taken away that have helped me grow so much as a musician."
Although the scene looks much different now, Salvucci has managed to replace what she did before with safer alternatives.
"COVID-19 made things a lot more difficult for me," she said, "but I've been able to have online voice lessons and do online concerts and open mics throughout the past few months. The Afro-American Music Institute, where I take lessons, was able to reopen safely in September. It's different from how lessons used to run, and we have plastic screens dividing us, but it's nice to be back doing what I love to do."
Gibson Musisko, who attends Taylor Allderdice High School, has found opportunities to perform live to socially distanced audiences wherever he can. He credits most of these opportunities to hardworking local organizers. 
"I've been so lucky to be able to play live at all," he said. "The reason I'm so lucky is because of local organizers, who have always been so committed to giving people a chance, and now they are making accommodations for us musicians and booking us in a really hard time for their venues."
For Koval, the news Pittsburgh's music venues have fallen on hard times comes, unfortunately, as little surprise.
"Honestly, I'm amazed that they were able to stay open for as long as they did," he said.
Music lovers can support local musicians in this tough time by streaming their music, buying merchandise, and attending live performances when possible. Because it is difficult to ask for money when hosting live stream concerts, and popular streaming platforms like Spotify pay artists less than a thousandth of a cent per stream, any support is generally appreciated by local artists.