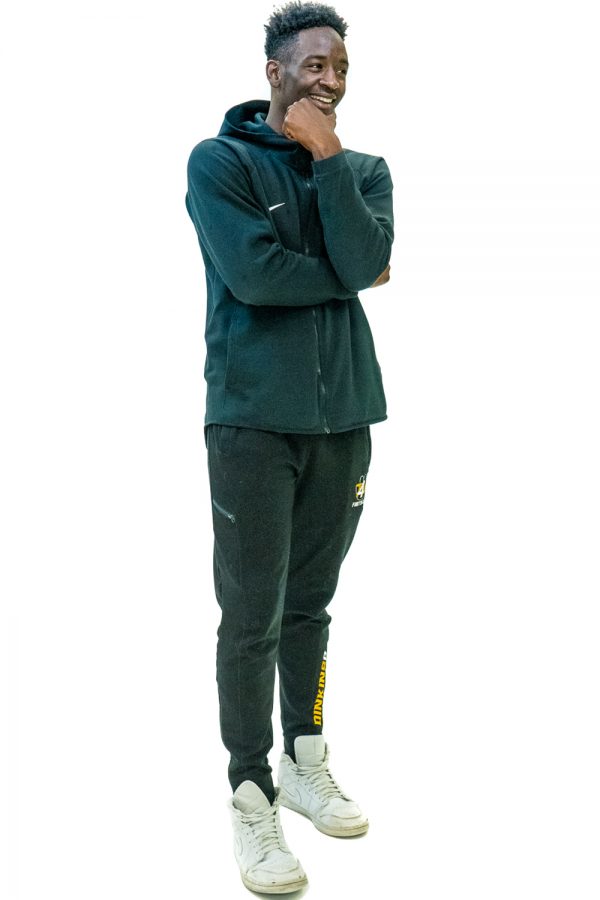 photo by Mia Dudek
What do you like about basketball, and what do you gain from it that you don't from football?
What I love about the sport is the competition that comes with it. The competition gets me into a state of mind where I am only focused on one thing. Trying to win the game. Basketball helps me in ways where my hands and feet are much quicker due to just playing defense and passing the ball. It helps with my hand-eye coordination along with increasing my endurance.
How old were you when you started to play football?  
I was around 6 or 7 years old when I started playing. I started my journey as an athlete because it has always been my dream to become a professional.
What do you love about football? 
It's been my passion since I was young. It brings people together, and it's not only a team — it's a family. 
Who inspires you to work hard in both sports? 
The person that inspires me to work hard is Michael Jordan because of his dedication. The way he has worked all through his life is amazing, and I want to have that tenacity to work hard every chance you get.
Do you have any superstitions you do before a game? 
I try to make sure I don't seem over-confident before a game. I feel if I try to be a boastful person on the field before a game, I am not going to do as well. I also used to get angry too easily. I make sure to stay focused, so the anger doesn't get in the way of my playing.
Why did you choose Penn State for football? 
I chose Penn State because I felt a connection to the school. The coaches there and the atmosphere at Penn State are great.
How did COVID-19 affect your recruiting process? 
COVID-19 has made it hard to go and see other schools. The NCAA shut down visiting schools for recruiting, so I was not able to view all the other schools and campuses. Some of the schools I was already able to see because we had visited them in the past. We already had Penn State, Michigan State, Toledo, and a couple of other schools.
Describe the past four years with the NA Football Team, and what you will miss?
These past four years with my football team have been so adventurous. There have been so many ups and downs. I am going to miss the time with the guys because we have built such a great relationship between each other. The bond we have made as teammates really does make it feel like it is a brotherhood. We came from mixing together our middle schools because there wasn't enough football to make a full team to walking down the line on Senior Night knowing that this is our last home game together. But I wouldn't want to have it any other way.
What are you planning to study at Penn State? 
I am planning on studying business. I hope to make my own merchandise and brand some day. I have always dreamed of having my own brand of something, so hopefully one day I can make it.
Other than football, what do you like to do in your free time? 
I like to chill and hang with my friends when I get the time. Other than that, I like to play games. Some of the games I like to play are single-player, like Assassin's Creed and Spider-Man. I am more of a PlayStation player than Xbox because I honestly just think PlayStation is better.  
What's one weird fact about you?
My one weird fact is that I am double-jointed in my legs. 
What are your favorite top 3 favorite TV shows?
One of my favorite TV shows is Teen Wolf. The reason for this is that I have always liked supernatural shows. Another favorite tv show is Smallville because it has Superman — no need to explain more. Dragon Ball is also definitely one of my favorite shows. The show has great animation.
Do you have any advice for the younger kids at NA who want to play football?
My advice to younger kids is to stop waiting for something to happen and make something happen.