A Little-Known Trailblazer
Kamala Harris is about to make history, but she will not become the first non-white vice-president in U.S. history. That honor is held by Charles Curtis.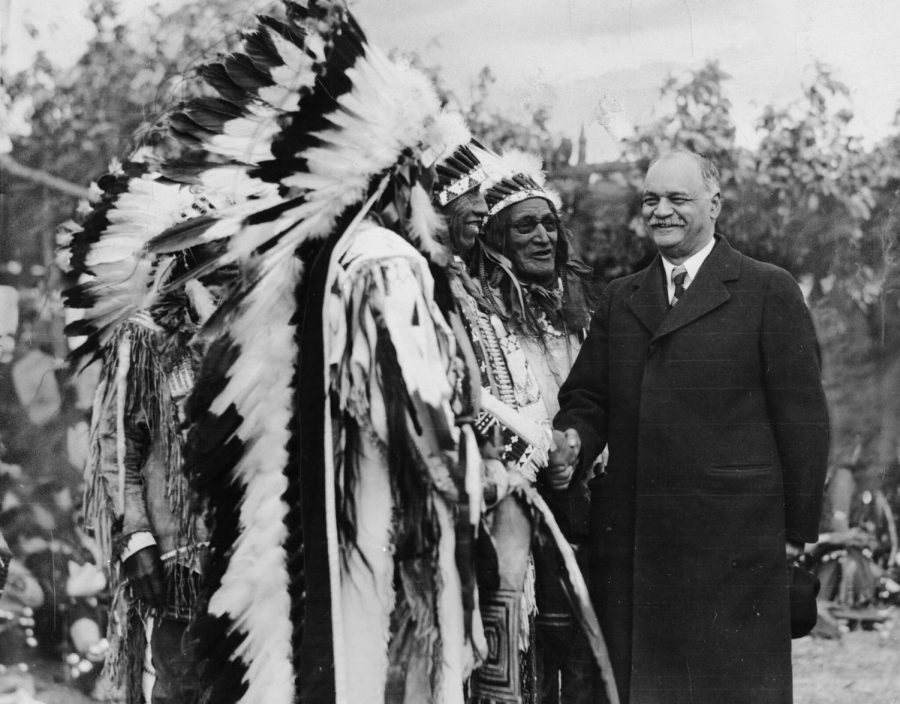 In‌ ‌the‌ ‌past‌ ‌decade‌ ‌and‌ ‌a‌ ‌half,‌ ‌America ‌has ‌seen‌ ‌its ‌first‌ ‌non-white‌ ‌president,‌ ‌Barack‌ ‌Obama,‌ ‌and‌ ‌‌first‌ ‌non-white‌ ‌female‌ ‌vice‌-president-elect,‌ ‌Kamala‌ ‌Harris. It‌ ‌seems‌ ‌that a‌ ‌more‌ ‌equal‌ ‌future has finally begun to take shape.‌ ‌Yet‌ ‌surprisingly,‌ ‌just‌ ‌under‌ ‌a‌ ‌century‌ ‌ago‌ ‌in‌ ‌1928,‌ ‌America‌ ‌elected‌ ‌its‌ ‌first‌ ‌non-white‌ ‌vice‌ ‌president,‌ ‌‌Charles‌ ‌Curtis.‌ ‌ ‌
‌Curtis‌ ‌was‌ ‌a‌ ‌Native‌ ‌American‌ ‌Republican‌ ‌attorney‌ ‌from‌ ‌Kansas‌ ‌and‌ ‌a‌ ‌member‌ ‌of‌ ‌the‌ ‌Kaw‌ ‌nation.‌ ‌‌Yet‌ ‌much‌ ‌of‌ ‌his‌ ‌early‌ ‌childhood‌ ‌is‌ ‌shrouded‌ ‌in‌ ‌mystery.‌ ‌What‌ ‌we‌ ‌do‌ ‌know‌ ‌is‌ ‌that he‌ ‌was‌ ‌born‌ ‌on ‌January‌ ‌25 in‌ ‌the‌ ‌dry‌ ‌prairie ‌winter‌ ‌of‌ ‌1860‌‌ ‌in‌ ‌North‌ ‌Topeka,‌ ‌Kansas‌ ‌territory,‌ ‌which‌ ‌was then‌ ‌in‌ ‌the‌ ‌process‌ ‌of‌ ‌becoming‌ ‌a‌ ‌state.‌ ‌
His‌ ‌father‌ ‌was‌ ‌a‌ ‌white‌ ‌man‌ ‌of‌ ‌English‌ ‌descent,‌ ‌and‌ ‌his‌ ‌mother‌ ‌was‌ ‌of‌ ‌the‌ ‌Kaw‌ ‌Nation.‌ ‌Although‌ ‌she‌ ‌would‌ ‌die‌ ‌three‌ ‌years‌ ‌after‌ ‌his‌ ‌birth, ‌she ‌nonetheless‌ ‌influenced‌ ‌him‌ ‌greatly‌ ‌by‌ ‌teaching‌ ‌him‌ ‌the‌ Kanza‌ ‌‌language ‌and‌ ‌the‌ ‌French‌ ‌language.‌ ‌His‌ ‌father‌ ‌would‌ ‌soon‌ ‌remarry,‌ ‌but‌ he ‌divorced‌ ‌soon‌ ‌after‌ ‌and‌ ‌within‌ ‌a‌ ‌year‌ ‌left‌ ‌the‌ ‌young‌ ‌Curtis‌ ‌with‌ ‌his‌ ‌maternal‌ ‌grandparents‌ ‌to‌ ‌fight‌ ‌in‌ ‌the‌ ‌‌Civil‌ ‌War.‌ ‌ ‌After‌ ‌the‌ ‌war‌ ‌ended,‌ ‌Curtis's‌ ‌father‌ ‌returned‌ ‌in‌ ‌1866‌.‌ ‌Soon‌ ‌enough,‌ ‌the‌ ‌Curtis's‌ ‌had‌ ‌a‌ ‌new‌ ‌baby‌ ‌girl‌, ‌Theresa‌ ‌"Dolly"‌ ‌Curtis.‌ ‌
Records‌ ‌of‌ ‌Charles Curtis's ‌life‌ ‌at‌ ‌this‌ ‌point‌ ‌are‌ ‌few ‌and‌ ‌far ‌between‌ ‌with‌ ‌many‌ ‌a‌ ‌myth‌ ‌about‌ ‌him‌ ‌commonplace.‌ ‌One‌ ‌of‌ ‌those‌ ‌myths ‌that‌ ‌is now ‌confirmed‌ ‌to‌ ‌be‌ ‌true‌ ‌is‌ ‌that he‌ ‌rode‌ ‌horseback‌ ‌through‌ ‌a‌ ‌battlefield when he was eight years old.‌ ‌This‌ ‌occurred‌ ‌on‌ ‌June‌ ‌1st,‌ ‌1868,‌ ‌when‌ ‌100‌ ‌men‌ ‌from‌ ‌the‌ ‌Cheyenne‌ ‌Indian‌ ‌nation‌ ‌engaged‌ ‌in‌ ‌a‌ ‌minor‌ ‌skirmish‌ ‌with‌ ‌the‌ ‌Kaw.‌ ‌In‌ ‌the‌ ‌midst‌ ‌of‌ ‌the‌ ‌skirmish,‌ ‌a‌ ‌man‌ ‌named‌ ‌Joe‌ ‌Jim‌ ‌rode through in order ‌to‌ ‌get‌ ‌assistance‌ ‌from‌ ‌the‌ ‌Governor‌ ‌of‌ ‌Kansas.‌ ‌On‌ ‌the‌ ‌back‌ ‌of‌ ‌his‌ ‌horse‌ ‌was‌ ‌none‌ ‌other‌ ‌than‌ ‌eight‌-year‌-old‌ ‌‌‌Curtis‌.‌ ‌He‌ ‌came‌ ‌along‌ ‌because‌ ‌of‌ ‌his‌ ‌ability‌ ‌to‌ ‌translate‌ ‌the‌ ‌Kaw‌ ‌language‌ ‌into‌ ‌English.‌ ‌
As‌ ‌Curtis ‌grew ‌older,‌ ‌his‌ ‌maternal‌ ‌grandparents‌ ‌encouraged‌ ‌him‌ ‌to‌ ‌move‌ ‌out‌ ‌of‌ ‌the‌ ‌Kaw‌  ‌reservation‌ ‌to‌ ‌live‌ ‌in‌ ‌Topeka‌ ‌to‌ ‌advance‌ ‌his‌ ‌education.‌ ‌He‌ ‌came‌ ‌to‌ ‌agree‌ ‌with‌ ‌them and ‌went‌ ‌to‌ ‌live‌ ‌with‌ ‌his‌ ‌paternal‌ ‌grandparents,‌ ‌who‌ ‌were‌ ‌equally‌ ‌supportive.‌ ‌After‌ ‌he‌ ‌graduated‌ ‌in‌ ‌1881,‌ ‌he‌ ‌studied‌ ‌law‌ ‌and‌ ‌even‌ ‌established‌ ‌a‌ ‌part-time‌ ‌firm.‌ ‌His‌ ‌talents‌ ‌in‌ ‌the‌ legal field‌ ‌did not‌ ‌go‌ ‌unnoticed,‌ ‌and‌ ‌later‌ ‌he‌ ‌would‌ ‌become‌ ‌the‌ ‌prosecuting‌ ‌attorney‌ ‌of‌ ‌Shawnee‌ ‌County,‌ ‌Kansas,‌ ‌in‌ ‌1885.‌ ‌During‌ ‌all‌ ‌of‌ ‌this‌ ‌hard‌ ‌work‌ ‌and‌ ‌study,‌ ‌he‌ ‌managed‌ ‌to‌ ‌meet‌ ‌the‌ ‌love‌ ‌of‌ ‌his‌ ‌life,‌ ‌Annie‌ ‌Baird,‌ ‌and‌ ‌they‌ ‌would‌ ‌soon‌ ‌marry‌ ‌in‌ ‌‌1884‌.‌ ‌ ‌After‌ ‌his‌ ‌attorneyship‌ ‌ended‌ ‌in‌ ‌1889‌, ‌Curtis entered‌ ‌the‌ ‌world‌ ‌of‌ ‌politics.
He‌ ‌was‌ ‌successful‌ ‌in‌ his‌ ‌Republican‌ ‌campaign‌ ‌as‌ ‌a‌ ‌‌representative‌ ‌‌of‌ ‌Kansas‌ ‌for‌ ‌1893.‌ ‌Most‌ ‌interestingly,‌ ‌he‌ ‌was‌ ‌noted‌ ‌by‌ ‌his‌ ‌opponents‌ ‌as‌ ‌being‌ ‌particularly‌ ‌kind‌-natured.‌ ‌After‌ ‌holding‌ ‌his‌ ‌seat‌ ‌in‌ ‌the‌ ‌House‌ ‌for‌ ‌several‌ ‌terms,‌ ‌he‌ ‌would‌ ‌switch‌ ‌over‌ ‌to‌ ‌the‌ ‌Senate‌ ‌in‌ ‌1907.‌ ‌He‌ ‌didn't‌ ‌become‌ ‌senator‌ ‌at‌ ‌the‌ ‌traditional‌ ‌time,‌ instead being‌ ‌appointed‌ ‌by‌ ‌the‌ ‌Kansas‌ ‌legislature‌ ‌after‌ ‌the‌ ‌prior‌ ‌senator,‌ ‌Joseph‌ ‌Burton,‌ ‌‌resigned‌.‌ ‌That‌ ‌same‌ ‌year,‌ ‌Curtis ‌was‌ ‌reelected‌ ‌by‌ ‌the‌ ‌legislature‌ ‌to‌ ‌keep‌ ‌his‌ ‌seat‌ ‌in‌ ‌the‌ ‌Senate.‌ ‌His‌ ‌time‌ ‌in‌ ‌the‌ ‌Senate‌ ‌lasted‌ ‌until‌ ‌1913‌ ‌when‌ ‌he‌ ‌was‌ ‌voted‌ ‌out.‌ ‌The‌ ‌very‌ ‌next‌ ‌year,‌ ‌the‌ ‌17th‌ ‌amendment‌ ‌was‌ ‌passed,‌ ‌which‌ ‌made‌ ‌it‌ ‌so‌ ‌that senators‌ ‌were‌ ‌elected‌ ‌through‌ ‌a‌ ‌popular‌ ‌vote.‌ ‌Curtis,‌ ‌ever‌ ‌the‌ ‌people‌ ‌pleaser,‌ ‌regained‌ ‌his‌ ‌position‌ ‌as‌ ‌senator‌ ‌in‌ ‌1914.‌ ‌ ‌
During‌ ‌his‌ ‌time‌ ‌as‌ ‌a‌ ‌senator‌, ‌Curtis managed‌ ‌to‌ ‌become‌ ‌President‌ ‌Pro‌ ‌Tempore,‌ ‌Chairman‌ ‌of‌ ‌the‌ ‌Committee‌ ‌on‌ ‌Indian‌ ‌Depredations,‌ ‌Chairman‌ ‌of‌ ‌the‌ ‌Republican‌ ‌Senate,‌ ‌and‌ ‌both‌ ‌Senate‌ ‌Minority‌ ‌and‌ ‌Majority‌ ‌leader‌ ‌during‌ ‌different‌ ‌points‌ ‌of‌ ‌his‌ ‌‌term‌.‌ ‌Not‌ ‌only‌ ‌this‌, ‌but‌ ‌he‌ ‌fought‌ ‌hard‌ ‌for‌ ‌civil‌ ‌rights.‌ ‌Together‌ ‌with‌ ‌Representative‌ ‌Daniel‌ ‌Anthony,‌ ‌he‌ ‌proposed‌ ‌the‌‌ ‌Equal‌ ‌Rights‌ ‌Amendment‌.‌ ‌Although‌ ‌it‌ ‌failed,‌ ‌it‌ ‌shows‌ ‌his‌ ‌ambition‌ ‌towards‌ ‌equality‌ ‌for‌ ‌all.‌ ‌His‌ ‌growing‌ ‌public‌ ‌image‌ ‌saw‌ ‌him‌ ‌appear‌ ‌on‌ ‌the‌ ‌front‌ ‌cover‌ ‌of‌ ‌Time ‌magazine‌ ‌in‌ ‌December‌ ‌of‌ ‌1926.‌ ‌
Finally,‌ ‌deciding‌ ‌to‌ ‌go‌ ‌another‌ ‌step‌ ‌forward,‌ ‌he‌ ‌ran‌ ‌for‌ ‌the‌ ‌Republican‌ ‌nomination‌ ‌for‌ ‌president‌ ‌in‌ ‌1928.‌ ‌Although‌ ‌he‌ ‌lost,‌ ‌the‌ ‌winning‌ ‌candidate,‌ ‌Herbert‌ ‌Hoover,‌ ‌decided‌ ‌to‌ ‌nominate‌ ‌him‌ ‌for‌ ‌vice‌-president.‌ ‌During‌ ‌the‌ ‌election‌ ‌of‌ ‌1928‌, ‌it‌ ‌is‌ ‌said‌ ‌he‌ ‌gave‌ ‌more‌ ‌speeches‌ ‌than‌ ‌Hoover‌ ‌‌himself‌.‌ ‌He and Hoover‌ ‌would‌ ‌win‌ ‌that‌ ‌election,‌ ‌and‌ ‌in‌ ‌1929‌ ‌Curtis ‌would‌ ‌become‌ ‌the‌ ‌first non-white vice-president of the United States of America. He will remain the only one until January 20th of 2021.
Why‌ ‌is‌ ‌this‌ ‌story‌ ‌important‌ ‌today?‌ ‌Those‌ ‌trailblazers, who are often ‌little‌ ‌known‌ ‌figures working ‌the‌ ‌gears‌ ‌of‌ ‌history,‌ ‌must‌ ‌not‌ ‌be‌ ‌forgotten.‌ It is commonly said that we‌are  ‌doomed‌ ‌to‌ ‌repeat‌ ‌our‌ ‌history‌ ‌if‌ ‌we‌ ‌don't‌ ‌learn‌ ‌from‌ ‌it.‌ But‌ ‌we‌ ‌are‌ ‌doomed‌ ‌to‌ ‌fail‌ ‌in‌ ‌its‌ ‌successes‌ ‌if‌ ‌we‌ ‌do‌ ‌not‌ ‌take‌ ‌from‌ ‌its‌ ‌plentiful‌ ‌examples.‌ ‌ ‌
About the Writer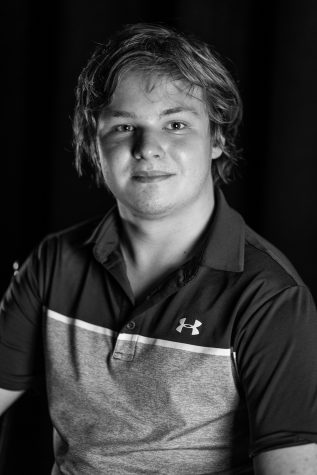 Ryan Nash, Staff Writer
Ryan Nash is a junior at NASH. He wrote for NAEYE the previous year at NAI, with this year being his first for The Uproar. Outside of school, he can typically be found on his phone reading news articles or random Wikipedia pages, or on his computer playing video games.