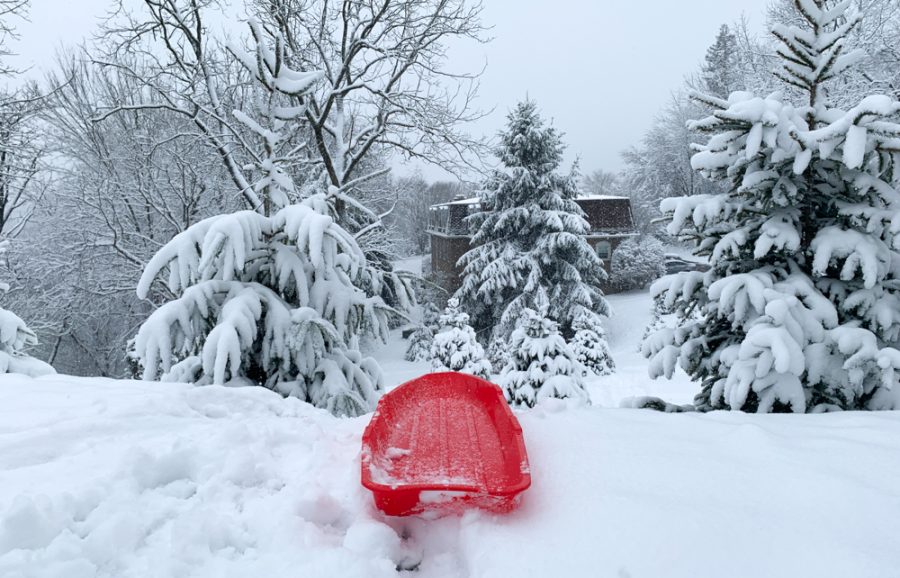 photo by Kristen Kinzler
You wake up on a chilly, winter morning and immediately check your phone. The night before, you flushed an ice cube down the toilet and wore your pajamas inside out. Snow fell all through the night, and the roads are now glistening with ice. There's an announcement on North Allegheny's webpage, and you have lots of texts from your excited friends.
School's cancelled— it's a snow day.
There are few feelings that compare to learning that we have a snow day. It means we get an extra day off and are able to go outside and enjoy the winter weather. For older students, it provides the chance to feel like a kid again.
Hot chocolate. Sled rides. Snowball fights. Holiday movies. Snow days are pure magic.
Their existence, however, is in jeopardy. Climate change has already made large amounts of snowfall in Pennsylvania rare, and, with so many schools implementing remote learning, online classes may replace hours of playing in the snow.
Nationwide, 39% of schools have announced that on snow days, students will learn remotely, and 32% of schools are considering making the same decision.
In Pennsylvania, Governor Wolf signed a bill that would allow school districts to conduct Flexible Instruction Days when there's bad weather. Mars School District was one of the first schools in the area to officially announce that students will learn remotely when they can't attend in-person classes due to inclement weather. But for many other districts, last week's winter storm didn't interfere with remote learning, meaning they are probably considering the same measures.
I know that the state government and local districts just want students to learn as much as possible on days when they would otherwise be in school, but taking away snow days will do far more harm than good.
Snow days are the chance to make memories and spend time with family. When I was young, I would go sled riding with my little brother, and my dad would take us out for lunch if the roads cleared up in the afternoon. We'd spend the rest of the day outside, building snowmen and playing with our dog. Those are the kind of moments that come to mind when I think about the best aspects of my childhood. They're sacred.
Not to mention, students have all summer to play outside in the heat, but the opportunity to spend the day in the winter weather is special. Personally, I despise the heat and would much rather be outside on a 30 degree day than an 80 degree one, so snow days are my chance to cherish my favorite weather stress-free.
There are so many things that are vital to kids as they grow up. School is obviously important, but so is the occasional chance to go sled riding and drink hot chocolate. Those memories and experiences help shape a kid into the person they'll become as much as an education does. 
When school's cancelled for the day, it forces everyone to slow down and appreciate the moment. From an educational perspective, maybe that's not ideal. But holistically, it's healthy and sometimes necessary for students and teachers alike. Everyone needs a break sometimes.
Abolishing snow days is just a new way that school districts can turn their buildings into factories — shoving information at students, demanding constant work, and providing no flexibility.
We should not let our education system sink so low that we treat students like machines. School is supposed to enhance kids' lives, as it aims to establish a love for learning, foster curiosity, and be a place where they can be simultaneously challenged and supported. We cannot let school take the fun out of being a kid, and getting rid of snow days will do just that.
Shutting down school for one day for the sake of compassion and enjoyment isn't going to be our education system's downfall.
I don't want to be one of the last generations who get to experience the thrill of waking up and realizing that the winter weather got us a day off. I don't want my little cousins to never have the chance to forget about their schoolwork, bundle up, and jump into piles of snow. Snow days are far too enchanting to let die.
I recognize that this may not be the most rational, factually based argument, but the only evidence we should need to save snow days is the sheer joy that they bring. The world is full of disappointments, especially right now. There is no reason to take away one of the last chances for students to have fun and just be kids.