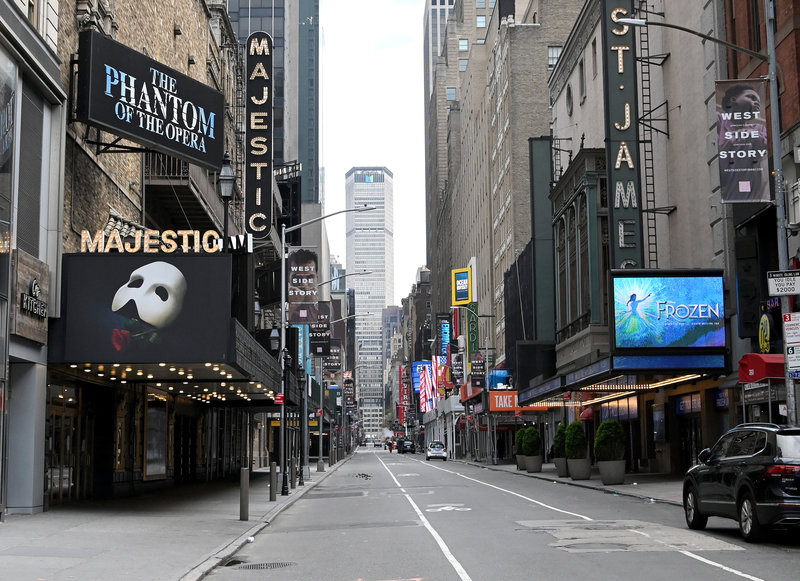 photo courtesy of Getty Images
Just a year ago, thousands of people would gather every night in the heart of New York City to sit squished right next to one another and pay hundreds of dollars to watch people spit droplets onto each other. 
Sounds crazy, right?
For over a hundred years, the Broadway industry has been entertaining millions of people, whether they're tourists or native New Yorkers, while also bringing in 14.7 billion dollars to the New York City economy annually.
The industry has stood firm as one of the defining characteristics that make New York City what it is. The only times in history that it was shut down were due to union strikes and 9/11, which were all temporary and never lasted longer than a few weeks. 
However, on March 12, all Broadway shows were shut down until April 12, due to the COVID-19 pandemic. That shutdown has been extended time and time again, and almost one year later, there is still no answer as to when Broadway will reopen.
The Broadway industry supplied 96,900 jobs, ranging from the actors to stage crew to ticket booth attendants. All of those people are now working in a different industry or are unemployed. 
Unions like Actor's Equity were able to negotiate a deal to get workers paid for at least the first few weeks of the shutdown. However, this could obviously not continue for the entire duration of the pandemic. Over this past year, actors have found many creative ways to make a living during this time.
Many have taken to coaching young hopefuls via Zoom, teaching singing lessons, or hosting Q&A sessions. Some have even started a Cameo account, a service where fans can pay for personalized video messages from their favorite stars. Additionally, many have taken this time to start their own YouTube channel or appear in live-streamed interview shows. 
Seth Rudetsky, a Broadway composer and music director, has even created his own show called "Stars in the House," where he live-streams interviews and performances with various Broadway actors daily. All proceeds go to the Actors Fund, an organization that provides actors with services such as emergency financial assistance or affordable housing.
There have also been many virtual readings and performances of new musicals and plays. In fact, one of these performances was the culmination of a viral trend on TikTok, Ratatouille the Musical. 
The musical started off as a joke on TikTok. The plan was that various creators would upload original songs and choreography of what they believed a musical adaptation of Ratatouille, the animated Pixar film, would be like.
Eventually, Seaview Productions turned it into a real virtual production starring household names such as Tituss Burgess and Adam Lambert. The production raised $2 million dollars for the Actors Fund.
Some real-life productions and performances have been able to take place, although these are rare exceptions. The Macy's Thanksgiving Parade featured performances from Hamilton, Mean Girls, Jagged Little Pill, and Ain't Too Proud. This past December, NBC carried on their tradition of hosting a live musical by airing Dr. Seuss's The Grinch Musical Live! starring Matthew Morrison. 
These performances obviously had major restrictions and protocols in place for the safety of all those involved, giving a glimpse into what live theater could look like in the first stages of reopening. 
In addition, more proshots, professionally filmed performances of musicals or plays, have been released during the pandemic than ever before. Arguably the most famous of these is the Hamilton proshot that came out on Disney+ last July.
Although all of these creative ways that theatre has been able to go on is admirable and inspiring, there is no denying that COVID-19 has deeply negatively impacted the Broadway industry.
The Broadway community was also hit with the deaths of many of their colleagues this past year. Nick Cordero, a Tony-nominated Broadway actor, passed away in July after a months-long battle with COVID-19. Terrence McNally, an iconic playwright nicknamed "the bard of American theater," died in late March from COVID-19 complications.
Additionally, many musicals have been hit hard by the economic impacts of the pandemic. Shows like Frozen and Mean Girls, which achieved commercial success and had big names such as Disney backing them up, were forced to close as the money continued to run out from the ongoing shutdown. The much-anticipated revival of Who's Afraid of Virginia Woolf? starring Laurie Metcalf closed only after nine preview performances.
Things grow even more complicated for shows that were just beginning or were in the midst of changing the course of their journey.
The highly popular show Beetlejuice was set to close and move to another theater in June as they were evicted from their original theater to make room for the revival of The Music Man starring Hugh Jackman and Sutton Foster. However, now, neither of these shows' futures are certain.
The viral hit musical, Six's, opening night was set for March 12, the day the shutdown was announced. The musical adaptation of the movie Mrs. Doubtfire only had three days of preview performances before they had to come to a halt.
Although most shows have not announced their official closings yet, truly no one, neither the actors nor the investors nor the producers, know when or if they will reopen due to the changing nature of the pandemic.
Many organizations have gathered to help the Broadway community during this time, including the aforementioned Actors Fund and Broadway Cares/Equity Fights AIDS. They, along with other organizations, have started COVID-19 Emergency Assistance Funds.
Legislation has even been created to provide relief to theaters and live entertainment venues. The Save Our Stages Act was passed in December, granting $15 billion to help these places stay afloat. 
Currently, the shutdown is extended until May 30, 2021. Governor Cuomo has expressed hopes of reopening Broadway with limited seating and other restrictions. However, many Broadway shows must play at almost full capacity in order to make a profit. Additionally, there are many legal issues in regards to actors' contracts expiring over the shutdown, COVID-19 liability, and more.
There truly is no way to determine exactly when Broadway will be able to reopen. What a theatre lover can do to help support the industry during this time is to donate to relief organizations, watch and support virtual performances, and hope for the day when the lights of Broadway can shine onto the streets of New York City once again.