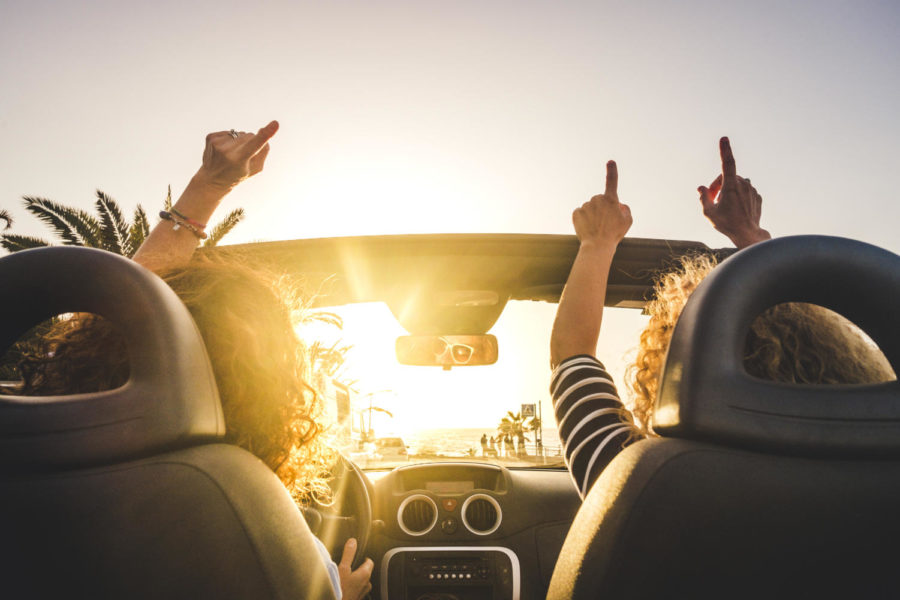 Simon Apilolla
With the days growing longer, the nights much shorter, and the weather significantly warmer, the end of school and beginning of the long-awaited summer months are just around the corner.
Walking out of NASH with the sun beating down is a surreal feeling and a boost of serotonin after a long, grueling school day. Students walk to their cars and get ready to take off for the remainder of the day, off to adventure with friends or spend their afternoons relaxing at home.
But wherever the day takes you, one of the best aspects of driving is playing your favorite songs. It's officially time to roll the windows down, feeling the wind blow through your hair, and belt out your favorite songs. So here is a playlist of ten upbeat, fun-loving songs, perfect for sunny days as you ride to whatever destination you please.
"Sour Patch Kids" by Bryce Vine
Bryce Ross-Johnson, known on stage as Bryce Vine, is an American rapper and singer known specifically for hip hop and indie music. His song "Sour Patch Kids" came onto the scene in 2014 as a part of his album "Lazy Fair". This song describes the phases of growing up, and having to decide what to do with your life when you grow older and become an adult. Vine then goes on to say that he doesn't wanna grow up, and all the reckless, spontaneous activities that bring out the joy in life rather than all the stresses. Towards the ending of the song there's a trumpet solo that is a musical masterpiece and really brings the song to life; the image of childhood life and the joys of playing around, with Sour Patch Kids and a Coke can.
"Sunflower, Vol. 6" by Harry Styles
Harry Styles, well known for his collaboration in the group One Direction and his recent Grammy Award for his song Watermelon Sugar, "Sunflower, Vol. 6" is a piece off of Style's newest album "Fine Line." Compared to the other songs on this new release, "Sunflower,  Vol. 6" is one of the more upbeat, energetic songs published. All about comparing someone, an ex-lover, to a Sunflower, being bright, active, colorful and beautiful. This song encapsulates fun memories for Styles and the upbeat lively tempo is exactly the feeling that summer brings.
"Knock Knock" by Mac Miller
Mac Miller was a Pittsburgh local, known for his Hip Hop and R&B music, singing and songwriting for 10+ years. His song Knock Knock is full of a multitude of background vocals, sounds, and references/ descriptions relating back to his life, such as Eat n' Park cookies, a classic in Pittsburgh. This is one of Miller's most upbeat songs and it is a fan favorite; one of his most popular and well known pieces from his career.
"Levitating" by Dua Lipa ft. DaBaby
Released in early October of 2020, DaBaby hopped on the previously released song "Levitating" off of Dua Lipa's most recent album "Future Nostalgia". This song references space, galaxies and the sky quite often, causing it to really fit it's title. This song also "levitates" your mood as you listen, bringing lots of serotonin with the upbeat tempo, making you want to get up and dance along to the very catchy beat accompanied in the background of the song. Dua Lipa and DaBaby performed this song at the 2021 Grammys, and it was most certainly a crowd favorite.
"3 Nights" by Dominic Fike
Released as part of his album "Don't Forget About Me, Demos" in 2018, one of Dominic David Fike's most well known songs is "3 Nights". This song has a more relaxed and lesser intensity vibe associated with it in comparison to the previous songs on this list. Fike describes himself up for three nights at a motel, in cities with streets of lights and palms; a typical summer night out on the town. This song gives off the feeling of a nice drive at night, with the cool breeze of the night flowing through the open road, listening to chill music that still contains the fun-loving summer vibe.
"Canyon Moon" by Harry Styles
"Canyon Moon" is another release included in Style's album "Fine Line", and it describes the perfect summer day. Blue skies, traveling to a new place and experiencing new things, a time under the "canyon moon". This piece is one that is more relaxed as well, with a similar beat to "Sunflower, Vol. 6" that was previously mentioned. Styles combines a lot of sounds and sights into this short song, with whistle notes and numerous repeated phrases as the beat carries on memories of summer and a place long gone but never forgotten.
"Shotgun" by George Ezra
"Shotgun" by George Ezra is a very upbeat, catchy song that has you hanging on every lyric after only one listen; being one of those songs you a=can play on repeat and never get tired of. Ezra describes a setting where he loves to be, under the sun and with the trees, in the yellow and green. Riding shotgun, feeling the sunlight hit off of your skin and feeling right where you belong, right in the heart of summer and all of the fun it encapsulates within us.
"Can I Call You Tonight?" By Dayglow
Dayglow is known for Indie Pop and Alternative music, and "Can I Call You Tonight?" certainly fits that description. This song is less upbeat and rather more nostalgic and soothing; still perfect for a long drive or a relaxing one. Dayglow tells the story of trying to find what is real, in the world as well as within ourselves, and this song definitely will make you feel something. Whether it is a fond memory of a time, place, or friend, "Can I Call You Tonight?" invoke lots of feelings and emotions within the listener.
"Say Hey (I Love You)" by Michael Franti & Spearhead [ft. Cherine Tanya Anderson]
This one is a personal favorite, and this song is just about as upbeat as you can get when it comes to songs. As soon as the instrumentals in the beginning are played you immediately know you are in for a good time with this song. "Say Hey (I Love You)" is a very well known song by Michael Franti & Spearhead; it reminds me of the beach and something you would listen to on the dance floor with friends. The combination of the numerous instruments, high tempo throughout and catchy lyrics makes this song a guaranteed mood booster and I'm sure a car favorite of many. There is something to love for everyone within this song.
"Pursuit of Happiness" by Kid Cudi 
Kid Cudi is very well known for his more alternative and contemporary musical and producing style, and he is becoming increasingly more popular nowadays. His song "Pursuit of Happiness" is about just what it seems — finding happiness in the world, living life to the fullest and enjoying every second on the journey to finding happiness. This song has a powerful message and the lyrics can be very meaningful, as well as a memorable beat and some uncommon instrumental sounds within the piece. The song as a whole along with the message gives off a very summery feel- going out and enjoying yourself; finding happiness around you.