In Scoring Position
The North Allegheny Baseball team has shown no sign of slowing down as they set their sights on playoffs.
The end of the year is slowly approaching, but there is no slowing down the North Allegheny Baseball Team. Currently leading their section, the team has a record of 11-2, and there doesn't seem to be much they can't accomplish. As their season progresses, however, the players have their sight set on a championship.
Senior pitcher Brady Palmer believes the Tigers are actually motivated by the cancellation of their 2020 season.
"The difference I see this year stems from our loss of a season last year. Being that we did not play last year, everyone is thrilled to be back in action, and the desire to play and win is apparent. The environment and tone we set every game and practice attests to this, and I know we can achieve greatness," Palmer said. 
Teamwork has been a huge factor in the team's success, as well.
"As a team, we are playing excellent, and I expect us to continue this. A thought I have in mind every time I [go to] pitch is [for] my teammates behind me to have my back, and I will give them everything I have. Having this trust in one another helps us play well every game," Palmer added.
Whatever the reason, the results speak for themselves.
"We are fourth in the state overall, and second in the state in [class] 6A," senior center fielder Logan Andreyko said.
The team doesn't have plans to stop anytime soon.
"[We hope to] win the section, win the WPIAL championship, and the state championship," Andreyko said.
However, such high aspirations come with their fair share of pressure.
"Our biggest struggle might not even be on the field," senior pitcher Joe Lang said. "There are issues with players being frustrated about how much they're playing, and then they take it out on other teammates and coaches off the field."
The Tigers are working through their small obstacles by communicating with and relying on one another, and they're not taking their eyes off the prize.
"Our biggest strength is our depth in our pitching rotation and our ability to have great hitters in all spots of the order. I feel like a lot of teams do not have three to four starting pitchers that they can lean on in a big game," Lang said. "Our offense has been stellar in the past couple of games, as well. Each hitter in our lineup has his own specialties, and we all feed off of each other to create big innings."
About the Writer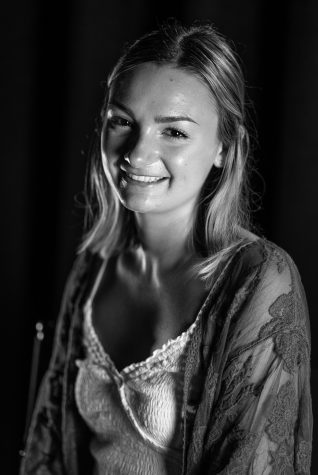 Kennedy Stana, Staff Writer
Kennedy Stana, a senior this year, is a new staff writer for The Uproar. Outside of writing, Kennedy is in the performing arts. Her love for dance and singing are shown through her activities. Competitive dance is a big hobby of hers she hopes to continue. Kennedy enjoys being surrounded by friends and family. Being a social butterfly, she loves to talk to people. Her main focus is getting students...