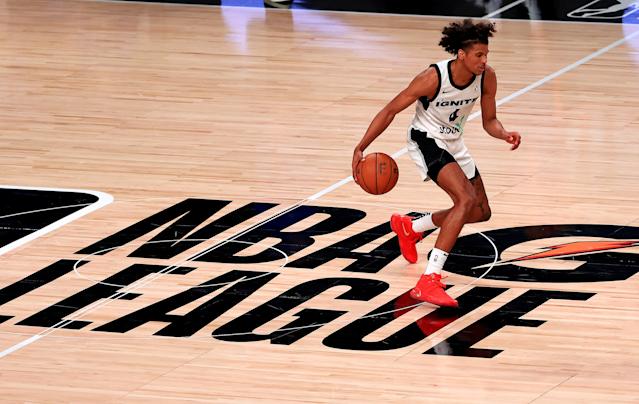 image courtesy of Mike Ehrmann/Getty Images
It's no secret that the NCAA does not want its athletes to make money. But NBA-bound basketball players are among those most passionate about making money in college, and these athletes are finding a number of workarounds to avoid the payless job that is college basketball. 
Last year, the NBA announced they would create an extra team in their minor league, known as the G League, for high school prospects not interested in playing in college. The team, G League Ignite, drew high-profile players like Jalen Green, Jonathan Kuminga, and Isaiah Todd—all of who are expected to be drafted this year. Players who chose the G League path were paid a whopping $500,000—a much different number than those who chose the college route. 
Mega-popular social media platform and sports media company Overtime also announced an alternative league for NBA hopefuls. Their league is for high-level prospects aged 16-18 and will pay players $100,000 dollars to play. 
High-level prospects have also taken their talents overseas before reaching the NBA. 2020 draftees Lamelo Ball and R.J. Hampton both elected to play in Australia for their gap year. Ball is at the top of the Rookie of the Year list this season in Charlotte, and Hampton has contributed nicely to the Orlando Magic. 
With the G League's option for high school prospects being a success, a number of other leagues may begin to pop up as an alternative to college ball. This news, if not already, should petrify the NCAA. For years, the NCAA has brought in the best talent from around the globe, but with increased emphasis on paying college athletes, many players are taking their talents elsewhere.
The easy solution would be to, of course, allow athletes to receive endorsements. However, the NCAA isn't exactly excited to allow them. They have planned multiple meetings to discuss the topic, however, the meeting is continually pushed back, and the idea has never gained traction. 
Another way that the NCAA gets their best players isn't actually their decision at all. Since 2004, NBA prospects were required to spend a year either in college or in another league before they were eligible to be drafted. The NBA has recently discussed revoking this rule, meaning that the best high schoolers could go straight to the NBA. However, the rule has not yet been removed.
Revoking this rule would mostly give prospects only two options: go pro, or go to college. With the best players who could play in leagues like the G League or for Overtimes League going pro, pretty much all of the remaining players would go to college. 
While some players are choosing to play elsewhere before their draft year, a majority of the top players still attend college. The NCAA is safe for now, but if they want to keep the best athletes around, sooner or later, they will have to allow the players to receive endorsements. Any continued ignorance could spell disaster for college basketball.