Summer on the Job
Many NASH seniors are acquiring summer jobs to save up for college and get some work experience under their belts.
With summer approaching swiftly, seniors are preparing for college in all different ways. Some are connecting with roommates, buying expensive laptops, or looking at Pinterest for dorm inspiration. But the bill will soon be due, and that's why many NASH seniors are working summer jobs to earn some extra money. 
Summer jobs are a great way for college students to earn some cash before the next school year, and many employers are currently looking for eager and hard-working people to hire.
Senior Almira Kusuma started a new job at a place where she can thrive creatively. 
"I work at an art studio called Dots and Doodles. It's a great place for kids of all ages to paint and express their creativity. I help with birthdays, open-studio, and summer camps. The open-studio concept is similar to that of a restaurant. Instead of serving food, I 'serve' our customers with canvases or pottery along with the paint that they desire," Kusuma said.
She enjoys her work because it aligns so closely with her own interests.
"I absolutely love working there. It's definitely the best job I've ever had because I love art and working with kids. Our art summer camp is starting soon, and I can't wait," she added.
Working summer camps is also common among NASH students. Camps like Camp Kon-O-Kwee and YMCA summer camps are now reopening after the COVID-19 pandemic.
Camp Ligonier is near and dear to senior Peter Canovali's heart. 
"I work at a summer camp called Camp Ligonier, which has been around for more than 100 years. I do chores around the camp, clean dishes, and take care of the campers in our cabin. I love this job because I have been coming to this camp for more than half my life, and I just enjoy being a role model to the kids in my cabin. I enjoy every minute of it," Canovali said.
Summer jobs can be more than a way to make money. For senior Theo McLemore, working for a construction company has made him consider pursuing a long term career in the field.
"In the summer after my senior year, I plan to work for a construction company in Bellevue. I work to flip houses for a contractor. I love this kind of work because it is hands-on and always active. That is how I learn new things, and I think it is opening me and my mind to new experiences," McLemore said. "This summer will be my third year working at this place, and I love it because it has been giving me an idea of what I want to do with the rest of my life."
With the nice weather and sunny days that summer brings, many seniors enjoy working outside. Senior Alexa Cannella is planning on working at the Wildwood Country Club as a tennis instructor for her third summer in a row.
"For the past two summers, I have worked at Wildwood Country Club," Cannella said. "I work as a tennis assistant and teach lessons to kids and adults. I mostly teach clinics, but I sometimes teach individual lessons. In addition to tennis, I also help teach pickleball and paddle."
It seems that, among many students who work, the most important thing is that they enjoy what they do and appreciate the people they surround themselves with.
"I love the people I work with and the kids I teach. I can't wait to go back," Cannella said.
About the Writer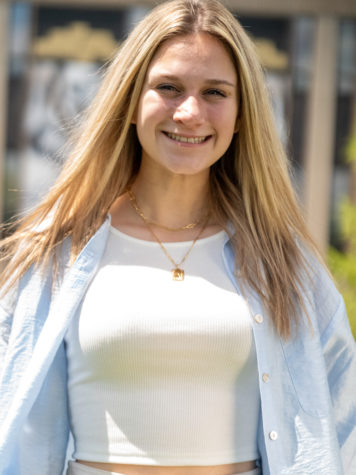 Mia Dudek, Staff Writer
Mia is a senior at NASH. This is her first year writing for the newspaper. When she's not in school, she is most likely playing soccer. She also loves drinking coffee.