A Review of A Quiet Place Part II
A look at the sequel to A Quiet Place with minimal spoilers.
Three years after the making of A Quiet Place, the long-awaited sequel, A Quiet Place Part II, has finally made its way to theaters and has set a pandemic-era record at the box office in the process.
According to studio estimates as of Sunday, the thriller sequel has accumulated over $48.4 million (the highest of any film release during the pandemic), and with Memorial Day included $58 million in 3,726 theaters. John Krasinki's sequel opened higher than the original movie opening weekend, surpassing A Quiet Place's $50 million dollar opening in 2018.
Many critics have touted A Quiet Place Part II as a film that must be seen in a theater to fully encapsulate the thrills and suspense of the movie, leaving moviegoers eager to watch.
Starting out with a flashback to before the aliens corrupted earth, the movie begins on day one of the invasion. The aliens crash into earth from several meteors, reigning terror on all its inhabitants with their want to kill everything that they can hear with their incredible hearing. Despite being blind, the aliens are quick and can easily find a human if the smallest noise is made.
As everyone runs hurriedly in a hectic panic for shelter —screaming as chaos is all throughout the streets —actress Emily Blunt performs a terrifying stunt. Driving a car in reverse to dodge being crushed from an oncoming speeding bus and an alien, Blunt manages being behind the wheel as the bus moving at 40 miles per hour comes right at her.
The story then moves back to the present day, following the family as they move out from their previous home in hopes of safety. They dredge through the forest carefully, laying down sand to mask their feet in places where noise could potentially be made. At one point, they find themselves caught in a precarious situation, with the son being painfully caught in a human-set trap and face to face with an alien.
Using the weapons shown in the first film, the daughter uses her hearing aid to give off a noise that puts the alien in grimacing pain while the mom shoots the alien. With the help of a family friend, they escape the wrath of other aliens and seek shelter in an underground vault area where they are able to talk if they are careful. The daughter discovers a clue that could potentially lead to a safe place for them and makes it her mission to find it as her father would have done, leaving the group despite her brother's protests. Everyone in the group splits up, experiencing nail-biting encounters against the aliens and intense moments of pure terror all the while taking care of the baby. 
Mimicking the first movie, A Quiet Place Part II ends with a cliffhanger, leaving the audience with the hint of a third film. With its well-done cinematography, hair-raising scenes and perfected camera angles/shots, A Quiet Place Part II is nothing short of a riveting masterpiece that I recommend all lovers of horror and thrillers should see.
About the Writer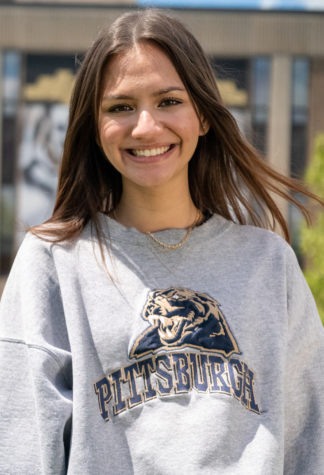 Sofia Brickner, Senior Staff Writer
Sofia Brickner is a senior at NASH who enjoys listening to oldies, watching movies, skateboarding, and playing the ukulele. When she is not working you can find her frequently adding new music to and listening to her Spotify playlists religiously, as well as editing movies.