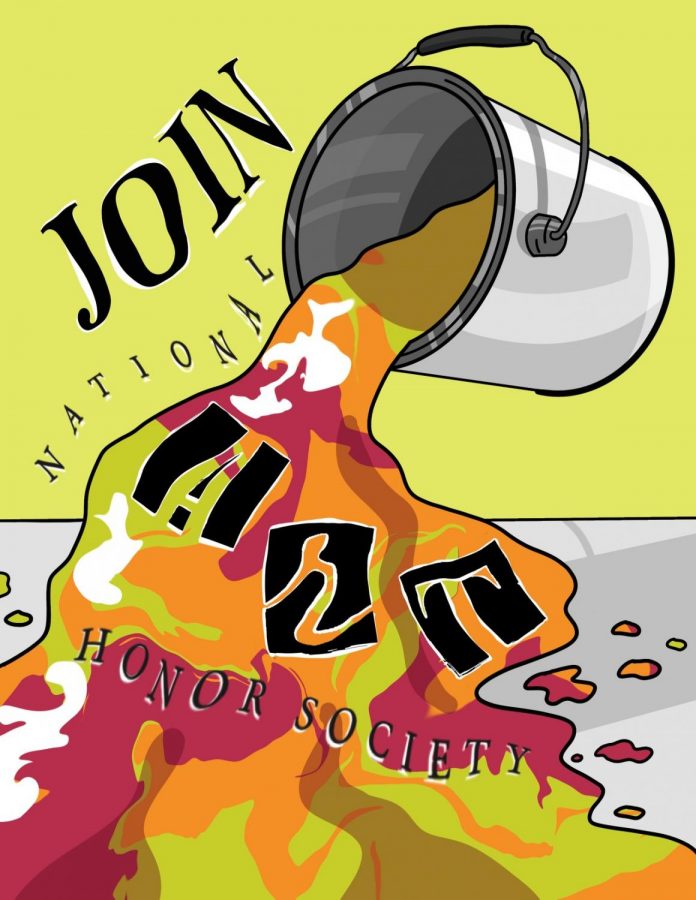 courtesy of Morgan Nash
You may have seen flyers hanging around the building at NASH, depicting a bucket of paint spilling out and asking you to join an organization called National Art Honor Society. These flyers were designed by Morgan Nash, NAHS's president. Nash is a senior at North Allegheny Senior High School who has been involved in NAHS since 9th grade and has held a leadership position each year.
NAHS is a nationally recognized organization intended to promote the arts among student life in individual high schools and the broader community. 
"The North Allegheny Senior High National Art Honor Society Chapter aims to spread kindness, inspire community, and grow the love of art in our school and neighborhood," Nash explained. "We host student-led events that are art-service based and involve the creation, display, and encouragement of art. All NASH students who are interested in making a difference in our school and community through their artistic talents are eligible to join."
There are currently over 40 members in NASH's NAHS chapter. For students such as Nash and senior Concetta Bochicchio–NAHS's communications officer–joining NAHS was a no-brainer. 
"I have always taken an art class since I was in kindergarten," Bochicchio said. "Art is a way to bring people together, and NAHS does just that. Even though I only decided to join last year, when I joined, I loved being able to paint sets for the musicals and help out with decorations for different school events. It's like leaving your mark on different activities and events throughout the school year."
For Nash, the club is a perfect fit.
"When I first got to high school, I knew I wanted to be involved in some sort of art club. It was an awesome surprise for me to learn that there was one that combined service and art and that I could be a leader in it," Nash said. "I plan to continue my involvement in art-service for the rest of my life. Nothing makes me happier than hearing about the joy people get from art that we've made for them." 
Not only do students involved in NAHS get to create art and participate in art-related activities, but they also have opportunities to volunteer and make a difference in their district. 
"We always make sure that we make the utmost effort to give back to our community," Bochicchio said. "We have plenty of opportunities for our members to donate their artwork or work in general charities and organizations. You are able to take advantage of volunteering opportunities, but also incorporate your artistic abilities as well! It's a great way to connect with our community through art."
Some new activities NAHS is currently planning for this year include:
Exhibition of artwork
Set painting for musicals
Homecoming Decorations
Art contests
Doodle for Google
Vans Custom Culture Contest (Spring 2022)
Scholastic Art and Writing Awards
Club collaborations
Halloween Cards
Art Exchange/Holiday Party
Memory Project
Guest Artists (Professors, etc.)
Arts/Music Fest Spring 2022
Senior Staircase
School spirit events
Studio nights
"We are trying to do more volunteer opportunities that are in-person and as safely as possible. We are planning on teaming up with other clubs and organizations to further integrate ourselves into the community," Bochicchio added.
Nash added that the rewards of participating in NAHS are abundant.
"Students in NAHS are able to give to their community while utilizing their artistic talents," she said. "It is a way to spread love, kindness, and generosity both school-wide and locally through service projects and opportunities. Members also grow friendships and community through the activities, and make long-lasting memories of fun art-making."
Currently, anyone and everyone is welcome to join NAHS, although in the future, there may be requirements to join, such as being enrolled in an art class at NASH or having a minimum GPA GPA. 
If you are interested in joining National Art Honor Society at NASH, contact Morgan Nash at [email protected], Mrs. Swan at [email protected], or visit NA's NAHS website for more information.