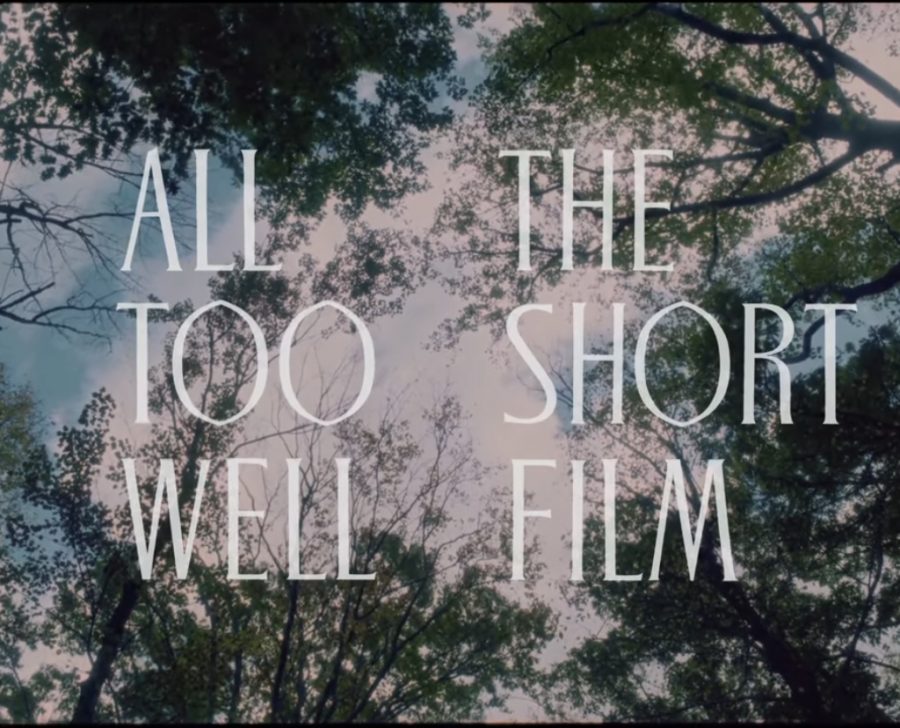 Taylor Swift
Amid Taylor Swift reclaiming her music and re-recording her first five albums, she dropped a major bomb last Friday, setting the media world aflame. After releasing her short film, All Too Well, which she both wrote and directed, her fans burned with a passion far stronger than ever before. Voraciously searching for the hidden Easter eggs in the ten-minute film, Swift left the interpretation up to her fans as she neither confirms nor denies their theories of who the song is about and what her lyrics symbolize.
"That's one of the interesting questions that people ask me all the time about songs. What I think is important to note is that these songs were mine years ago when they were written, now they're ours and now they're shared," she said in an interview with Extra TV, as she artfully curved the question.
As the film is open to all types of interpretations, NASH student opinions are in no short supply.  I'll begin with my own.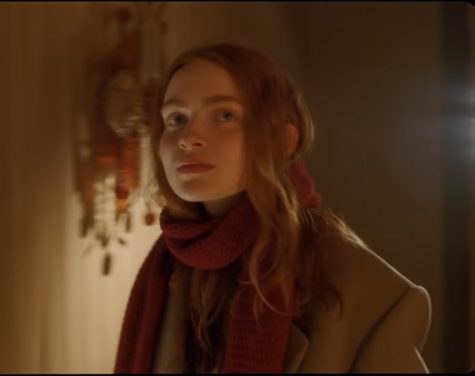 Kara Mihm
I'll start off with the most talked-about symbol, the simplest object to be unraveled. At the start of the film, upon entering the house, Sadie Sink, who is seemingly portraying Taylor Swift, hangs up her scarf on the banister. I believe that the short time it took to set down the scarf represents the brief relationship she had in 2010 with her boyfriend, actor Jake Gyllenhaal, who is played by the actor Dylan O'Brien. To many of Swift's fans, the lyric "But you keep my old scarf from that very first week, 'cause it reminds you of innocence and it smells like me" represents the weight that this love affair had on her, even in a quick time period. It seemed that this was a relationship filled with many firsts, thus leaving her in a pool of unnecessary self-scrutiny when he eventually left her. Because her attachment to him ran deeper than his to her, she sings, "You kept me like a secret, but I kept you like an oath." In addition, the ages of Sink and O'Brien confirm my speculations that this song is written about Gyllenhaal, who was 29 at the time of dating 20-year-old Swift. On the other hand, the waters become muddled when I realize that the age gap is also familiar to another one of her relationships, one with singer John Mayer, who was 32 when he was in a relationship with Taylor, aged 19. Swift wrote "Dear John," featured on the album Speak Now, about Mayer after their breakup in 2010, which provoked a response after the humiliation it caused to him. Mayer's song "Paper Dolls" is supposedly a rebuttal to "Dear John," in which he sings "Fold a scarf, Moroccan red" — the same colored scarf that appears in All Too Well. However, I believe that the scarf ultimately symbolizes Gyllenhaal and Swift's stolen innocence because the song "All Too Well" is featured on the Red album, not Speak Now.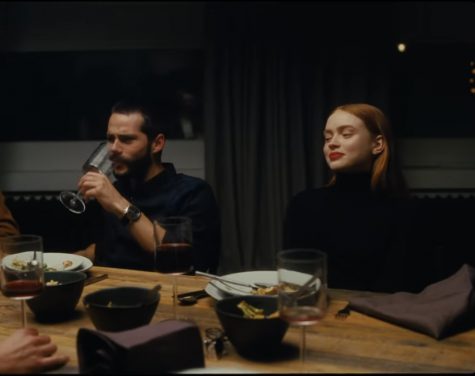 Maddie Baker
In "The First Crack in the Glass" chapter of the All Too Well film, I found many Easter eggs that portray important storylines in Swift's own life. The scene starts with actors Sadie Sink and Dylan O'Brien attending a dinner with O'Brien's friends. Since Taylor wrote and directed this film, I believe that this scene represents an actual meal that she and her ex, Jake Gyllenhaal, had together. One thing I noticed at the table was how uncomfortable Sink acts around Gyllenhaal's friends. She looks like she feels out of place and doesn't want to be there. This makes sense, seeing that they had an age gap of nine years. This particular moment pinpoints the lengths to which Swift went so that she could become part of his life. She is conveying how she would have done anything for him. Another Easter egg that I caught onto regards the wine glasses on the table. You can see that Sink's drink remains full and seemingly untouched. Around her, O'Brien's glass is almost empty, along with the other glasses at the table. This further confirms that the story is about Gyllenhaal, since she only turned 21 at the end of their relationship. In an interview in 2014, Swift mentioned that she never drank before the legal age. "I did wait until I was 21 to drink. I was so paranoid about getting in trouble or setting the wrong example or sending the wrong message," she said to TooFab. In addition, towards the end of the scene, Sink reaches for O'Brien's hand, but he drops it. Directly correlating with the end of the 10-minute version of the song "All Too Well," Swift sings "You said if we had been closer in age, maybe it would have been fine." This line proves that Gyllenhaal ended their relationship over their age differences and therefore did not want his friends to know they were dating.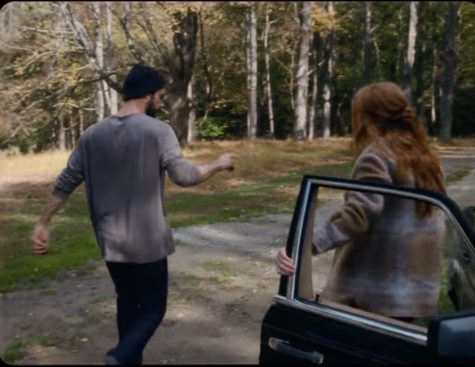 Jacob Yarosz
In the second breakup scene, Dylan O'Brien is seen exiting the car as he angrily speaks on the phone. Sadie Sink jumps out of the car to follow O'Brien, but he stops her, throwing her the keys to the car instead. As he is identified as the manipulator of the relationship throughout the film, he tosses Sink the keys as a way to deceive her into thinking that the power and control between the two of them is equally shared. Through the lyrics "[Screw] the patriarchy, keychains on the ground," the passing of the keys represents the idea that he is giving her all that she deserves, while he is discreetly setting the bar of standards very low. The wording of the keychain is pretty ironic as it stands for "Power to the people." As it lies on the ground, it's an empty gesture that is all for show. If Gyllenhaal truly believed in what the keychain stood for, he would have treated her in ways far better than simply letting her drive the car. I think that part of the reason why he acted as he did was that he was embarrassed about the age gap — even though he still dates girls younger than he is to this day. Swift satirically references this as she sings, "I was never good at telling jokes, but the punchline goes, I get older but your lovers stay my age."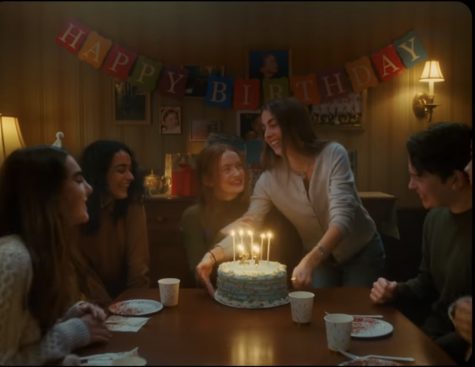 Caroline Curran
As the film dwindles down and the storm of their relationship becomes heavily evident, Sadie Sink celebrates her 21st birthday with her friends. But where is Jake Gyllenhaal? Well, towards the end of their time together, when Gyllenhaal became less and less concerned about Taylor Swift's life, he didn't show up to her party. As Swift sings, "But then he watched me watch the front door all night, willin' you to come and he said, it's supposed to be fun turning twenty-one," her dad knew the one thing that was ruining her day. In Swift's song "22," which is also featured on the same Red album, her tune suddenly changes. With a year in between that fatal day, she shrugs off her birthday heartache as she celebrates the next year alive. In the music video, as she eats her cake, her friends parade around her with joy. She was so happy to celebrate turning 22 because she never got to be happy on her 21st.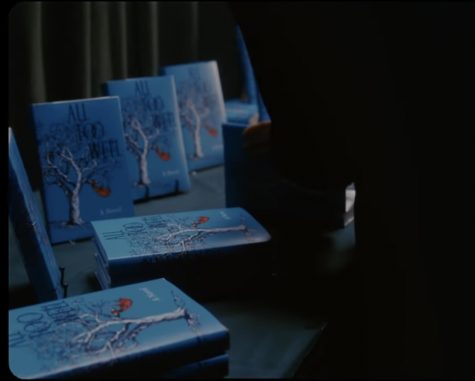 Sophia Huwar
At the end of the film, in the clip where Swift releases her novel at her book showcase, the cover imitates The Giving Tree by Shel Silverstein. The covers are very similar, except for the flipped tree, the red scarf instead of an apple, and no boy featured on the front. The Giving Tree represents Taylor's relationship with Jake Gyllenhaal because the book is about how the boy consistently goes to the tree asking for apples, somewhere to play, and somewhere to rest. Every time the boy goes to the tree, he asks for something but never offers anything to the tree in return. At one point in the story, the tree can not not provide for the boy any longer, but in its efforts to still please the boy, she drains herself of all of her resources, ultimately having nothing left. I believe that this parallels the relationship between Swift and Gyllenhaal because Swift sings that she gave her whole self to this relationship and obtained nothing in return.  Through her lyric "And I was thinkin' on the drive down, any time now he's gonna say it's love, you never called it what it was," she reveals that he didn't even offer her the label of love. Even though he wouldn't reciprocate her love, she was just happy to be with him and able to spend time with him. This went on until Gyllenhaal drained her of all of her happiness and her own love until he was no longer interested and simply left.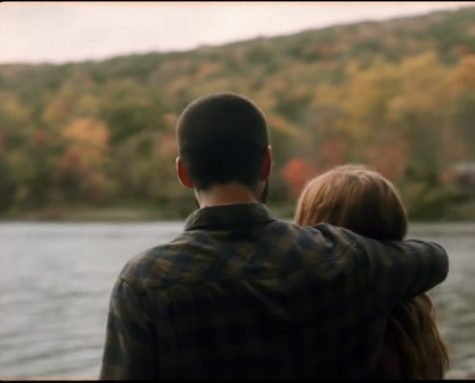 Lizzie Bauer
After I watched All Too Well a few times, I hopped on TikTok to see if anyone uncovered any more Easter eggs that I initially missed. Since I know that Taylor Swift plans everything out, throughout the film I was conflicted between thinking that 1989 or Speak Now was going to be re-released next. When I clicked on TikTok, I was not the only one thinking that. As the two main characters are driving in the car, fans quickly pointed out that the model is a 1989 Mercedes Benz, which hints that Swift's next album will be 1989. I'm torn, however, because although that detail cannot be a coincidence, there were far more Speak Now clues scattered throughout. As Sadie Sink and Dylan O'Brien are pictured at a lake with O'Brien's arm around her, Swift's lyric "I remember we were sitting there by the water, you put your arm around me, for the first time" rings in the ears of us "Swifties". In addition, Sink appears upset about her relationship while wearing O'Brien's flannel as she lies in her bed. I think that this scene directly links to the lyric "But now I'll go sit on the floor wearing your clothes, all that I know is that I don't know, how to be something you miss." Both of those songs are from the Speak Now album, so I guess we will just have to wait and see.