Ready for Takeoff
North Allegheny is bursting with pride as two students have been accepted into a high-profile flight academy.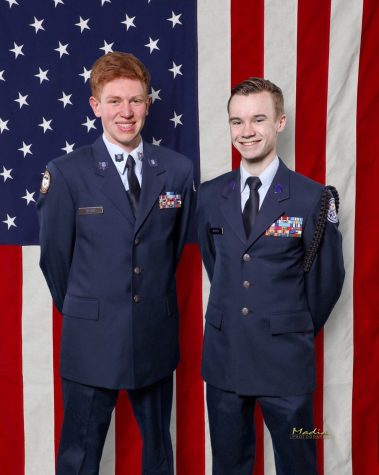 Two North Allegheny juniors have been accepted into the AFJROTC Flight Academy Program. Cadets Ethan Byrne and Curtis Rhoten applied for the program in November and were two out of the four North Allegheny applicants to get accepted in early January. 
"I knew I had the experience that would help me get into the academy, but I was mostly shocked because there were not a lot of people who got in," Rhoten said.
More than 1,300 cadets from across the country applied for one of the 200 scholarships. 
According to Lieutenant Colonel Don Accamando, who is also the Aerospace Science and Leadership teacher at North Allegheny Intermediate High School, Byrne and Rhoten will complete multiple aviation courses that entail a real-life flight. 
"My hope for both Ethan and Curtis is that they are able to follow their dreams and aspirations," Accamando said. "They've worked hard for this opportunity and I remain hopeful that at the conclusion of their flight training, they will be one step closer to attaining them."
Accamando was the first to be informed of the exciting news. An email from the director of the flight academy, Benjamin Caro, and program specialist, Ashley Blunt, was sent to the NAI teacher, who was not reluctant to spread the news across the district. 
"This is absolutely unbelievable. These kids amaze me and I am so grateful you [Accamando] and Chief [Terry Speer] are there to guide them," NAI Principal Caitlyn Ewing said in response to Accamando's news via email.
"
I look forward to the opportunity to be on a college campus and meet new people which will introduce me to college life"
— Curtis Rhoten, NASH junior
Through their education at NAI, the accepted cadets were taught a variety of aviation concepts alongside NAI's flight simulator program. These teachings assisted them in getting accepted into a very high-profile and challenging academy.
Once the academy concludes, Byrne and Rhoten will receive their own private pilot license. 
"This speaks volumes about the talent within the North Allegheny School District," Accamando said.
For Byrne and Rhoten, the application process was not an easy or short task, but the lessons taught at North Allegheny's Air Force JROTC classes were an advantage. 
"We had to take an aviation information test and had to have a lot of past experience and opportunities," Byrne said.
The location of the program is undetermined at this time but most likely will be out of state. In previous years, the academy has conducted the program in Maryland, Ohio, and Indiana.
As for traveling out of state, while their parents may have butterflies in their stomachs, the two young men are not ill at ease to leave their Pennsylvania home for a long period of time.
"I look forward to the opportunity to be on a college campus and meet new people, which will introduce me to college life," Rhoten said.  
When the program concludes and the pilot-licensed 17-year olds begin their senior year at NASH, they hope to have a brand new path for their future beyond high school. Whether it is to continue their education in aviation or not, the program will be worth the eight-week commitment away from home.