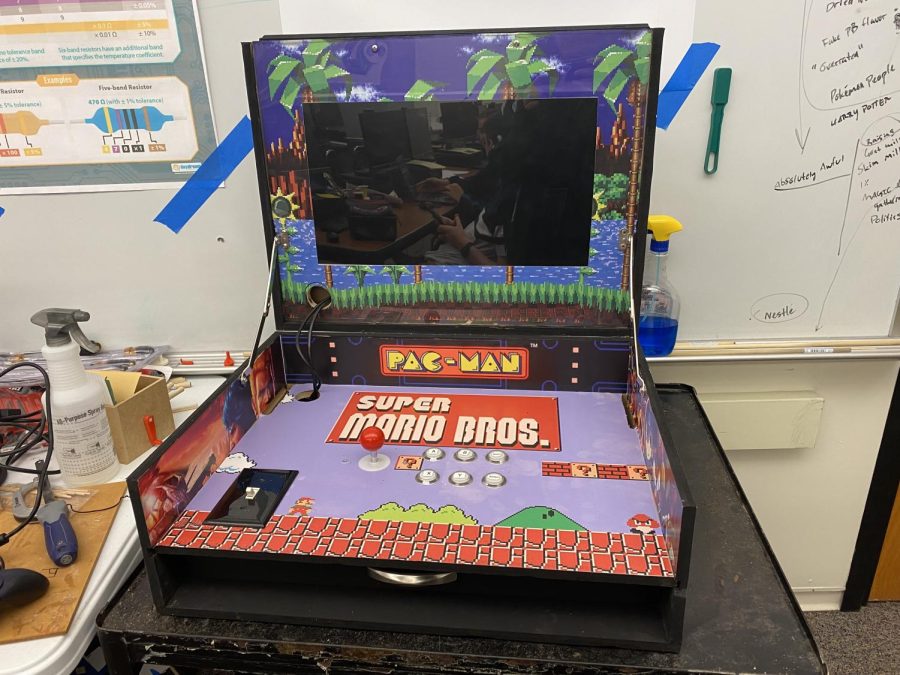 Emily Janosko
In room 240, a surprising new project for students in Emerging Technology turned into a clever invention. Maddie Whitewolf, Jackson Stone, and Bruno Martin created a particularly special podium for their teacher, Mr. Banks.
Although from the outside it looks like a normal teaching podium, inside hides a surprise. The podium is actually an arcade cabinet, equipped with Mr. Banks's favorite video games.
"When we started the project, we didn't have any idea what a concealed video game cabinet looked like, or how it functioned. We had seen a couple designs online that hung from the wall; however, we knew that we couldn't hang anything from the wall," explained Whitewolf. "We came across a design that was sort of a night stand that we really liked. We took that general idea and we modified it to become a podium for practicality and manufacturing ease."
The three students utilized special software that is compatible with the engineering room's Computer Numerical Control (CNC) Machine. 
"We created a 3D model of our design in Fusion360 and sent it to the CNC machine. After we had cut it out, we realized that the box would be a lot bigger than we had first anticipated, but decided to just leave it as is," said Martin. 
From the looks of it, the podium was methodically measured and planned out. However, Stone explained that the most difficult part of the manufacturing process was learning how to create a podium with little prior knowledge. 
"One of the most difficult parts was definitely learning what we were doing on the fly. This is the first time we've made arcade machines before with Raspberry Pi computers — or any arcades at all actually," said Stone. "For us, it was also hard to scale everything. Our podium was bigger than we thought just because we designed it on our computers in CAD software. We could have used rulers to actually measure everything in real life, but we didn't really think all that much about it during the design process."
Additionally, the students added a monitor screen to the podium. The deliberate nature of the screen provides the podium with a clean and finished look. 
"We mounted the monitor so it is flush with the MDF frame surrounding it. Then we cut an acrylic sheet to go over both the monitor and the frame. It looks very clean, and it was very rewarding to see it come together so nicely," Whitewolf added. 
To make it personalized to Mr. Banks, the students added the final touch to the podium: an array of special stickers that align with Mr. Banks's interests and personality. 
"For our stickers, we asked Mr. Banks what some of his favorite games were growing up. On the inside, we have Contra, Pac Man, Super Mario, Mega Man, and Sonic. The outside is based on Mr. Banks's sense of humor. The outside has rocks on it with 'Mr. Banks rocks!'  and 'Mr. Banks' rocks.' The back says 'PPG Banks,' as Mr. Banks loves hockey," said Stone.
For the engineering teacher, the students' project has resulted in an integral part of his classroom. 
"I am going to use the podium to teach from for the rest of my career," said Mr. Banks.