Batter Up
Cutch wanted some practice, and the Baseball Team delivered
Hang on for a minute...we're trying to find some more stories you might like.
In what will go down as one of the most tumultuous events in Pittsburgh sports history, the Steel City bid farewell to one of its most prominent figures: Pirates' outfielder Andrew McCutchen.  In his nine years as the Pirates' franchise player, McCutchen was a Gold Glove Award recipient, a four-time Silver Slugger, and a five-time All Star.  He was named the most valuable player of the National League in 2013 and was without question a fan favorite.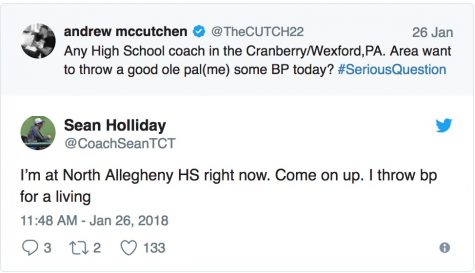 BP with an MVP @TheCUTCH22 @NA_baseball2017 @TCTBaseball pic.twitter.com/HinDn9hDVn

— Sean Holliday (@CoachSeanTCT) January 31, 2018
After his trade to the Giants but before moving his family to California, McCutchen was in need of a new venue to take some batting practice, and he reached out to any local high school coach who was willing to help him.
NA Pitching Coach Sean Holliday was on the ball, immediately inviting McCutchen to take batting practice at NA's Baierl Center. It was Holliday's first tweet.
"It was really a great opportunity to meet and interact with Andrew because I grew up looking up to him," Jack Kenna said.  "He was one of those guys who really brought the team [Pirates] together, and I am sad to see him go."
Ben Surman's reaction was similarly admiring.  "As a baseball player, it was awesome to meet someone I have grown up rooting for," the senior said.
McCutchen later tweeted out a picture of him posing with the seniors, thanking them for their generosity.  The story went viral around the community and was quickly picked up by the national media.
"You appreciate Cutch so much more when you see him play in person rather than seeing him from the nosebleeds," Caiden Wood said.
It was a once in a lifetime opportunity for NA's dugout, and it couldn't have come at a more perfect time, with conditioning already underway and the season opener against Mt. Lebanon just a page away on the calendar.