My Way / Kaycee Orwig
Hang on for a minute...we're trying to find some more stories you might like.
I believe in a God who "so loved the world that he gave his one and only son" to die the most excruciating death so that we may have eternal life in heaven (John 3:16). I believe we were created by God and for God. Without Him, I am left wondering, what are we living for?
Christian or not, be honest with yourself here and truly think about it. Have you ever felt an emptiness in your life, a feeling of chasing and chasing after the next things in life only to be left saying "Is this it"?
Tom Brady, before he turned 30 years old, felt it when a 60 Minutes correspondent asked him what he has learned about himself throughout his football experience. The man every man wants to be with a gorgeous wife, five Superbowl rings, three beautiful children, and, let's be honest, a stellar body responded, "God, it's got to be more than this. I mean this can't be what it's all cracked up to be. I mean I've done it. I'm 27. And what else is there for me?"
Tom Brady doesn't even follow a specific faith, but his words say it all: what are we living for? In the midst of junior and senior year, our lives seem to become consumed with achieving a high GPA, studying for SATs, applying to colleges, dating, dances, and so on. However, when it all comes together, and you get into the college you've always dreamed of, start dating the most beautiful girl/guy in school, and life seems to be working out in your favor, do you experience true happiness or fulfillment, and if so, how long does that feeling really last? It's not long before the next trial or tribulation comes along to knock you clear off your little pedestal.
"Wow, Kaycee, super depressing." I know, but I believe there is an answer. You see, we have sin living inside of us. The Bible tells us that not only does sin separate us from God, but also that the consequence of sin is death: eternal death. However, despite the fact that we have turned our backs on our heavenly father, he desires our hearts. He calls after us and desires a relationship with his favorite creation. Therefore he provides us with a way: Jesus.
John 3:16 states, "For God so loved the world that he gave his one and only Son, that whoever believes in him shall not perish but have eternal life." All we have to do is BELIEVE. Believe in him and you will find salvation. Jesus died the most excruciating death for your sake and mine. He died for the sin of the past, the present, and the future. He died for those who beat him and nailed him to the cross. He died both for those who will never know him and for those who praise his name. ALL YOU HAVE TO DO IS BELIEVE.
It's not a list of rules to follow, and it isn't condemnation for the mistakes you have made. This faith is a relationship; it's freedom and love. I believe this is the greatest love story known to man, for "Greater love has no one than this: to lay down one's life for one's friends," and that is precisely what Jesus did for us on the cross (John 15:13).
I hate the word religion for this very reason. When you hear religion, you hear rules and regulations. As Jeff Bethke said in a YouTube video that has been viewed by over 33 million people, "Religion puts you in shackles, but Jesus sets you free."
The purpose of this article is not to convert or offend anyone, but to offer another perspective. If you really pay attention, you will notice that the beliefs of Christianity seep into nearly every area of life: relationships, literature, and even science at times. Even the secular literature read in a supremely secular school contains glimpses of Christianity. Do you ever wonder why that is? I believe that God's character resides in each and every member of his creation, and therefore his people write, talk, think, and love in ways that reflect him without even realizing it.
My name is Kaycee Orwig, and this I believe.
About the Writer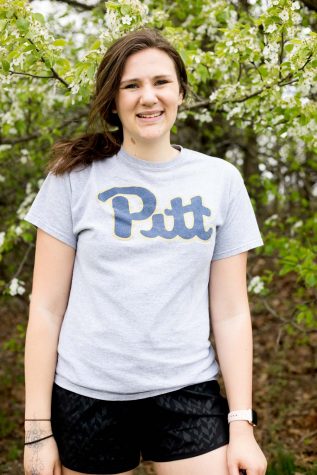 Kaycee Orwig, Principal Photographer
Kaycee Orwig is a senior at NASH. She is a sister to seven, a daughter to four, and a photographer to many. Kaycee's passions include her faith, writing,...