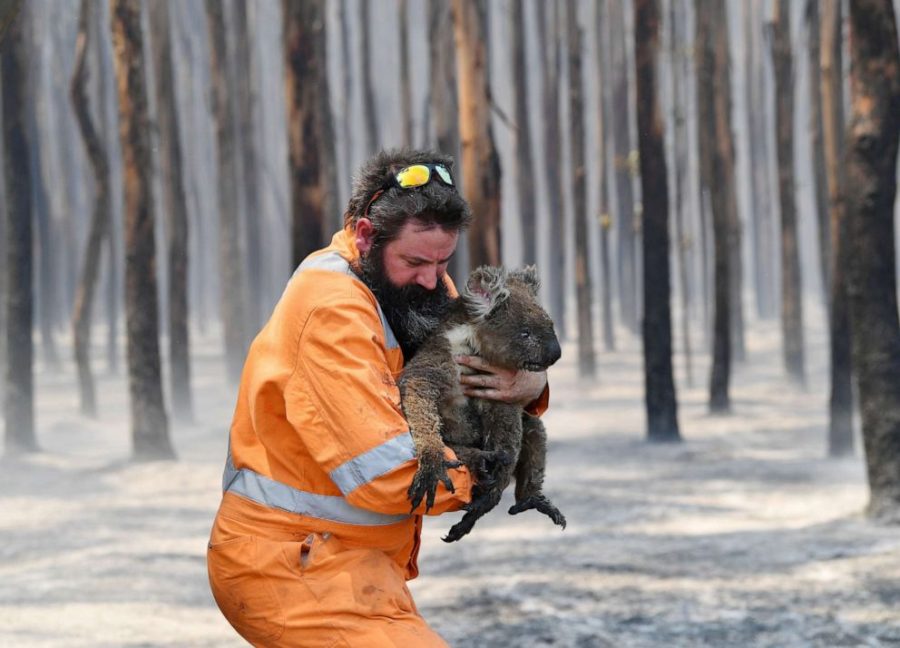 Courtesy of abcNEWS
Australia's Bushfires
January 16, 2020
Australia is now in an "unprecedented national crisis", as unrelenting bushfires that began early this year are causing ruthless destruction due to the combination of unusually high record-breaking temperatures, prolonged drought, and strong winds. The intense bushfires, having burned more than 7.3 hectares so far, have affected around half a billion animals and killed 27 people. In New South Wales, around 2,000 homes have been damaged/destroyed and about a third of koalas have perished, with a third of their habitats destroyed. The smoke has drastically affected the air quality in Sydney, causing people to choke and be rushed to the hospital.
The bushfires blanket much of Australia with pollution. More than 2,000 firefighters are currently fighting to combat the flames with the help of New Zealand, Canada, and US sending additional firefighters. Australia's federal government has sent in military assistance to aid in firefighting, evacuation, clean-up efforts, and search and rescue.
History/The Solution
Burning practices in Australia demonstrated by the natives have been around for 50,000 years, as they used fire to burn scrub to make hunting easier and allow the growth of bush potatoes. The aboriginal technique of being able to control a less-intense, smaller fire could serve  as a solution to the wildfires. With the understanding of what types of fire are needed to burn for certain types of land, the amount of time to burn them for, and the knowledge of what specific grass burns decently, the smaller fires would help to lessen the impact on animals nearby and allow less damage to trees and canopy.
The Ongoing Situation
Due to a break in the weather as of Sunday, crews have been able to get in front of the fire and switch from defense to offense in fighting the flames. The change in temperature and less strong winds have allowed them to make progress. New South Wales's National Parks and Wildlife Service staff are air-dropping carrots to help the animals in Newnes, Wollemi National Park, and New South Wales. Donations made by celebrities such as Serena Williams and other tennis players have gone towards a fundraising appeal for victims of the wildfires. However, citizens are frustrated and infuriated with the miniscule effort Scott Morrison's conservative government of Australia has taken to combat climate change, which is contributing to the bushfires. On Friday, thousands of protesters rallied in Sydney and Melbourne in an attempt to fire him and raise awareness that Australia needs to take tougher action on global warming.
Why It Matters
Understanding the magnitude of the bushfires and what they have demolished is crucial so that more people realize how drastically we need to take action and fight to take care of our planet before it's too late. It is excruciatingly heartbreaking to see how much wildlife has been affected, a distressing example being the Australian magpie. Known to mimic the sounds near them, the magpies' beautiful song has turned into the blaring sound of the sirens of the fire trucks responding to fight the inferno. If we don't make more of an effort to raise awareness of the vast amount of wildlife and environment being affected, the magpie's mimicking of the siren will become a mournful wake-up call for humanity.