Good Talk: Ms. Yakich
Meet the English teacher and Yearbook/VARIATIONS sponsor who isn't afraid to tie on the boxing gloves
Hang on for a minute...we're trying to find some more stories you might like.
Do you have a favorite vacation spot?
My favorite vacation spot is the beach, specifically like Corolla Beach North Carolina because there is a family I've been with since I was younger watching their kids, so I typically go down and spend time with them over the summer.
Were you teaching before coming to NASH? If so where?
I was not a full time teacher anywhere, but I student taught at NASH, and then I had different long term gigs in the district. So I had a long term at IMS, at NASH, and at MMS.
When you were growing up, did you always want to be a teacher?
I always wanted to be a teacher. In second grade I had a teacher and she kind of made me her errand girl — I did everything, so I absolutely loved it. Everyone I went to school with knew that I was going to be a teacher.
What are you looking forward to this year? Anything you're not looking forward to?
I am looking forward to just being in my own classroom and being with the people I have built really strong relationships with. I'm not looking forward to some of the challenges that I don't even know are going to come.
What is one lesson that you hope all your students learn from your class?
I hope that they learn to be independent learners, not only with content material but just with their personal lives, so that they can push forward in their future endeavors.  
Was English your favorite subject in school?
English was my favorite, but I was not a stellar honors or AP student. I typically just took academic classes. I enjoyed conversing with a diverse group of people.
If you could read one book for the rest of your life, what would it be?
The one book that I read in college that changed my way of thinking is Sula. It taught me a lot about myself, so if I had to pick one book it would probably be that one.  
Who is your favorite author?
I do not have a favorite, but I really try to suggest Ellen Hopkins books to students, just because they are very relatable.
What is your favorite movie?
I'm not a movie person. My friends make fun of me because they will say famous lines and quotes and I do not get them.
What is your favorite food? Restaurant?
French fries. I have a really hard time denying them. I got an airfryer, so I can at least eat them at a healthier level. I don't eat out a lot, but you can catch me at Chipotle when I have the chance.
In your free time what do you like to do?
I love to exercise. For the past three years, I've done boxing. In college, I was heavy into lifting, so now I'm getting back into the lifting. My fitness goals have changed, so typically if I can just give myself a nice rest, like one hour of stress relief from what I have going on during the day, you'll catch me at the gym.
Is there anything else you would like the students and staff to know about you?
I think that if they wanted to know anything about me it would be that I'm very sarcastic and I love to try and get to know people on a deeper level.
About the Writer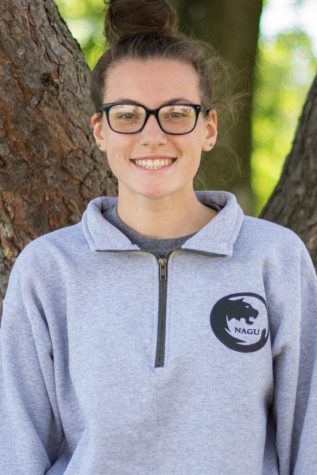 Megan Wilson, Reporter
Megan Wilson is a junior at North Allegheny Senior High. She is also apart of the NA Track and Field team and the NASH orchestra. She enjoys reading and...