Heart of a Champion
Paolo Bochicchio details his battle to get back onto the football field.
After a heart issue sidelined him and almost took the sport he loved from him, Paolo Bochicchio details his journey to getting back onto the field.
What was it like going through the adversity of having the heart issue?
It was crazy and hard, man. Football is something I live and breathe, and I wasn't even thinking about surgery or what was happening to me. It was only about getting back onto the field. That's the only thing I cared about.
What did you do during the time you were sidelined?
I couldn't do anything but walk around for a while. For a good portion of the time, there I was only walking around my house. Once they told me I could ramp up the workouts, I did. While the guys were lifting and running, I was on the elliptical machine. Then, as time went on, I was doing what they were doing. It was tough not to be out there with them.
What did you think of the support you got during that time?
I have great support from my friends, my family, my coaches, and everyone else around me. I am truly grateful for all the support from everyone.
How did the team rally around you?
My best friend Jason, who helps out with the team, would always come and see me. The coaches would always text me, and the team would always visit me after the surgery. When I came back, everyone treated me so well. I mean, they still treated me like I was a normal member of the team, and I was blessed to have that support from them.
How did it feel to finally get back on the field?
When I stepped out there, especially in the first game of the season, I had chills down my back. I am just so incredibly blessed to continue to play the game of football. After all that I went through, I am just so happy I am back to my normal-self and back on the field.
When you did get back, did you go full out, much like the old Paolo did?
Yeah, I was back to my normal self, so I padded up and was ready to go. I had new gear, and it was just great to get back out there with the guys.
How has the experience changed your view of football?
If anything has changed, it's that I realized how blessed I am. I realize how great of a sport this is, the team and all the friends, the bond you have with your teammates. With what I went through, everyone on the team made it a lot easier. Just to have all my friends around me made it so much better. Football is the ultimate team sport, and the support I got from everyone was great.
What does the game of football mean to you now?
It's everything to me. I've watched all my brothers play, and I have wanted to do this since I was 7. Now that I can see how quickly it can be taken away from me, every play counts. I love everything about, and they joke about it that it's just practice, but it means so much more to me now.
Do you have any advice for someone going through something like you?
Just be patient. You can find yourself in times when it will be tough and you will be stressed, but it will get better. You should just be patient and trust the process.
About the Contributors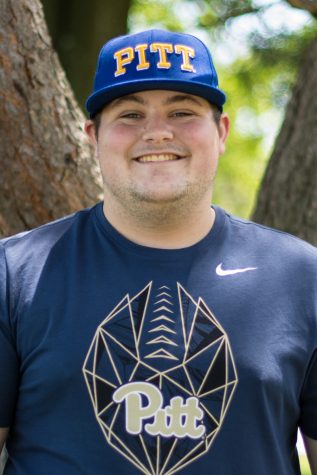 Nick Farabaugh, Sports Editor
Nick Farabaugh is a senior at NASH and the sports editor for The Uproar. Nick is a writer for SB Nation's Behind the Steel Curtain and is a WPXI Skylights...