Ultimate Throwdown: Pitt vs. Penn State
Two Panthers fans and two Nittany Lions fans on The Uproar staff slug it out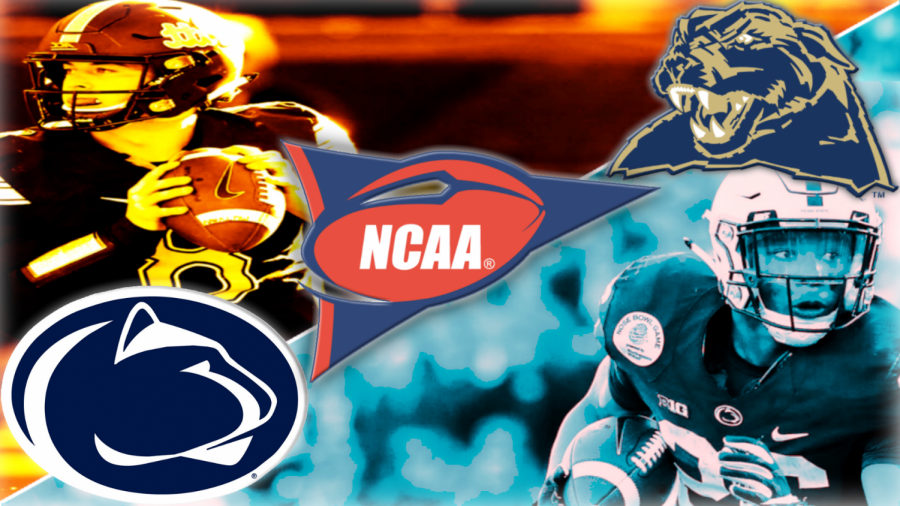 Here at North Allegheny, we have a sharp split between those who root for the Penn State Nittany Lions and those who root for the Pittsburgh Panthers.  With the upcoming rivalry matchup on Saturday at 8:00 PM, we put two Pitt fans and two Penn State fans in a room for fifteen minutes (anything longer would have led to a violation of the Code of Conduct). Here's what happened:
Lexie: What is there not to say about Trace McSorely? He is in the running for Heisman and is in his third year of play as QB of Penn State. In his first start against Kent State, he threw for over 200 yards, and in that year, he led the FBS in yards per completion. He was ranked first in the Big Ten in passing yards and twenty fifth in the FBS. He won 15 awards that season, which currently makes him the most decorated QB in the country. In 2017, he started all his games and topped his stats from 2016. I could talk about this all day, but it would take a while.
Nick: We get that McSorely is decorated, but you have to factor in that he played on an offense with Saquon Barkley, DaeSean Hamilton, and Mike Geiseicki.
Carli: He has raw talent, and his offensive stars have changed. Saquon and the rest are gone.
Nick: Trace McSorely is a good QB but not a great QB. Kenny Pickett's redshirt was burnt in the middle of last year, and he almost led a comeback against a very good Virginia Tech team. Ben DiNucci and Max Browne were not very good last season and Pickett played better than both. He then beat #2 Miami. He dominated them and had a great game and made all the clutch plays he had to make. Last week, he threw a perfect first half, not one incompletion.
Lexie: Pickett only completed 59% of his passes, and the boy can't throw a football.
Nick: From a pro football focus, Kenny Pickett's adjusted completion percentage, which takes into account Wide Receiver drops, was 71%. Pickett is accurate.
Lexie: DiNucci was worse, but the only person who can get credit from Pitt is Max Browne. He had great games against Rice and Syracuse
Nick: Browne was not good. Pickett is far better than he was. In comparison to McSorely, Pickett is not on his level yet, but Pickett is essentially a freshman. McSorely is a better quarterback right now, but you will see McSorely miss throws that he should make often. Against good competition, McSorely throws a lot of interceptions that he should not throw at all. He keeps teams in games and is the reason you guys lost in 2016.
Lexie: He has a tendency to throw it — not run it .
Carli: He is under pressure often and it is often the offensive line's fault. This season we have a new offensive line coach and we never ran the ball when we needed to against Applachian State. When we ran the ball we actually had success, and McSorely can run when he needs to.
Nick: Let's talk about those running backs. Miles Sanders has vision issues when he runs. He and Saquon are similar in that they go blind when they run to the outside. Miles Sanders is good but not great.
Carli: But he is going to be great.
Nick: Going to be great is the key element here. We have two NFL prospects at running back in Qadree Ollison and Darrin Hall. Both can receive out of the backfield, they can block, and they run very well behind the offensive line. Ollison was a 1000 yard rusher in his freshman year. He ran for 73 yards on 7 rushes against Albany. Hall had over 400 yards in his last four games to end the year in 2017. Now, AJ Davis is here too, and he ran well against Albany.
Carli: Miles Sanders had more rushing yards than that.
Nick: Sanders had 12 more carries than Ollison and only 18 more yards. Ollison had more yards per carry than Sanders did. We have two proven running backs in Ollison and Hall. You guys have an unproven running back in Sanders. The run defense of Penn State was suspect as well. Jalin Moore torched the run defense, and you got torched through the air too. You guys have a lot of issues in the secondary outside of Amani Oruwariye.
Lexie: Sanders played two years at this point, and in 33 kickoff returns with 688 yards on those.
Luke: Maurice Ffrench took back the opening kickoff return for the touchdown. Araujo-Lopes nearly took back a punt return. Ffrench won ACC Specialist of the Week.
Nick: On to wide receivers, Penn State has a stud wide receiver in Juwan Johnson. However, Pitt has a stud CB in Dane Jackson. Jackson, Pinnock, Ford, and others in our secondary were banged up but will be back this week. Hamlin will be good too. Johnson, Thompkins, and Hamler are all good, and yours is proven, but Pitt's is unproven. Jester Weah and Quadree Henderson graduated, but Taysir Mack is here this year. Shockey Jacques-Louis is a better version of Quadree, he can actually run routes. Rafael Araujo Lopes was one of the most consistent receivers in the ACC last year. Tre Tipton is back off of a Torn ACL and he was productive before he got injured.
Carli: Our receivers are proven and better than yours are right now. They might be great down the road, but right now they are not as great.
Nick: Appalachian State took you guys to your breaking point, and Pitt is better. If your defense plays like that when you play us, you will not win.
Carli: We should have blown them out and we did not play to the best of our abilities, but if we play up to the level of the talent we have we will win. We have the talent and skill. Last week was not a representation of how we will play last week.
Luke: After losing guys like Saquon and Marcus Allen, you cannot be as good as you were last year.
Carli: I agree with that, but Miles Sanders is going to be good enough to beat Pitt.
Nick: Pitt had seven sacks last week and were stout in run defense. Dwayne Hendrix and Rashad Weaver are monsters. Sean Idowu and Elijah Zeise, two former NA players, are great starters are linebacker. Quintin Wriggins is back and he was productive before he got injured. You guys have up-and-comers on defense but they are not there yet. We returned 9 out of 11 starters on defense, and it was a defense that performed well when together.
Lexie: I will admit our defense needs work but that McSorely and Samuels will be enough to overcome them.
Luke: Your defense is in trouble against Pickett.
Lexie: The guy cannot throw a ball well at all.
Luke: He had that 71% adjusted completion percentage. He had a great game one and because of that, with your weak secondary, you guys are in trouble.
Carli: We have only seen these teams play against Appalachian State and Albany. You can't draw many conclusions in those limited times, so the talent levels are the key factor. It is going to be such an exciting game.
After the end of the debate, the four of us gave out predictions for Saturday's game:
Lexie: 42-35 Penn State
Carli: 34-28 Penn State
Nick: 34-31 Pitt
Luke: 38-31 Pitt
Of course, no bias factored into those predictions.