The Fast & The Vigilant
NASH's Officer Ray takes drivers safety to the classroom
Hang on for a minute...we're trying to find some more stories you might like.
At the end of September, NASH conducted its first student "speed trap" test of the year, which was announced in advance to all students at the end of the day.  Though Homecoming has passed, the mission to promote safe driving remains as relevant as ever.
In this recent speed test, two white lines were placed across the road midway down the hill in front of NASH. Students were timed from the moment their front tire reached the first line to the moment the same tire touched the second in order to determine how fast they were driving.
This test was not designed to "catch" students or issue citations, but rather to collect information on the speeds reached by students in front of the school. And this test was conducted by NASH's own Officer Ray.
"
If you see something, say something. It's not about whether you consider yourself snitching on another student. "
— Officer Ray
"We're trying to develop ways to reduce the speed at which most of us are traveling southbound at the end of the day," the School Resource Officer said. "We base speeds on a 200-foot distance, and that's where the speed lines are enforced."
In addition to the speed test, Officer Ray also demonstrated similar tests to Mr. Walkowiak's physics classes. Per Officer Ray, "I was invited by the physics class to speak in regards to speed timing devices and how physics plays a role."
Ray's demonstration brought Walkowiak's students to the back parking lot, where he had assembled a small speed trap.
"We used two different devices that the Commonwealth of Pennsylvania allows us, the robic-chronometer and ENRADD, so we did a comparison of the two devices," he said. "We spoke about human error and how the calculations work for these devices."
Walkowiak was excited that his students could make the connection between course content and the real world. "It was good in many ways," the physics teacher said. "It was very informative, and it gave a chance for Officer Ray to meet the fine students of NA and be more interactive with them."
The lesson provided by Officer Ray was merely a glimpse of what he does to maintain safety for NASH students, much of which goes unnoticed by students. From directing traffic to overseeing lunch periods, the SRO is always working to keep students out of harm's way.
"I honestly feel good the following morning when all of you are back in school, and I mean that sincerely," Ray said. "I hope to get to know students more personally and be a resource for them. I hate being in meetings, because it takes me away from watching you guys. It would kill me if I were stuck in a meeting and something tragic were to happen."
Officer Ray expressed that although NASH is a relatively safe school community, there is still much sound advice to impart.
"Use good judgement, and follow your instincts, which I call it the "common sense approach," he said. "With speeding, it's a quick mistake that could potentially cause you to lose your driving privileges for 90 days. With underage drinking, you can lose your driving privileges for up to one year."
Above all, Ray  sees his role in the school as a promoter of ethical behavior.
"It only takes a second to change a life," he said.  "If you see something, say something. It's not about whether you consider yourself snitching on another student.  It's about the safety of other students if something tragic were to happen."
About the Contributor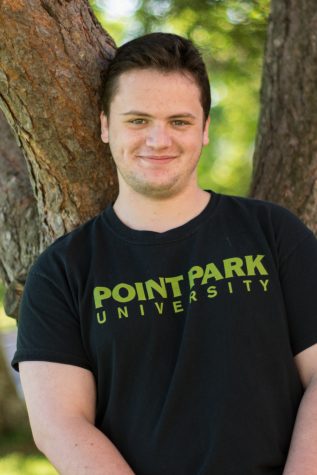 Jimbo Lawry, NATV Program Director
Zack "Baron Von Jimbo" Lawry is a senior at North Allegheny Senior High School and will (hopefully) graduate at the end of the year. Jimbo took on the...