Passion and Practice
Two takes on a life practicing an Indian art form
Hang on for a minute...we're trying to find some more stories you might like.
India has a multitude of classical dances, and one of its most popular styles is called Bharatanatyam, which is a very prevalent in the Indian community, not only in North Allegheny but within Pittsburgh as a whole. Many girls go to their Gurus (teachers) expecting not only to learn the art form but the mythological stories behind the dance as well.
Bharatanatyam comes from the Natya Shastra, the ancient Sanskrit text on the performing arts. This dance is a form of the illustrative anecdote of Hindu religious themes and spiritual ideas. These themes and ideas are shown through dance with amazing footwork and impressive gestures.
According to legends, the Lord Brahma showed this art to the sage Bharata, who then decided to convert the book into a dance. The text contains thousands of verses and was divided into two different forms. One form, Nrita, is pure dance comprising of the finesse of hand movements and gestures. The second, Nritya, is a solo expressive dance that includes expressions. Lord Shiva — as Nataraja (the god of dance) — was the first to perform this dance.
I can remember my first dance class like it was yesterday. My 5-year-old legs hopped out of my mom's 1999 Toyota Echo and carried me into class in an auntie's basement. All I could honestly think was, "Is Mom going to take me to McDonald's after this?"  Little did I know that dance would move from a basement into a studio, making it more official, and solidifying its role in my life.
I have been dancing ever since then. Before moving to Pittsburgh, I took dance in Kansas. It was always a task to make sure you weren't the worst one in class and to try to remain in at least the top three. This was so that you wouldn't be scolded on how far your feet were apart or how you held your hands.
I was in 8th grade when I had started the road to completing my Arangetram. An Arangetram is the first solo stage performance for an artist trained in Indian classical dance or music. To me, it was always much more than a performance. It seemed like a way to validate all those years of going through classes three times a week, putting on makeup and hair that took half the day, and having to forfeit hanging out with friends for dance. I would get to complete this milestone with the girls I had danced with since I had started learning. However, things never do work out the way we plan them — before I knew it, I had moved to Pittsburgh.
When starting class in Pittsburgh with Guru Smt. Shobitha Ravi, I noticed some shifts in the style, and I realized that I would have to work extra hard to catch up to the other girls. No longer did I screw around in class and make jokes; I was quiet and put all my focus on making these stylistic changes. And I will admit at times I threatened my mom with the idea of quitting because it was so frustrating to not automatically know all these new steps. However, as time went on I found myself bonding with the girls in my class, and my teacher, and I quickly realized most of them attended North Allegheny.
When March of 2017 rolled around, some girls from the University of Pittsburgh came to our classes. It was at that moment that I realized that I could still pursue dance in college. It had never really been a thought in my head to do dance in college. I just thought, "After my Arangetram and high school, you're pretty much done."
I interviewed North Allegheny Alumni Jothika Gorur, who is one of the senior disciples of Guru Smt. Shobitha Ravi, to learn more about her perspective of this classical art form.
How long have you been learning dance and are there any family ties to this classical art form?
"I have been learning Bharatanatyam since the age of 5 for a total of 13 years; 10 of which have been with my current Guru, Smt. Shobhitha Ravi (Artistic Director of Natyakriya School of Dance). I think I can say that I have always had a love for this art form. I remember tagging along to my older sister's dance class (2005) at the time and mimicking the movements from the back of the room. It was after that class when I had asked my mom to register me for the following semester so I could start taking lessons. At this point in my dance training; I merely saw dance as a fun little hobby that I would take part in, not knowing how serious I would get with my training. It was only after my oldest cousin's Arangetram (2007) when I felt the inspiration to pursue Bharatanatyam at a more serious level. A good portion of my family is trained in Indian classical dance. My grandmother on my father's side learned Bharatanatyam as well as both of my aunts and all of my cousins."
So, it's no wonder that you love to dance! How do you feel now after completing your Arangetram and competing in this classical art form?
"It practically runs in my family. When I was 16, I completed my Bharatanatyam Arangetram on July 16th, 2017. This event marked a very significant chapter in my life, and it is certainly a memory that I will always cherish. Completing this Arangetram reminded me of all the years I spent learning this art form to prepare for this program. It took me back to my first dance class, my first recital, and now my first real solo program."
Do you feel that dance is more of a journey than anything else?
"I would say dance is a never-ending journey. You have a starting point, but there isn't really much of an endpoint. There is always more to learn and that is what makes it so exciting to me. After my Arangetram, I have tried to perform more as a soloist to further myself in the art form. I have had the great opportunity to travel and compete in the Cleveland Thyagaraja Aradhana (one of the most prestigious dance competitions in the states) and placed 2nd this past year as well as a place in the Top 5 as a Finalist at the New Jersey Natya Sangamam Natyanjali dance competition. Both of these experiences continued to help me better myself as an artist, as I got to receive feedback from other Gurus who have dedicated their lives to teaching this dance style."
How does it feel to be able to continue your learning of this classical art form throughout your college experience?
"I feel very fortunate to continue my dance training in college and be a part of the University of Pittsburgh's premier Indian Classical Dance Team "Nrityamala." I have always dreamed of being a part of this team since the first time I saw them perform in 2012. My Guru, Smt. Shobhitha Ravi was a part of this team and even captained them to great success while she was in her undergraduate years. Her role on this team has further motivated me to follow in her footsteps to audition and make the team. In the last couple of years, I got to see some of the older girls in my dance academy be members of this team, and they have all been huge role models for me in dance. It makes it all the better knowing that I can continue with the same "legacy" that they were all apart of.  I am so glad that I decided to learn Bharatanatyam. It has helped shape who I am as a person, and I have met many close friends through it. I hope in the future that I can continue to learn more about dance and the history behind it; as well as teach eventually. To my Guru Smt. Shobhitha Ravi, I would like to thank you personally for putting in so much hard work and effort to help me become the dancer I am today."
Seeing college students that have dedicated their time for almost a decade to learn more about their culture through this dance style really strikes a chord with me. Today, I am not only excited to share my cultural art with people, but I love having discussions in class about the meaning of pieces and how to accurately portray them. The thing I love most about dance is that it is unique to the person learning it, and no matter the age — young or old — anyone can practice this classical art form.
About the Writer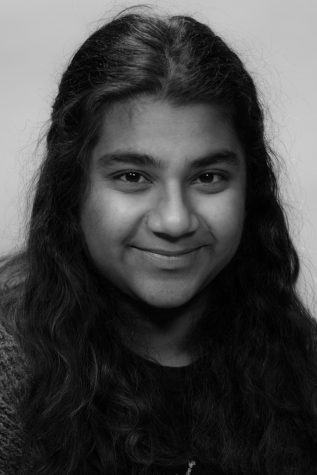 Somya Thakur, Social Media Director
Somya Thakur is a junior at North Allegheny Senior High. Somya loves to listen to a large variety of music, especially movie soundtracks. She is a part...