The Advice Is Wrong: 2nd Ed.
Hang on for a minute...we're trying to find some more stories you might like.
Dear Uproar, I've been struggling with trying to find a boyfriend. How can I get one? ~Hopelessly Lonely
High school dating is extremely stressful, but also extremely important. Everybody knows that the person you date in high school is the person you will end up marrying. Most people will tell you that you shouldn't change yourself for a guy, but I'm here to tell you they are WRONG. And with conventional beauty standards being so high, it's crucial that you conform to every single one of them. So how do you do it?
Well, first of all, you need to take a good, hard look in the mirror and ask yourself, "What color am I?" If the answer is not green, you're doing it all wrong. Guys will date you if and ONLY if you look, dress, and act exactly like the Wicked Witch of the West. I'd recommend you change your entire wardrobe to loose, black robes and get used to carrying around a broom. Go to Spirit Halloween and stock up on witch hats. Get a nose job (if you can afford one) to make that nose nice and pointy for Mr. Right, and grow as many warts as you can.
Now, here's the trickiest part: changing your voice and mannerisms. You can practice in the mirror and rewatch The Wizard of Oz as many times as you'd like, but guys will immediately see through it. Imagine if you accidentally break character while you're going out for dinner and he gets up and leaves. How embarrassing! So if you want to commit to the bit and make it a part of you, I recommend speech and behavioral therapy. I know a few witch-specific therapists whom I can recommend you to, and I can promise you that they are excellent in everything they do, even if they never got a degree or diploma (in case all you AP kids think you can't do anything without college).
And finally, when it comes to choosing the right guy, ALWAYS SETTLE. His standards for you will be very high, but the only thing you need to look for in him is whether or not he has a pulse. It is always your first priority to impress a man, no matter who it is. Your entire worth and reputation depend on it. This may sound like a lot to take in, but once you fly down the aisle on your broom on the happiest day of your life, it'll all be worth it. Now go get him, sister!
About the Writer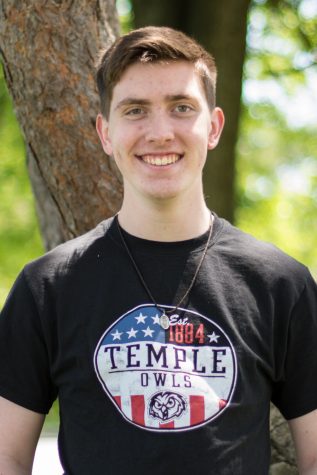 Connor Foran, Reporter
Connor Foran is a senior at NASH, an avid wearer of denim jackets, and a proud Bepis enthusiast. He plans to study international studies in college, travel...