In Full Bloom
Troye Sivan's second album challenges the status quo and delivers an unforgettable listening experience
Hang on for a minute...we're trying to find some more stories you might like.
Troye Sivan, an Australian singer/actor, started out singing covers on Youtube, and he dropped his second album, Bloom, on August 31st. The Australian singer released his debut album, Wild, in 2015.
Bloom is a ten song coming-of-age story with brilliant cinematics. I wouldn't be surprised if some of the songs are featured in the next big teen romance movies. This album tells stories of gender liberation; for example, Sivan uses same-sex pronouns, as he is gay and a huge champion of LGBTQ rights.
Bloom is one of the first of many albums that don't assume a boy is singing about a girl. Troye is singing about loving another boy, something that can be done now more openly than in years past, as more and more people view same sex love as normal. He is just one of many young queer artists of our generation changing pop music's relationship with LGBTQ identities.
Each song on the album has a unique style, but they all still fit nicely aside one another. And every song has a different, unique name to it, such as "Seventeen, My My My!" "Dance To This" (feat. Ariana Grande), and "Plum". Even the music videos are unique, artistic, and brilliant, using many aesthetically pleasing cinematic techniques. Thus far, videos have been released for the title track, "Dance To This", and "My My My!". Links to the videos can be found at the bottom of the article.
Bloom is composed of songs that revolve around a dramatic love story. I am telling you, if you're going through a break up right now, you will cry while listening to this album. These songs are filled with so much feeling that you can feel the emotions Troye is conveying for yourself. Breathlessly sensual, this album will definitely reach for your heart.
"Postcard" is the saddest song I've heard in a while — I actually cried the first time I listened to it. The whole spectrum, chills and tears.
Throughout the album, Troye is singing about someone he is giving his all to, but that person just doesn't care at all. And even though this person is over Troye and moving on, Troye is still in love and mourning the loss of love. The only way you can completely understand what I'm talking about is if you go listen to it yourself. And even though this album is downbeat, it is also my go-to album when I need to calm down.
I classify Bloom as actual music, meaning the lyrics actually mean something instead of just stupid sounds and words mashed together, like most music that comes out of this generation. Considering everything the album has to offer, including same-sex love, amazing stories and experiences, impressive cinematography, and perfectly flowing lyrics, Bloom is one of the best albums of 2018!
My My My!- https://www.youtube.com/watch?v=k5TqNsr6YuQ 
Dance To This- https://www.youtube.com/watch?v=bhxhNIQBKJI
Bloom- https://www.youtube.com/watch?v=41PTANtZFW0
About the Writer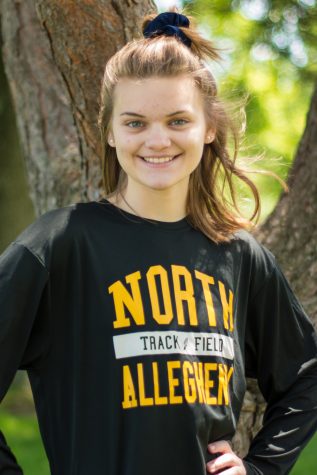 Alexis Franczyk, Reporter
Alexis Franczyk, a junior at NASH,  is excited to contribute to The Uproar for her first time. As an honors English student since she was in elementary...