The Advice is Wrong: 3rd Ed.
Hang on for a minute...we're trying to find some more stories you might like.
Dear Uproar, I just broke up with my girlfriend of four years. How should I deal with it? ~Stricken with Remorse
Obviously, your girlfriend's an awful person for ever breaking up with you. It's your right to be dating her, regardless of what she thinks or feels. It can't possibly be your fault, of course.  Therefore, you should try to make her feel bad about it at every opportunity. Forget maturity. This is war.
Your first plan of action is to put her on blast. Start talking smack about her to everybody. And when I say everybody, I mean EVERYBODY — your best friends, her best friends (especially important), teachers, parents, bus drivers, lawyers, and your waiter Alex from Eat N' Park. Let the whole world know what she did and how bad of a girlfriend she was. Doesn't necessarily matter if it's exaggerated or even just a flat-out lie. After all. it's her fault.
The next thing you need to do is to find a girl who is prettier than her in every possible way, especially someone who excels in areas where your girlfriend lags. You know her insecurities, so use them to find Rebound Girl. Once you know who you're going to date, move as fast as you possibly can. Hold her hand and kiss her on the first date — and make sure everybody sees. Never leave her side, so whenever you see your ex in the hall, you can grab Rebound Girl and make out vigorously. I can guarantee your ex will be jealous. It's statistically proven by doctors.
Once you're a couple weeks into this, once she is totally convinced you hate her and you're over her, send her a midnight text. Something along the lines of "I miss you" or "I want you back." Do you really want her back? Yes. Is she going to take you back? She'd better. After all, you've given her so many reasons to, talking about her behind her back and making out with another girl. It is your right to get back together with her, and if she doesn't want to get back together, keep up the charade until she says yes … which she's bound to do, because you're such a great guy, right?
About the Writer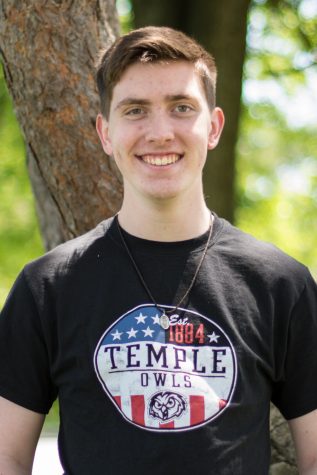 Connor Foran, Reporter
Connor Foran is a senior at NASH, an avid wearer of denim jackets, and a proud Bepis enthusiast. He plans to study international studies in college, travel...