The Ocean Comes to NASH
Local musicians June Bracken and Brett McCutcheon release their first album together
Hang on for a minute...we're trying to find some more stories you might like.
After Brett McCutcheon's brother Ryan passed away last year, Brett and June Bracken collaborated on an album in his memory. The Ocean was released on September 30 — the one year anniversary of Ryan's death.
What inspired you to make this album?
June: Basically we wrote the first song in August of 2017, and then a month later Brett's brother Ryan got in a car accident and passed away. And then the day that everyone found out he died, we all went over to Brett's house and then we played the first song that we had written, and it fit really well with everything that was going on and the whole scenario. So then I guess that's what inspired us to write the rest of it because we decided to pursue making it because of that.
What was your songwriting process like?
June: Brett wrote all the piano, and then he would send me the recordings of his piano, and then I would write over them.
Brett: We wrote throughout the year so the stages of grief really played into how we wrote all the songs.
June: Yeah, because we were at different points [in the grieving process] at different points in the year.
So it took you a whole year to write the album?
June: Yeah, time really had an important role in making sure it was as raw as it could be.
The Vault Recording Studio
Did you have anybody help you in making the album or was it very self-driven?
June: His dad recorded it for us, but we pretty much did everything else. We had input from other people, but when it comes to musicality, Brett played the drums, saxophone, and piano. He played most of the instruments and I sang. We didn't really have any outside help with what was being recorded.
How did your friends and family react to album?
Brett: I'm still surprised because we're getting a hundred views a day which is a lot for me, and it's not on YouTube at all.
June: It's still growing. I released a song over a year ago and it didn't get half the amount of attention that this has gotten which is for good reason. This has so much better of a story in it, and it's for the best cause.
Do plan to make more music together in the future?
Brett: It depends how much time we have.
June: The thing is that I'm going to away to college, and I don't know where I'm going, but my top school is in Nashville, so we're going to be far away from each other. We'll still have FaceTime, and that's how we wrote the first song.
Do you want to study music in college?
June: Yes, I want to go into music therapy.
Brett: Maybe music education.
Do you have any advice for other students who want to write their own music?
June: Just do it. If you write a bad song, then just pick it back up and write a better song. Don't be afraid to write a bad song. I think that's my best advice. If you're proud of it, then nothing else matters.
Is there anything else that we should know about the album?
June: All the proceeds are going to the Rhythm19 Foundation, which is for helping young people grow in the music education programs, and all the schools grow because right now they are kind of coming to a downfall. Music education programs are being cut. Arts programs are actually just being cut from a lot of districts so that's what this is for.
Where can people find the music?
June: It's on Spotify, Apple Music, iTunes. All streaming platforms under June Bracken.
Brett: CDs are $10, and if you want one, ask one of us or email [email protected]
About the Writer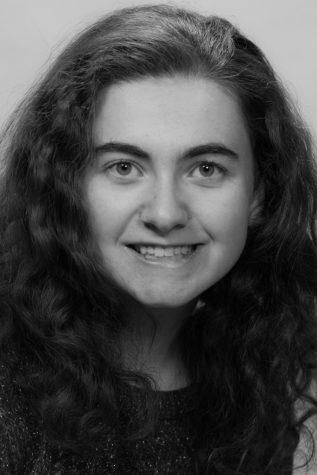 Samantha Solenday, Assignments Editor
Samantha Solenday is a senior at NASH this year. Among other things, she is a member of the NASH choirs and speech and debate team. Next year, Samantha is going to Pitt to earn a degree in Public and Professional Writing. She is very excited to write for the Uproar this year!