Porter Island
As a star cornerback, Joey Porter Jr., is one of the leaders of the undefeated North Allegheny football team
Hang on for a minute...we're trying to find some more stories you might like.
Joey Porter Jr., a Penn State football commit, has a storied past with football. He is the son of former Steelers Linebacker Joey Porter, but he is establishing a name for himself as the best cornerback in Pennsylvania.
How long have you been playing football?
I've been doing football since I was 5 years old, and I was around the sport before then.
How did you get into football?
I was around it my whole life. My dad was in the NFL and football was an everyday thing. So once I grew up to the age where I could play, it was just a natural thing that happened.
Why did you decide to play and focus on cornerback?
When I was at North Catholic, I was a wide receiver and when I switched schools to North Allegheny it was a different type of system. I had to play on both sides of the ball. If I wanted to play and get snaps, I had to be able to play on the other side of the ball, so I worked on that.
What was it like growing up under a father who was an NFL player?
It was crazy. It shows a lot. In the news, it was different, because they could show something that people didn't say or something that makes you look like a bad person. The other stuff was amazing. People came up to him all the time and I got to meet all the players. So that part was amazing.
What did you learn specifically from him?
I learned pretty much everything from him. He taught me how to put on a helmet, shoulder pads, knee pads and all the equipment. He taught me how to play my position. I remember one time he had my sister dress up and put on pads and run routes with me just so I could get better. I was living in Florida at the time and it was crazy. It was a fun thing we had.
Over time, how did you grow as a CB?
It was because of my coach Sean at DC5. Shoutout to Coach Sean. He really helped me throughout the years of becoming one of the best CBs in the nation. We worked out every day, even after practice. We just kept working hard. I wanted to become the best I could do, so we worked to get to that goal.
How was the entire recruiting process?
It was crazy. I had coaches texting me, calling me every day. I got emails. I had mysterious numbers coming from phone calls and weird people DMing me. It was blessing and a curse at the same time because I wanted this, but I didn't know how it was going to play out. It was just one of those things that you had to deal with to achieve your dream.
Why did you pick Penn State?
The school is great, it's close to home — the academics, the fans, the atmosphere, it was all just a fit for me. Over all the other schools, it was just the best fit for me.

In terms of the NA-PR game, do you feel animosity around it or more respect?
We have really good players on both teams and we both want to be that team in 6A. That is where the conflict happens. We both want to be the best teams, so when you have two great teams going at it, that is where the conflict will come in. We got players, they got players, and the only way to solve it is playing the game. So, if there is a little trash talk, it is football and it is going to happen.
How is PR week different from other weeks?
We treat every week as just another week, but we know it's going to be different. We have to prove ourselves, and we know what we have to do.
What do you think the key will be to beat PR?
My key is to stop their best player, their wide-out. My job is to stop that guy and lock him down all game. Team-wise, we have to play good defense and let our offense do what they do best.
With your team having state title aspirations, how has the locker room come together?
We knew when we lost last year that we wanted to win the state title. All the new seniors got together and set their mind to this goal. We worked hard since that and we have been grinding all year. Coach Walker helped us do that, but he also helped put our minds into focus. We can't just set our minds to the state title and forget about everything else. It is a week-by-week thing, so he has helped us stay focused.
How far do you think this team will go?
I think we're going all the way. I don't think anyone can mess with us this year. I keep saying that and I'm going to stay by that. We work the hardest out of everyone, and no one can take that from us. If someone is going to try to take that title from us, they'll have to fight us hard for it. We aren't just going to let that slip away.
About the Writer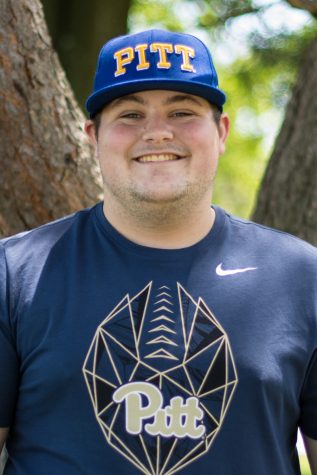 Nick Farabaugh, Sports Editor
Nick Farabaugh is a senior at NASH and the sports editor for The Uproar. Nick is a writer for SB Nation's Behind the Steel Curtain and is a WPXI Skylights...