Rants & Raves: Halloween Edition
May the Ghost Be with You
Hang on for a minute...we're trying to find some more stories you might like.
RANTS
I've always thought that schools should give kids the day after Halloween off. When the holiday falls in the middle of the week, students have to juggle their usually nightly homework load with whatever spooky plans they have for the night. Even though we're in high school and much less likely to spend our night trick-or-treating, we should still be able to spend the time with our friends, whether we're watching a scary movie or going to a haunted house. If school was cancelled the following day, we could all enjoy our night of frights and fun before doing our assignments the following day.
High schoolers like to pretend they're too cool for Halloween, and it's always bothered me. We're still kids, and it shouldn't be considered weird to enjoy the holiday the same way we did back in 5th grade. I miss the days when we would all wear costumes around school on October 31st and share pieces of fun-sized candy. Halloween should be a holiday for everybody.
The last thing that has always bothered me about Halloween actually has less to do with the holiday itself, but the way people treat it. Some people jump on the winter holiday season campaign and are in full-blown gift-giving, light-stringing mode on October 1st. This leaves Halloween completely overshadowed by the likes of Hanukkah, Christmas, Kwanzaa, and even Thanksgiving. I think that we all need to embrace the horrors of Halloween before we let other holidays steal the spotlight.
RAVES
Halloween always brings with it the idea of "spooky season". Horror movies and scary attractions, which can be difficult to find the rest of the year, pop up everywhere, and you can always count on finding something terrifying to do with your friends. As someone who loves all things spooky, I find it thrilling to have so many frights to choose from.
The nice thing about Halloween and, by extension, fall in general is the weather. No longer do we have eighty degree days with no breeze and insane humidity. The crisp fall air and the fallen leaves that crunch under the soles of your shoes are incredibly pleasing. Plus, as an added bonus, we can finally wear comfy sweaters and warm boots without overheating.
I also love how much candy is sold in and around Halloween. I've always had a giant sweet tooth and the amount of sugar available during this time of year just makes me smile. Also, candy corn, whether you like them or not, are a staple of Halloween. These little triangles of orange, yellow, and white taste absolutely delicious and for some reason are only sold in the month of October. So when they make their reappearance every year, it definitely makes my life better.
About the Writer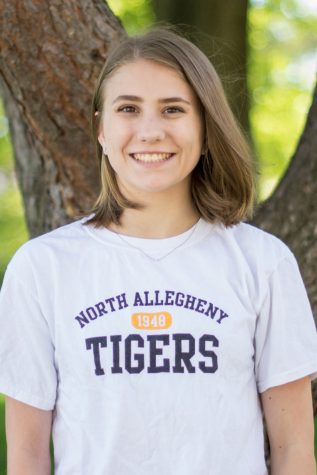 Caroline Mura, Reporter
Caroline Mura is a junior at NASH this year and is super excited to be writing for The Uproar! Previously an Atlanta native, she moved to Pittsburgh in...