Halloween Playlist 2018
Having a little trouble picking out your own spooky Spotify playlist? No worries, we made one for you!
Hang on for a minute...we're trying to find some more stories you might like.
This Season's Halloween Playlist:
Note: Spotify is blocked on student accounts.  You will be able to access the playlist below from a home computer or from your phone.
Here is a little rundown of the fifteen spooktacular tunes…
1. "Thriller" by Michael Jackson – A classic Halloween tune. With the mixture of Michael Jackson's stellar vocals and groovy beat, there is no doubt it is the go-to Halloween song.
2. "Somebody's Watching Me" by Rockwell – This song depicts exactly how students feel about the College Board and Securly. Remember, FAFSA saw you buy that $5 Starbucks drink.
3. "Monster Mash" by Bobby "Boris" Pickett & The Crypt-Kickers – A song that people of all ages can dance to and that has surpassed the test of time.
4. "(Don't Fear) The Reaper" by Blue Oyster Cult – Another classic song. Not exactly the best to dance to, but this hit captures a chill Halloween mood.
5. "The Twilight Zone" by The Ventures – Ever wonder where the famous Twilight Zone show got its theme from?
6. "I Want Candy" by Bow Wow Wow – No matter how old, this song still resonates with many. This always seems to be the go-to song for any movie that has to do with kids going trick-or-treating.
7. "Spooky, Scary Skeletons" by Andrew Gold – A classic-turned-meme. The remix is much more popular than the slowed-down original, but Andrew Gold deserves the credit for introducing us to such a unique tune.
8. "Disturbia" by Rihanna – I bet you weren't expecting to see Rihanna on this list. Whether it be a music career or makeup line, Rihanna always delivers. This song is no exception.
9. "The Purple People Eater" by Sheb Wooley – There was a time in elementary school where I could scream every word of this song without a moments hesitation. I'm positive I'm not alone on this.
10. "This is Halloween" by The Citizens of Halloween – This song is from the classic The Nightmare Before Christmas. Even if this song is from a children's movie, it's probably the creepiest one on the list. That is, if you listen to Marilyn Manson's rendition of it.
11. "Midnight City" by M83 – At first glance, this song doesn't seem like much of a spooky tune. However, the mysterious tune provides great background music to any Halloween get-together.
12. "Heads Will Roll" by Yeah Yeah Yeahs – Probably the most catchy song about rolling heads. This song is definitely the anthem of the Queen of Hearts.
13. "Ghostbusters" by Ray Parker, Jr. – You didn't think I'd forget this classic, did you? You better know every word to this one.
14. "Superstition" by Stevie Wonder – A groovy Halloween tune sung by one of the all-time greats.
15. "Dracula" by Gorillaz – The most chill song on the playlist. Gorillaz is known for their laid-back, deep vibe, and "Dracula" is no exception.
About the Writer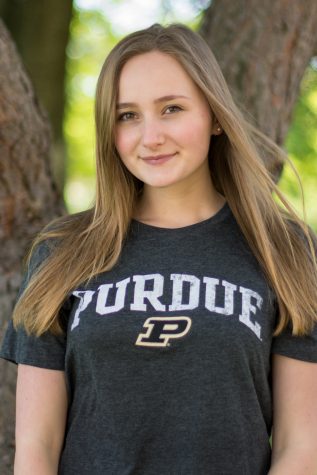 Madi Robertson, Reporter
Madi Robertson is a senior at NASH. She enjoys chorus, science fiction, and cuddling with her dogs.