Star Pitcher
Melissa Metzger is a leader of this lesser-known fall team sport
Hang on for a minute...we're trying to find some more stories you might like.
Melissa Metzger, starting pitcher for the Girls' Varsity Slow-Pitch Softball Team, relives her final season on the team before heading off to college.
Why did you decide to first play softball?
Before I could play recreational with IFPAA (Ingomar Franklin Park Athletic Association), I would play wiffle ball in my backyard with my dad. I started when I was about five for the recreational league, and then I've done that for my whole life, so it was kind of natural to start playing for the school since they offered it, and I didn't really have another sport that I was into.
What made you choose slow-pitch softball over fast-pitch?
First of all, I'm a pitcher, and I decided I was going to be a pitcher before you could switch over to fast pitch. And that was going well for me, so I wasn't going to switch. Also, now I wouldn't go play fast pitch because I just don't think it's as fun. Fast pitch is fun in it's own way because there's more intensity and competitiveness, and fast pitch goes to more fancy travel tournaments and they get cool uniforms and they often times stay together as a team for the whole year, but I just don't like it as much because I like hitting, and no matter how well I pitch, people are still going to hit the ball, and we're going to have to make plays in the field. I feel like fast pitch is more pitcher based, so if you have a really good pitcher, it's really hard to get any hits in, so there's less action. Our scores are in the teens and twenties and fast pitch's scores are not that much because there is less hitting.
Is pitching the only position you play?
I play outfield, too, but pitcher is the one I play most often when I'm doing competitive things, like a varsity team or a tournament travel team. I'm usually the pitcher because that's what I do the most and what I know the best.
Have you been on the Varsity roster all four years of your high school career?
No. I've just been on Varsity for junior and senior year. I played up once or twice in tenth grade during the playoffs, but it doesn't really count.
Do you think you've ever had an advantage because your dad is on the coaching staff?
No. And I hope no one thinks that I'm being biased, but my dad has coached me for my whole life. He coached my sister before she aged out a little bit, so it was on and off. For the past several years, he's been my coach every time, and he treats me just as tough as he treats anyone else on the team. You could ask other people on the team to vouch that there's not favoritism that happens. He just wants everyone to be able to enjoy the game and have fun, and people might think it because I'm the pitcher, which is an important position I guess, but the reason I'm a pitcher is because I'm good at pitching, not because I'm the coach's daughter.
What is the best thing about playing softball for the school?
I get to play with my friends. I get to do that in recreation too, but I met some new people through softball because some people on the team play for a different rec league. They play for McCandless, which I don't play for, so I got to meet new people and make some new friends. And for school, there is another layer of competition because it's a Varsity team — or Junior Varsity team — but it's a high school team, so there's more at stake and there's playoffs to look forward to. It's just kind of a different thing.
What was a highlight of this past season?
For me, I had one really, really good game, where for the first three innings I pitched like one ball per inning, and that was really good. I just pitched a really, really great game. Also, in our first game against Hempfield, we destroyed them. I mean, it's fun to win, and we beat them like thirty to nothing in one of those games.
How did the playoff tournament go this past weekend?
It was cold. And wet. And we kind of started off pretty rough. We were down [against Mt. Lebonon] – it was like 9-2, but we kept playing, and we stayed in it, and we actually managed to come back for a little bit, and we were winning for the last two innings – the sixth and seventh innings. We were ahead by about four runs, and then they got one back, and then they got two back, and then a girl clocked one out with two people on base, so we lost. But it was a really, really good game. It's a very even match of the teams, and whenever we played them in the regular season, we split with them, so it was a really good game.
Do you plan on continuing to play softball after high school, even if it's at the recreational level?
Oh yeah. I don't play very many sports, and by very many, I mean that I don't play any other sports. I play squash for fun by myself. But for softball, it's such a huge part of my life. I can continue at rec league because of when my birthday is into my freshman year of college, so I'm definitely going to. And then after that, my sister and my dad and I always joke that we're going to join an adult softball league and we're going to play with old people.
Do you have any advice for those thinking of trying out slow-pitch softball or those already playing?
My advice first is I'm going to plug slow pitch softball and say you should play because it's lit and come play because we need new people. Because slow-pitch is not a WPIAL sport, it's not super hard core because it's kind of a new thing. The program has only been around for like twelve years or something. So if you're a little bit nervous about it being too high pressure or something, it's definitely not. It's really chill. Practices aren't even every day. Yet. I don't know what my dad's going to do next year. But the environment is really supportive and the juniors that are going to be the seniors next year and everyone that is on the team right now are super nice and if you're new to it, and even if you haven't been playing that long, we don't have a lot of people, so you're gonna make the team probably, so don't be afraid to do it. Just go for it and try out, and you'll probably make it on the team, and then you'll improve a lot with help from your teammates and from the coaches who this year are really good.
About the Writer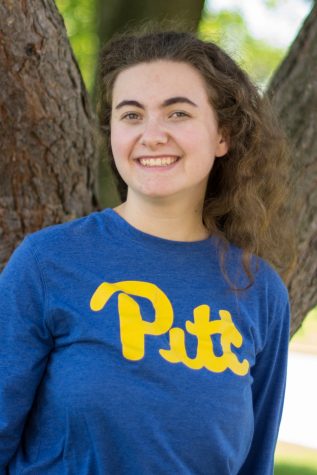 Samantha Solenday, Assignments Editor
Samantha Solenday is a senior at NASH this year. Among other things, she is a member of the NASH choirs and speech and debate team. Next year, Samantha...