Under the Spell
A review of NASH's 25th Annual Putnam County Spelling Bee
Hang on for a minute...we're trying to find some more stories you might like.
I spent last Saturday night at NASH watching The 25th Annual Putnam County Spelling Bee, and honestly, I haven't had that much fun on a Saturday night since senior year started.
Seeing that I've been to every school musical since 9th grade, including being in one in 10th, I know how extraordinary North Allegheny performances are. I came into the auditorium with high hopes and great expectations, and somehow, I was still blown away. The production was nothing short of phenomenal.
The musical begins with Bella Tumolo as Ms. Peretti, who gives a hysterical rendition of the time she was crowned winner of the third annual spelling bee–a title she won't let you forget for the remainder of the play. She keeps her title alive by participating as a judge in the next 22 spelling bees.
Next, we are introduced to the six tweenage contests with unique personalities and quirks: Skylar Davidson as Marcy Park, a sleep-deprived try hard who experiences a heartwarming epiphany towards the end; Evan Diulus as Chip Tolentino, a testosterone-fueled, romantically frustrated Boy Scout; Alex Flagg as Logainne Schwartzandgrubenierre, a sthocial justhtice warrior with two dadsth and a sthevere sthpeech problem; Robby Yoho as Leaf Coneybear, your stereotypical homeschooled oddball who is dimwitted but oh so lovable; Dawson White as William Barfée, an arrogant hypochondriac whose name is pronounced "barf-ay" but (to his dismay) is always mispronounced as "barf-y"; and Caroline Lucas as Olive Ostrovsky, a meek and bookish sweetheart who, unfortunately, has serious Mommy and Daddy issues. Four audience members are pulled on stage to join the spelling bee as well, making a total of 10 contestants. Before the 25th Annual Putnam County Spelling Bee officially commences, John Ehling makes his appearance as Vice Principal Panch, a lactose-intolerant and latently aggressive administrator who serves as the second judge. Valerie Davis also makes her appearance as Meg Mahoney, an angry, pessimistic woman covered with "rebel" tattoos and dark makeup and is ironically a "comfort counselor."
Then, the spelling bee begins.
If you've ever been to a spelling bee, whether you're participating or sitting in the audience, it's absolutely insufferable. However, this spelling bee was the opposite of that. From John's hilarious one-liners to Robby's flamboyant antics, I was doubled over from laughter the whole entire night. I usually try to stifle my laughter, but that night, I was the person shamelessly cackling in the audience. I've never been to a spelling bee that I even wanted to stay at for more than ten minutes, so it's weird admitting that I wanted this one to last for more than two hours. However, the musical doesn't restrict itself to the sphere of comedy; it touches upon sensitive issues as well, like not being able to meet exceedingly high expectations, negligence, and the growing pains of puberty.
Overall, this was one of the best shows I have ever seen. The cast oozes with talent and vitality, from their dancing to their singing to their acting. Mr. Truesdell, Mrs. Harrell, and student directors Valerie Malachin, Maureen Walsh, and Jackie Gould encourage creativity and improvisation, and I believe that there are no better people to direct the show. If I had to rate The 25th Annual Putnam County Spelling Bee out of ten stars, I would give it eleven. If I had to pay $10 to see it again, I would pay $20.
Do yourself a favor, and buy a ticket!
About the Writer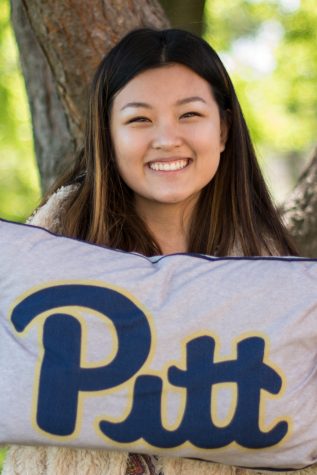 Amanda Lu, Opinions Editor
Amanda Lu is a senior at North Allegheny. She loves to spread her opinions around like it's everybody's business.