Six Strings and the Truth
What's next for Melina Bowser?
Hang on for a minute...we're trying to find some more stories you might like.
What's next for you? Do you have any albums coming up?
I do, it's ready. I just have to finish recording it, but there is a full album written— just not recorded yet. It is on its way! It's going to be called Crazy Ideas, so look out for updates on my social media (facebook.com/melinabowsermusic) on its arrival!
How long did it take to write it?
It hasn't been a constant thing. The first song I wrote for this album was in June 2017. It doesn't take very long for me to have a collection of songs that I want to release. But these ones have been spread out over the year.
How do you go about writing your songs?
I write all my songs in my notepad & voice memos on my phone; I sometimes handwrite my lyrics, but mostly I do it on my phone so I know what is going on later if I don't have my book on me. Also, if I lose the paper completely; which I have done before, it's easier to see where I left off if I have everything on my phone.
How has music changed your life?
It has been amazing because here's something I love to do that people can also enjoy. It has given me a purpose; that is so cliche, but it's true.
What started your passion for music?
This is a funny story, but I feel like it needs to be put into this. At Peebles, the 5th graders sang a graduation song at the elementary graduation. We could not decide what we wanted to sing, but this was the era of when "We Are Young" by Fun was popular, so they were like, "we could not sing that, the lyrics are too adult– for ten-year-olds." Then I was like, "you know what, I can fix that", so I took the song and I rewrote it so it made sense for 5th graders. It was the most ridiculous thing, but if you ask any senior who went to Peebles, they will know every word. That was fun — after that, I didn't do anything with music. In 6th grade, I got a guitar and I wanted to be able to perform, and not have people see me mess up. Like if I did covers, people would know the music, and if I messed up they'd be like oof. Then I thought that I could write my own song, so they wouldn't know if I messed up. It was more fun than I thought it would be, I liked it, so I kept doing it. I wish I had a better story than that, but that's the truth!
What has been your root motivation since you started? Who is your inspiration?
I'll answer in two ways… Nicholas Petricca is the lead singer of Walk the Moon, and I think his lyrics are unreal. I have met him before and been to a couple of their concerts. He is everything I want to be and more— music-wise (but, he does have cool hair). And obviously, Mr. Geibel, from NAI, has been there the whole time. He was the one who told me it wouldn't be a stupid idea to put If I Could on iTunes– which it wasn't because here I am.
Do you plan on pursuing music in the future?
Yes, my plan is to go into songwriting for myself or other people. Probably other people because my business/career-wise, it's the smarter move. I'll write for myself on the side and see what happens there — if that can take me anywhere.
Do you plan on collaborating with anyone in the future?
I want to. There is this one song that I want to put on the next album that I would like a guy to duet it with me because I think it would be a good thing, but I would need a volunteer. So if anyone wants to: hey, that would be cool.
If you could collaborate right now with anyone on the charts who would it be?
I think it has to be Walk the Moon. I don't know if they are necessarily on the charts; they had a couple of popular singles, but yeah, 100% Nicholas Petricca— Walk the Moon.
What would you tell someone who plans on pursuing music?
Definitely, do! It doesn't matter about money, or how much you would make. Do whatever you want that would make you happy because that is more important. But also, I'm currently someone who plans to pursue music, so don't take my advice. I'm just going with the flow, and I'll let you know how that works out.
What do you want your listeners to take away after hearing your music?
I would say there are a couple "upbeat" songs that are like do whatever you want, screw it, it's your life. Then, a lot of my slow songs are like you are worth more than you think. Basically, you rock and you can do whatever you want to do.
About the Writer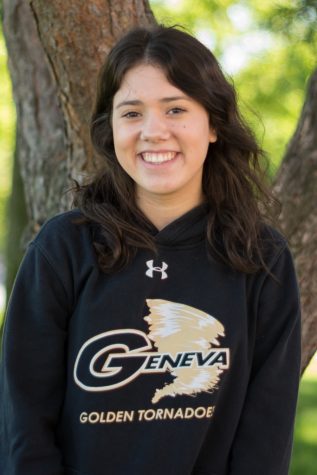 Rachel Schaelchlin, Reporter
Rachel Schaelchlin is a senior at NASH. This is her first year on The Uproar staff. She is a member of the National English Honors Society, and she plans...