Women Warriors
Little Mix's album, LM5, screams female empowerment
Hang on for a minute...we're trying to find some more stories you might like.
Ladies and gentlemen…please remain calm. It's here. Finally.
It has been two years since the last studio album by Little Mix, and while the "mixers" have been patiently waiting, I must say: it's about time. LM5 is the band's fifth studio album (hence the presence of the number five in the title), released on November 16th, 2018 under the record label Syco Music. It was highly anticipated after hints were dropped by the girls' social media accounts earlier this month, and as expected, it did not disappoint.
The album contains 18 songs with various collaborations from other artists, such as Nicki Minaj, Kamille, Cheat Codes, and more. It is an inspirational and emotional selection of songs that truly has become a blessing to our ears. So, without further ado, I give you…LM5.
Woman Like Me (ft Nicki Minaj): Easily one of my favorite songs of all time. It has everything I love in a song: powerful vocals from the girls, a sick rap from the queen, Niki Minaj, a good message, and a head-bopping kind of beat. This is a year-round vibe, I'm telling you. I highly recommend to anyone who likes screaming music at the top of their lungs while cruising down the road in their car.
National Manthem: At first, I thought this song was just a regular one on the list, however, after a closer look, I noticed it was only 30 seconds long. For those of you who don't know, a "manthem" is basically a male hype song typically used to rouse up a team before a big game or match. This song is Little Mix's twist on a typical manthem that they use to praise feminists and pledge their loyalty. I thought this was a really creative addition to the album.
Monster in Me: I honest to God was on the brink of tears when I first heard this song. The emotion conveyed in these girls' voices is incredible. Plus, the lyrics hold fantastic meaning, brought together with harmonies and runs. The song talks about an obviously toxic relationship that should be ending, but neither of the parties involved can let go. Deep stuff, right there.
Woman's World: Incredibly important message in this song. It really conveys the struggles of being a female in today's society, and honestly spreads awareness by informing listeners who might not get it what it's really like. This is another song that almost brought me to tears, not only the first time I heard it but every time after that as well.
Love a Girl Right: This song reminds me of the famous line "you break her heart, I'll break your face". The song is somewhat of a warning, with lines like "If I ever hear you mess this up, I'm coming after you" Now, I'm not condoning violence by any means, let's get that straight. However, girl power, ladies, is standing up for each other and uniting against obstacles. That is something I wish we could have more of today, so, of course, right off the bat, I loved this song– these sorts of messages are lacking in the music industry at the moment, and "Love a Girl Right" brings it back.
Strip (ft Sharaya): I love how it starts out acapella, and even without a beat in the background during that part, you can feel the sass. And sass is really what encompasses this song. That and the undeniable confidence. Plus the clean harmonies add that sense of strong comradery between the girls, which again screams female empowerment. Add in Sharaya's rap about loving who you are, and this song is perfect.
More Than Words (ft Kamille): Powerful.  Powerful lyrics, powerful vocals, powerful harmonies, powerful beat– God, I love that bass drum in the chorus. I love the silence in the chorus between each line that is only filled by the drum because it really completes the idea that they don't have the words to fill that gap and say how much the person means to them. Plus, it seems as if Kamille and Little Mix were a match made in heaven– their voices fit so well together to form this phenomenal song. I've been listening to this one on repeat since I first heard it.
Think About Us: The vocals in the chorus and pre-chorus are incredible. But I have to say the verses are my favorite moments of the song, just because they're so freaking catchy. Plus, the subtle presence of male vocals in the chorus add a certain rhythm to the song that makes it great for swaying and bopping to. It's definitely one of my favorite on the album.
Only You (ft Cheat Codes): Maybe it's just the fact that Little Mix is insanely talented, but they truly seem to match perfectly with anyone they collab with. This song, featuring Cheat Codes, has a great beat drop and it is definitely, very very hard to sit still while listening to it.
Forget You Not: Each of the girls performed fantastically in this song. Leigh-Anne just drops off all her notes so effortlessly, Perrie brings a whole lot of attitude, Jesy shows us she truly is the queen of runs, and Jade wraps it all together with her melodious voice. And the song as a whole is yet another bop– definitely the type of song you want to dance to. On top of that, the lyrics are very easy to learn so you will proudly be singing all the words in no time.
Wasabi: The sass level is extremely high in this song, and it basically sends the message that the members of Little Mix couldn't be more indifferent to what any haters may have to say about them. The fact is that even if people are hating, they're still talking about them after all.
American Boy: This song actually makes me laugh a bit because I forget sometimes the girls of Little Mix are from the U.K. and so it's not automatic for them to imagine falling in love with an American like it would be for us living here in the U.S.  However, that aside, this song is extremely catchy and again, it has lyrics that are easy to learn.
Motivate: This song is definitely the dancing type. It talks about having a significant other that inspires you and brings out the best in you. The beat transitions through verse to chorus are fabulous and it is absolutely a bop.
The Cure: The way they sing the chorus in unison is so uplifting, and it really shows hope for change after being sad for a long time. This song is about finding your own place for happiness after escaping from a rough patch in your life. On top of it all, the section of the song at the end where they sing acapella is just simply gorgeous.
The Cure (Stripped): I've been saying all along how much I love acapella, so the fact that Little Mix decided to include a version of "The Cure" with absolutely no instruments is 100% fine by me. Truth be told, these girls don't need anything but their own voices to create beautiful music, and that is showcased perfectly in this version of the song.
Told You So: This is another song about the power of friendship, and how it is important to be there for each other, especially when someone is down. The vibe given by this song is so relaxed and calming as if the girls really are comforting one of their friends. The simple music gives the girls a great opportunity to show off their vocals, yet nothing feels forced. It all flows so naturally, and that alone puts it on my list of favorites.
Notice: My favorite part of this song is when Jade and Leigh-Anne sing the chorus together and harmonize so beautifully. Then, all the other girls join in unison and when they're all singing, it just makes you want to sing along.
Joan of Arc: Yet another song about loving yourself. But, I mean, can we ever really have too many of those? Plus, the girls sneak in a little undercut to skeptical people they've encountered by having a moment in the song when a man's voice says "Oh you are the feminist type?" and the girls call back in response, "Hell yeah I am!"
As if I haven't made myself clear already from all my comments above, let me just sum it up for all of you: I freaking love this album! I really believe this is the best one Little Mix has ever released. Each word has meaning, and it will for sure leave you feeling inspired. And as for the women of Little Mix– your future is truly bright, ladies. Keep killing the game. I can't wait to see what else these incredible role models bring to the table.
About the Writer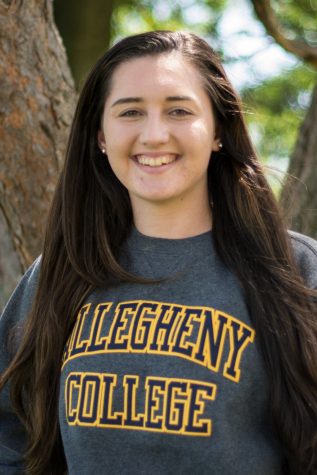 Hayley Simon, Arts & Entertainment Editor
Hayley Simon is a senior at North Allegheny. She has loved writing as long as she can remember and can't wait to contribute quirky, outside-the-box articles...