The Story of the Student-Staffer
How senior Joe Borsch became both a student & an employee at North Allegheny
Hang on for a minute...we're trying to find some more stories you might like.
Joe Borsch would appear to be your everyday senior, attending classes, lugging around a bookbag, and making plans for life after high school.  But then you notice that he wears an NA Contractor ID badge and carries keys to certain doors in the building.  The Uproar demanded answers!
What exactly is your role in the district?
My job entails day-to-day work in North Allegheny School District's theatrical facilities, with my primary building being North Allegheny Senior High School. Basically, if it's in the auditorium, I have something to do with.
How did you get a job with North Allegheny?
When I was a young student, freshman year, there was a need for someone to coordinate and run the behind-the-scenes aspects of North Allegheny's auditoriums. I advocated for my position, and here I am, five years later.
What does your average day of work/school entail?
I usually arrive at around 7:00, work on sound, lighting,  or video, or any project for a production. I also answer emails about NA's auditorium facilities.
How do you balance working at the school with academics?
Throughout my four years here at NA, I'm proud to say I've maintained a 4.0 GPA. It's not easy, as I often am tasked with doing homework while working or even staying up late to finish my work and keep my grades up.
What are your plans for after graduation?
After graduation, I plan to pursue a degree in either lighting or sound design.
How often are you at NASH?
I am at NASH almost every day after school and here on the weekends anytime there is something happening in the auditorium.
How often do you visit other buildings in the district?
Usually around 2-3 times per month for outside events.
Do you plan on working at North Allegheny in the future?
It really depends on where I go to college. If it seems favorable for me to go to a school close to Pittsburgh, I will likely continue working for North Allegheny. I have aspirations to teach at the high school level at some point in my career.
What's your favorite thing you do in the district?
I enjoy helping people and coming up with creative ideas for productions. I often wake up in the morning and suddenly have a creative idea.
How did you become so experienced with equipment?
Countless hours of practice, dedication, and commitment. To be fair, I have also attended and completed professional training for both sound and lighting to further my skills. I have a passion for what I do.
Mac or Windows?
Mac lends well to what I do, so the technology I use on a daily basis is all made by Apple. However, I do own and use Windows machines for projects and tasks that are proprietary to Windows.
What brands of equipment (audio, video, etc.) do you recommend?
For audio, I recommend Shure, CAD, Neumann, Point Source, Yamaha, , and AKG, to name a few.  For lighting, ETC, Elation, High End Systems, and Chauvet Professional. For video, I recommend Sony 4K Camcorders and Canon DSLR's.
What brands of equipment (audio, video, etc.) do you recommend against?
I don't like anything from Pyle, GTD Audio, or anything generic you'd buy off of Amazon
If you were stranded on a remote desert island and had only a single type of cable to survive, which would you choose & why?
XLR cable, because it's heavy duty.  You can do a lot with it.
What opinion do you hold that would be considered most controversial in the world of technology?
I think there still exists a large divide between Apple and Windows users. As someone who is neutral when it comes to this issue, I think both technologies have their strengths and weaknesses.
What is the most useless form of adapter?
Quarter-inch to RCA. If you still have to use that, I can't help you.
What is the largest hard drive you've ever encountered?
20 Tb.
Any pieces of equipment that you use regularly that will soon be obsolete?
CD player is pretty much going by the wayside, but believe it or not there's still a ton of people who use that. USB I think will be seen less and less across all markets.
What does the future of technology hold?
The future of technology will be more interconnected, with more and more devices being able to communicate across different platforms. There will be less physical cabling an also an increase in the presence of wireless technology at the consumer and professional level.
What's your dream set-up for audio & video?
I'd love to have a nice digital Yamaha soundboard. For video, that's a tough one. I'm gonna go against Morris on this one, I'd go Blackmagic studio cameras and switcher.
What has been the most challenging task you've had to overcome while working for the school?
I have been in a lot of tough situations over the years here at North Allegheny. One of the most challenging ones was probably dealing with a heart attack in an auditorium lobby.
In the context of your job, what sentence will instantly ruin your day without fail?
Any sort of last-minute change in plan without prior notification.
How do you feel about the school laptops?
I think North Allegheny in general has done a great job giving students access to educational technology that positively impacts learning in the classroom. However, in my personal opinion, things like Securly can make it more difficult than it needs to be.
What equipment should the school invest in?
General building improvements, like HVAC.
What do you never leave home without?
Cell phone.
What do you have to say to people who record videos on their phone in portrait orientation?
If you're doing this, you really shouldn't be allowed to have a cell phone.
When you want to quickly convert a DGI 45 port to a USADA insulated outlet without corrupting the warp stabilization of the original H.264 codec from the soft drive of an IMAX model 5.1 Pro Deluxe Second Edition micro-hyperdrive, should you use a Firemax 2019 supercharged max all-purpose adaption connectivity cable or an average Walmart dongle?
I do not believe in using aftermarket dongles. Anything from Walmart is not trustworthy.
About the Writer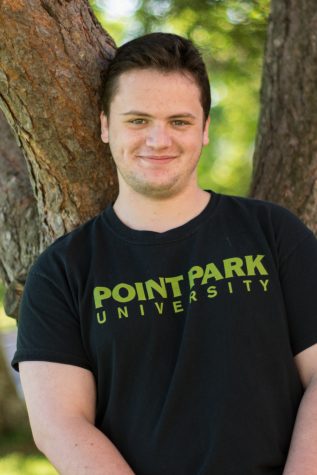 Jimbo Lawry, NATV Program Director
Zack "Baron Von Jimbo" Lawry is a senior at North Allegheny Senior High School and will (hopefully) graduate at the end of the year. Jimbo took on the...