Kingpin
Alex Cook is one of the leaders of a hungry NA Bowling squad
Hang on for a minute...we're trying to find some more stories you might like.
A bowling maestro, Alex Cook now is one of the most impressive bowlers in the WPIAL and is one of the heads of NA Bowling's high aspirations. 
How did you get into bowling?
It was really in fourth grade I was doing it for fun.  Some of my friends were doing it at Perry Lanes, and I kept competing for two more years, and I have really been with the sport since.
What about bowling draws you in?
Honestly, what makes it fun for me is the connections. I have made a lot of connections with people from different school districts as well as people who work at the alleys. I feel like bowling is a place where I can go into my own little world and forget about the stresses in my life. It's just like any other sport, like football or basketball, where they're in their own little world in their crafts. It's the same mentality.
Is the harder part of bowling the physical or the mental part?
Mental. Definitely mental. And if there is one thing that is my glaring weakness it would be that. Physical-wise, with the technical part, that is just one frame, but the mental part is the entire match and I found myself in my earlier high school season, I would immediately go into a downward spiral if I messed up. Now, I think I have made strides.
How do you do with the luck part of bowling?
I laugh it off now, really. If I throw a bad ball, that sticks in my head. But if I know I threw a genuinely good ball and I just got bad action, I just regroup and throw the same thing the next time. The next time, it should be a strike.
What is the hardest part of bowling?
The mental aspect, just like I said. In other sports, you are playing against someone, but in bowling, you can't see anything and you are playing yourself. If there is oil on the lanes, it can make it tough for your ball to its pocket for a perfect strike. The difference between curves and being straight is the hardest part. Reading the lanes is always the biggest leap.
Do you think the bowling team can beat the top teams?
I think we have a good core. Ben Steffey and I are returning as seniors, and I think we can instill the confident mindset that we can do anything. We have some upcoming underclassmen including my brother, Andrew, Dylan Scheidler, and Jeb Jordan. Most importantly, if one of us isn't on our game, we have guys like Dom Cherry and Steve Reybein to pick us up.
How do you compare the team atmosphere in bowling to other sports like basketball?
On the surface, it would seem that basketball would be more team-oriented and you aren't counting individual stats as much as you are team stats. With bowling it looks more individualistic, but at the same time, you get a bond with your teammates and you want to see them succeed. I think it is similar to those sports where everyone is trying to go towards goal.
How do you choose a ball?
My first ball was in seventh grade, and I decided I wanted to take it seriously. And I picked out the ball that looked the best to me, but once I kept going, I learnt different balls have purposes on different lanes. For example, the more oil you have, the less hook you will have. The purple ball I have is perfect for those conditions, as it can still hook on an oily lane. But I have another ball for when it is really dry, but if I would throw my other ball, it would hook on the entire lane. So each ball has its different use, and other lanes are more broken down and those are called pearl balls. So, it is all about controlling with your hook.
What match are looking forward to this year?
Oh, of course Butler. We beat them on our own lanes last year, but I really want to beat them in Butler. I want to send us off into the playoffs on a good note, and it would feel great to beat them in Butler, because we have bowled historically bad at those lanes.
About the Writer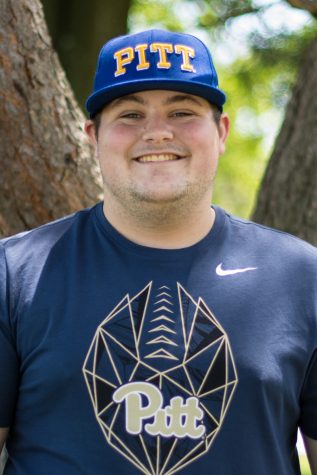 Nick Farabaugh, Sports Editor
Nick Farabaugh is a senior at NASH and the sports editor for The Uproar. Nick is a writer for SB Nation's Behind the Steel Curtain and is a WPXI Skylights...