The Steelers' Cultural Chaos
A once-revered franchise is the punchline of the NFL right now
Hang on for a minute...we're trying to find some more stories you might like.
Calamity. Chaos. Dysfunctional. Disunified.
Whichever word you want to use to describe the Steelers at this time would be appropriate. The team started 7-2-1 and then collapsed to a 9-6-1 record, causing the Steelers to miss the playoffs for the first time since 2013.
There are more than just on-field concerns for the Steelers at this time, and their overall dysfunction goes straight down to their star players. If the Antonio Brown fiasco has shown anything, it is that this team is very far from being a true, winning team. 
That is why, if you are looking at this failed season, you have to look at it through two different lenses.  Although they are often tangled together with this team, the "on the field" product and the "off the field" product are quite different.
During games, the Steelers certainly are not without weaknesses. For one, their lack of ability to create turnovers while giving the ball away consistently is the heart of all of their troubles. When will they learn they will never win anything if the team finishes with a -11 turnover differential?
As for those turnovers, some of them were weird fumbles. JuJu Smith-Schuster's fumble at the end of the Saints game put a dent in not only that game but also their entire season. Despite those fumbles that cost them games and the eventual season, Ben Roethlisberger threw a career-high 16 interceptions this season, the most of all quarterbacks in the NFL.
On defense, the Steelers notched only eight interceptions all season and created an NFL low of seventeen turnovers. This statistic itself is abysmal. They also led the league in dropped interceptions and missed fumble recoveries. This defense was simply not opportunistic whatsoever.
"
Although they are often tangled together with this team, the "on the field" product and the "off the field" product are quite different."
As for Defensive Coordinator Keith Butler, who seemingly fails to know how to scheme a football game, he should be fired. There is no sugarcoating that the guy runs out the dime package on the goal line and then acts shocked when his six defensive backs get outmuscled by massive offensive linemen. Similarly, Special Teams coach Danny Smith deserves the ax as well. With the Special Teams not opening up any holes in the return game and leading the league in special teams penalties, he is not doing his job well at all.
As for the off-field stuff, it is easy to pinpoint the blame. The blame falls squarely on four men.
Le'Veon Bell, Antonio Brown, Ben Roethlisberger, and yes, Mike Tomlin.
Bell is rather apparent. It is absolutely fine to go secure your bag, but to not communicate with anyone and play a nasty game with your coach and teammates is doing them dirty. He caused this team more distractions and did more damage off the field than he could have ever done on it. With reports that he wants to come back, all I have to say is good luck making the Steelers feel it is worth bringing back that headache, especially with the Brown fiasco.
This season, Antonio Brown has been nothing short of a narcissist. There are reports that this has been going on for much longer than just this season, but now it has gone overboard. Brown threw furniture off of the balcony at a hotel and almost hit a child, was caught speeding on McKnight Road, and then proceeded to have an altercation with Ben Roethlisberger and go AWOL on the team before the biggest game of their season. With reports saying he wants to be traded and Mike Tomlin appearing visibly angry at his end of the year press conference, Brown might be on his way out of Pittsburgh.
Ben Roethlisberger, the quarterback of this team, is no stranger to the drama either. His leadership is questionable at best. In that category, there may be no one worse at the QB position in the league than he is. If throwing teammates under the bus publicly on your radio show every Tuesday is your form of leadership, I have to question your merit as a leader. Yes, he did that to rookie WR James Washington, and even though Washington responded well, I have a question to ask Roethlisberger: Why did you feel the need to air it out publicly? Roethlisberger flip flops by taking accountability for losses and then on Tuesday, it is someone else's fault. He ran former OC Todd Haley out of town and demonstrates a poor example of a teammate. Former teammates have called him out, and Joey Porter once told him to "grow up as a leader" in 2006. Too bad it doesn't seem to have worked. It has to be mentioned that he is also a suspected rapist, which is never the shining example of a leader.
Mike Tomlin is a players' coach and has an apparently laissez-faire style of leading the team. In doing so with a lack of discipline towards formerly character-lacking incidents, Tomlin has fostered a culture that allows his players to go on needless tirades and create drama. I also do not think it coincidental that Brown, Roethlisberger. Bell, James Harrison, Martavis Bryant, and others have spoken ill of Tomlin at times. That shows the team is not fully behind their head coach, and there could be others in the wings thinking the same thing. Tomlin deserves blame for making this team play down to teams and condoning a toxic culture.
The biggest issue here is that the main leaders of your Super Bowl hopes and dreams are toxic because of a less-than-appealing culture. The only way to fix that culture is to either get Mike Tomlin to do a 180 or get rid of all four of the aforementioned players. Of course, that will not happen until Roethlisberger retires, but there has to be some doubt among fans about whether the team could potentially win a Super Bowl going forward.
As Mike Tomlin once said when speaking about team, "We will lie in the bed we made."
Well, unfortunately, this is the bed they have made. And they have to fix it.
About the Writer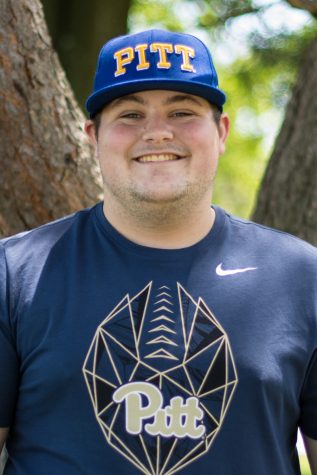 Nick Farabaugh, Sports Editor
Nick Farabaugh is a senior at NASH and the sports editor for The Uproar. Nick is a writer for SB Nation's Behind the Steel Curtain and is a WPXI Skylights...