Dog Sled Days
Hang on for a minute...we're trying to find some more stories you might like.
Earlier this week, Lexie Vincenty of The Uproar sat down with one of NASH's own students, senior Emily Ferrans, to talk to her about her passion about dogs and dog sports.
How many years have you been participating in this? 
It's been about 10 years since I've started.
When did you first get into all these sorts of dog sports?
I became involved in sled dog racing when I was only 8 years old because I traveled with my family to races to help handle and care for the dogs. When I was 13, I began to race competitively, and after running our pet dogs for a few years, I realized I wanted to get more competitive and run faster dogs.
How many dogs do you have and what are their names?
I have two dogs. Marge is a Eurohound, which is a German Shorthaired Pointer mixed with Alaskan Husky. She is incredibly powerful and is bred to run as fast as she possibly can for up to six miles. Marge is my primary racing dog, but sometimes I will run friends' dogs with her. We also have a Border Collie/ Staffy mix names Jayla that some of my family members race on occasion. We call her the "honorary" sled dog!
Where and when did you get the dog[s]?
I acquired Marge in 2015 from a sprint kennel called Fox Racing Kennels, and she was a lead dog in some of their teams before she came to me.
Could you explain what all happens during these events? 
Contrary to what a lot of people think when they hear about sled dog racing, I don't do distance racing with Huskies, like the Iditarod. I do pretty much the opposite of that. I do 2 to 6-mile sprint races with dogs that are bred to run as fast as they can.
What types of dog sports are there?
There are many forms of mushing including canicross [running with your dog while they pull you], scooterjoring [the dog pulling a specialized scooter], rig racing [team of dogs pulling specialized rig], skijoring [the dog pulls the cross-country skier] and sledding [team of dogs pulling specialized sled].
What types do you participate in?
One of my favorite classes is called bikejoring, which is a type of dryland sport where one or two dogs pull a person on a bike. It is super fun, fast, and is all about teamwork. I bike as hard as I can behind my dogs to help them out.
Where have you competed?
There is not a lot of reliable snow in western PA, so we have to travel far for snow races. In the wintertime, we frequently head up to Ontario and Quebec to compete in skijoring races. We have traveled all over the US and Canada for dryland and snow races. Some states include New York, Michigan, Illinois, New Jersey, Maryland, and even Wisconsin.
How many awards have you won?
Last season, Marge and I placed in almost every class we raced in. We competed at the Pontiac International Sled and Skijor Race last January in Bristol, Quebec, and took 3rd in the 1-dog skijor class against some of the best teams in North America. I was ecstatic about it and super proud of Marge!
Do you plan to stick with this sport for a while, and if so where are you planning to go in the future?
I absolutely plan to continue racing. This is a huge passion of mine and I'll keep racing as long as I am able to. Eventually, I'd like to build up a small, but highly competitive sprint kennel of my own. However, right now, Marge and I are working toward qualifying for the 2019 Dryland World Championships that will be held in Latvia this October. We hope to represent Team USA there and compete in the Elite Women's Canicross Division.
About the Writer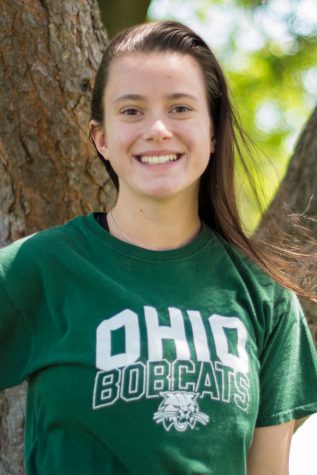 Lexie Vincenty, Reporter
Lexie Vincenty is a senior this year at NASH. She is constantly torn between her ego and her id considering she is a Gemini which, in the end, helps her...