February is for the Kids
Brace yourselves for a facial hair extravaganza next month
Hang on for a minute...we're trying to find some more stories you might like.
February is probably the most underrated month of the year. It's wedged in between the holidays and the summer, but who decided that February should be the "boring" month? There are plenty of things that make February special: Groundhog's Day, Valentine's Day, and most importantly, the men of North Allegheny showing off their fabulous facial hair in support of Facial Hair February.
13 years ago, NASH's own Mr. Mooney began "Facial Hair February" with the intent to raise money for The Highmark Caring Place, a center that facilitates the grieving process for families, and in particular, children. The process is simple: teachers volunteer to keep their facial hair growing for an entire month in exchange for donations.  Mooney says that he can typically count on about 12 teachers every year, and he anticipates 16 teachers this year. "[The process has] grown pretty lax," says Mr. Mooney. "Some teachers raise $100, some raise $10… but every donation matters."
However, involvement isn't limited to teachers — male students can participate, too! The participation process for students is also easy: all you have to do is find a female sponsor and head to room 223 to get official participation cards. Last year, there were around 120 total student participants. This year, Brooke Ferringer and Paige Jones, both seniors at NASH, have taken it one step further as the official student liaisons of Facial Hair February. After visiting the facility, they knew it was right for them to get involved immediately.
Richard McCoy
"It was very inspiring," Jones said.
Facial Hair February typically brings in about $2000 each year, but there is an anonymous donor who matches every donation dollar, thus doubling the amount. This year, the coordinators of Facial Hair February strive to raise awareness and earn as much money as possible.
"Every dollar counts, and we are hoping more people become aware of Facial Hair February," Ferringer said. "They plan to advertise the cause by putting up posters and distributing "Facial Hair February" t-shirts and implementing contests and prizes, such as a raffle and a T-shirt design contest.
Although Facial Hair February raises money for a somber cause, the actual fundraiser is anything but.
"The faculty makes it very fun," Mooney said. "The purpose of growing facial hair was to provide people with a little enjoyment while dealing with something serious like children's grief. Seeing the facial hair for a month is a nice ongoing visual reminder of the teachers' and students' participation."
Not to mention, there are pretty sweet prizes for the participants. Each year, Mooney puts tremendous effort into finding companies that will support Facial Hair February. He has managed to spread his influence on a local, regional, and national level, finding local businesses, like Totin's Diner and Convive Coffee, and national companies from Detroit, Alaska, California, and Maine to donate gift cards and other merchandise.
But all bets are off when debating who will have the best facial hair. All 16 (and counting!) participants will surely sport some stylish stubble, but there are a few teachers known for having the most impressive beards. Ferringer believes that Mr. Hannan will have the best beard, while Jones has her bets on Mr. Kuffer.  As for Mooney, he believes that the best beard could be anyone but himself.
About the Writer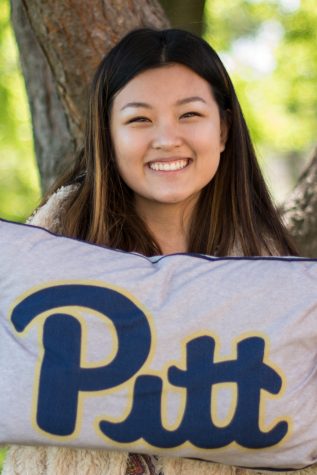 Amanda Lu, Opinions Editor
Amanda Lu is a senior at North Allegheny. She loves to spread her opinions around like it's everybody's business.