The Next G.O.A.T?
Does anyone have more game than NABA's Drew Jeffries?
Hang on for a minute...we're trying to find some more stories you might like.
There have been many greats to play in the North Allegheny Basketball Association, but most can only dream, as it is incredibly hard to go down as one of the best. Senior point guard Drew Jeffries has these aspirations to become one of the greatest NABA players ever — if not the greatest.
If you have a pre-game routine, what is it?
I do not have any pre-game rituals or routines that I do to play to the best of my ability. I am all natural. I wake up feeling dangerous and ready to do whatever the coach asks me to do.
If you were to compare yourself to a current NBA player, who would it be?
As a true Boston Celtics fan, the first player who comes to mind is Jaylen Brown. He consistently does not start, but he still manages to put up double-digit points many nights.
What NBA team would you compare your NABA team to?
The Golden State Warriors, without a doubt. They currently hold the top shooting percentage in the league, and shooting is one of the factors that makes our team the best ever.
Do you have a chip on your shoulder for almost being the last pick in the whole draft?
Being selected as the third-to-last pick in the draft only motivates me to be the best. I love showing everyone I am better than my draft position.
Do you think you have ever gotten better at basketball?
For sure. As I have gotten stronger and faster through high school, my athleticism has gone through the roof.
Do you ever think teams will look at your team and look past your talents?
Yes, of course. No one really knows our potential.
Do you ever trash talk your opponents?
I like to get into players' heads when they are at the free throw line. I have found that making movements with my arms and saying words to them that personally affect them contribute to the bad free throw percentage of my team's opponents.
What would you say the strongest thing about your game is?
The strongest part of my game is my defense and aggressiveness. For forty minutes, I am completely relentless — I do not give up.
What do you think about your team?
I love my team this year. We pass and shoot extremely well, but boarding on both sides needs to improve for a deep playoff run.
What do you think the weakest part of your game is?
My ball-handling is not good, and it's one aspect of my game I would like to improve come playoffs.
When you make a shot in a real game, what goes through your head?
When I take a shot, I think about having perfect form and keeping my aim locked in at the backboard.
About the Writer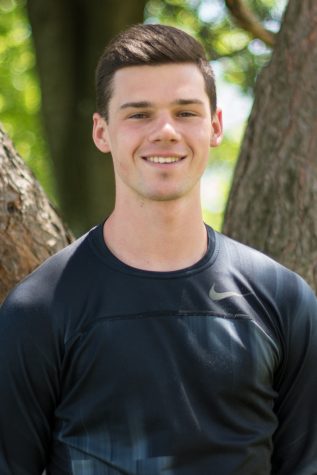 Luke Popelka, Sports Reporter
Luke Popelka is a junior at NASH. He plays football and basketball.