Slam Dunk
Stephen Humphries stands tall in the Boys' Basketball Team's WPIAL ascent
Hang on for a minute...we're trying to find some more stories you might like.
As a senior, Stephen Humphries has been one of the standouts and leaders of a North Allegheny Boys' Basketball Team that is vying for a WPIAL title.
How did you get into basketball?
So, I was sitting with my dad watching an NBA game and, you know, I saw them dunking and all that and I said,"I wanna do that." When I was four or five, I picked up a basketball and went from there. I started playing on school teams in 8th grade, and before that I played on recreational teams.
Do you think you will play in college?
Yes, I got accepted into many colleges, but I am planning to play D3 at Penn State Behrend.
What is your offseason training like?
When the season is over, you get about two weeks of rest because you don't want to overwork your bones. After those two weeks, though, you are back at it again because you know there is someone out there that is outworking you when you are sitting here doing nothing. So I take a break and then go right back at it.
What is the strongest point of your game?
I am diverse, so even though I am playing inside, I can play outside and then take you inside. I can post you up in the paint, I am super active on defense, and I talk on defense, so I do a little bit of everything.
What is the weakest point of your game?
It is just straight up scoring. I get the ball, but I am playing inside and I am not as comfortable there. I would like to dribble more and get outside more.
What NBA player do you model your game after?
That is an easy question, LeBron James. He does everything — he passes, he scores, he plays defense, he makes amazing blocks. He does everything, so that is what I model my game after.
How do you think basketball has changed?
Back in the old days, there would be guards under six feet tall, and the big men would be seven feet tall tops and only play in the paint. It has changed so much. Kevin Durant is an example of that, he is seven feet tall and can just dribble up and the court and shoot from the perimeter. It has changed so much — guys my size (6'7") are now guards. You have to do more. Those guard skills are way more common.
How do you think of yourself as a leader?
I try to get everyone together. I call them together and we go over the game plan. We will do it either in the locker room or just before tip-off. My dad always told me a leader has to listen to people and communicate with people — and since people are not perfect, a leader must take constructive criticism, whether they are right or not, because that is how a leader leads. All the seniors try to be leaders for the underclassmen so they can be successful.
What are your goals for the rest of the season?
Well, our goal now is to win WPIAL.  Our main two competitors are Butler and Pine-Richland — we are third behind them, so our goal is to win WPIAL and then go on to to win states.
About the Writer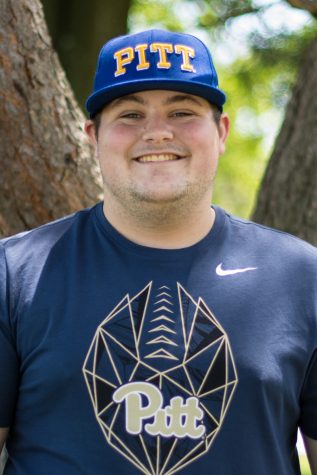 Nick Farabaugh, Sports Editor
Nick Farabaugh is a senior at NASH and the sports editor for The Uproar. Nick is a writer for SB Nation's Behind the Steel Curtain and is a WPXI Skylights...