For the Pin
Jon Hoover and NA Wrestling have high aspirations
Hang on for a minute...we're trying to find some more stories you might like.
A VMI commit, Jon Hoover is one of the standouts at the front of a young, but hungry NA Wrestling squad that has taken the WPIAL by storm.
How did you get into wrestling?
I was playing football, NA Tiger Pride, and one of the coaches' sons wrestled and thought my older brother should do it. I wanted to do everything my older brother wanted to do, so I went with it.
Why did you choose wrestling over other sports?
I loved football and baseball,  but my heart was with wrestling, and I did not see much of future in those other sports.
How was your recruiting process?
It was really tough.  There are a lot of discrepancies from the outside that you don't see, and choosing where you will continue your career for the next four years is tough, but it is worth it once you do make that decision.
Why VMI?
I love the coaches, they have given me a great opportunity to be a part of an up and coming team, and they gave me the opportunity with a scholarship. I can't wait to see what the next four years hold for me.
How do you train?
We drill, we go live, which is full-on wrestling, and we are always coached technique — but every day, it is always something new.
What is your favorite move to use?
I like single leg sweeps, but I like the high crotch takedown.  I like to stay on my feet, and that is the most actionable area.
What is the most important thing about wrestling?
It is believing in yourself and preparation and going out there and giving it your all. That is what it is all about.
Do you have high aspirations, like the Olympics?
Honestly, I am taking it day by day and only focusing on the high school goals. I have thought about collegiate goals, but I am focusing on the here and now.
What are those goals?
I want to win WPIALs and then go and win states. That is what I am shooting for, and that is what I want to attain.
Do you think this team can go all the way?
It is tough to say. We have a really young team this year, and we have a lot of holes that we have to fill against teams with full lineups, so who knows?
Are there any matchups you are looking forward to?
This Wednesday, we wrestle Connellsville, and if we win that, we might get Kiski, so that is what I am looking forward to.
About the Writer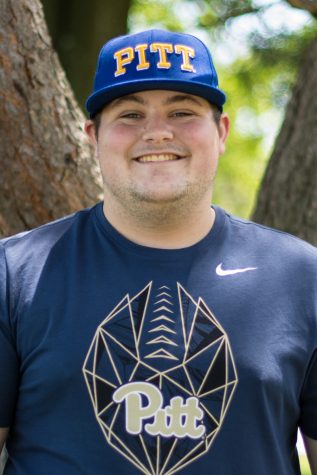 Nick Farabaugh, Sports Editor
Nick Farabaugh is a senior at NASH and the sports editor for The Uproar. Nick is a writer for SB Nation's Behind the Steel Curtain and is a WPXI Skylights...